TEAM BUILDING IN QUY NHON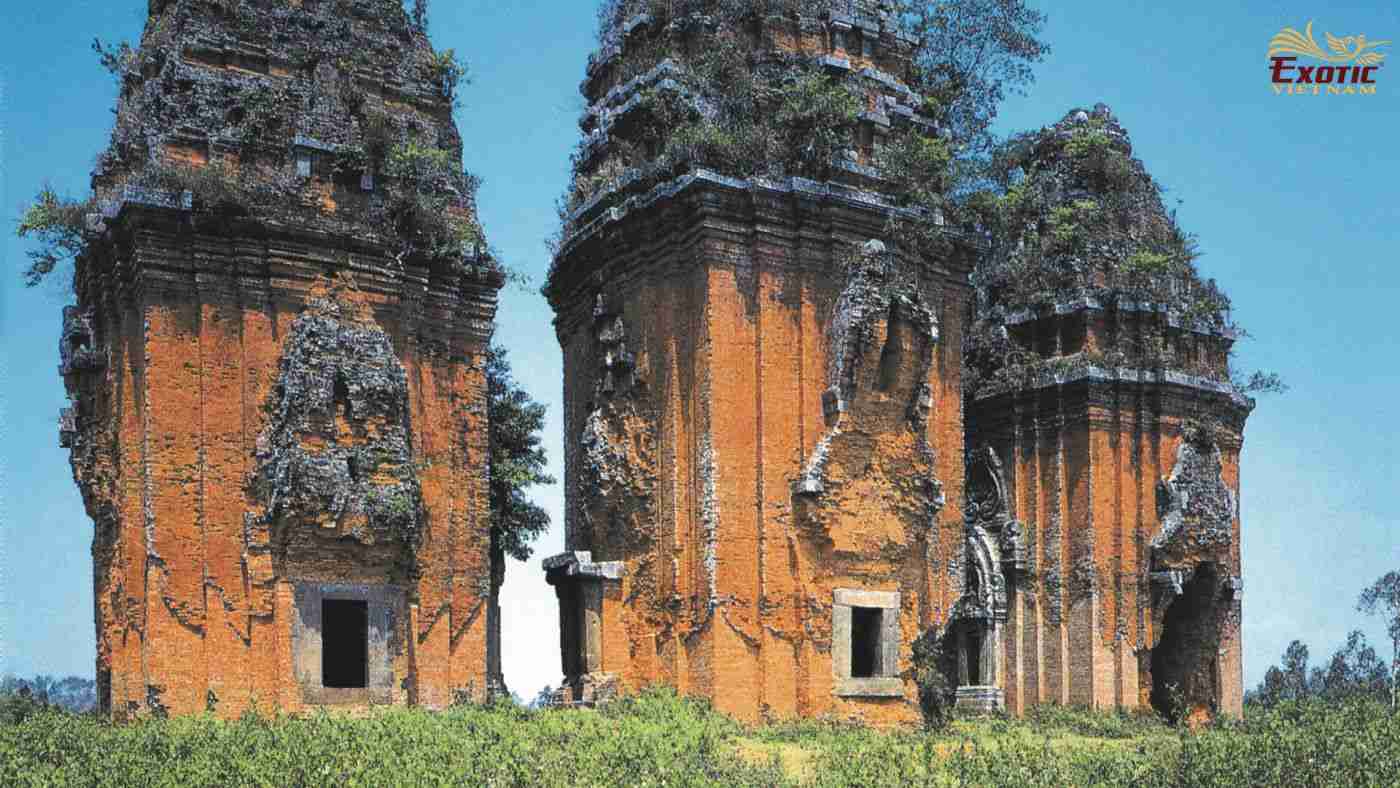 Surrounded by stunning beaches, breathtaking cliffs and rustic countrysides, Quy Nhon is considered a little-known land. From historical sites, natural attractions to fresh seafood, all bring visitors unexpected pleasures. Photo: Exotic Vietnam
Location: 690km north of HCM City (1 hour by plane or 12 hours by train), 170km from Pleiku (3 hours by car), 240km from Nha Trang (4½ hours by car), 300km from Da Nang (6 hours by car).
Introduction: Quy Nhon is the capital of Binh Dinh Province which lies right in the middle of Central Viet Nam. Visitors will have a chance to witness the local traditional martial spirit and the famous Sa Huynh civilization dating back to the first millennium BC. Moreover, they will explore remnants of fascinating Cham culture and then revisit to the splendid Cham Kingdom which developed in the region of Vijaya during the period from the late 10th century to the late 15th century. The survival of temples and towers marked its golden history. The variety of sculptures carved from sandstone to decorate the towers of Duong Long, Banh It, Canh Tien, etc. together with the varied motifs carved into brick walls give Cham monuments subtle beauty.
Highlights: Tay Son Museum, Ky Co Beach, Xanh Islet, Duong Long Tower, Doi Tower, Banh It Tower, Canh Tien Tower.
Facilities & services: martial art show, diving, world class hotels and restaurants.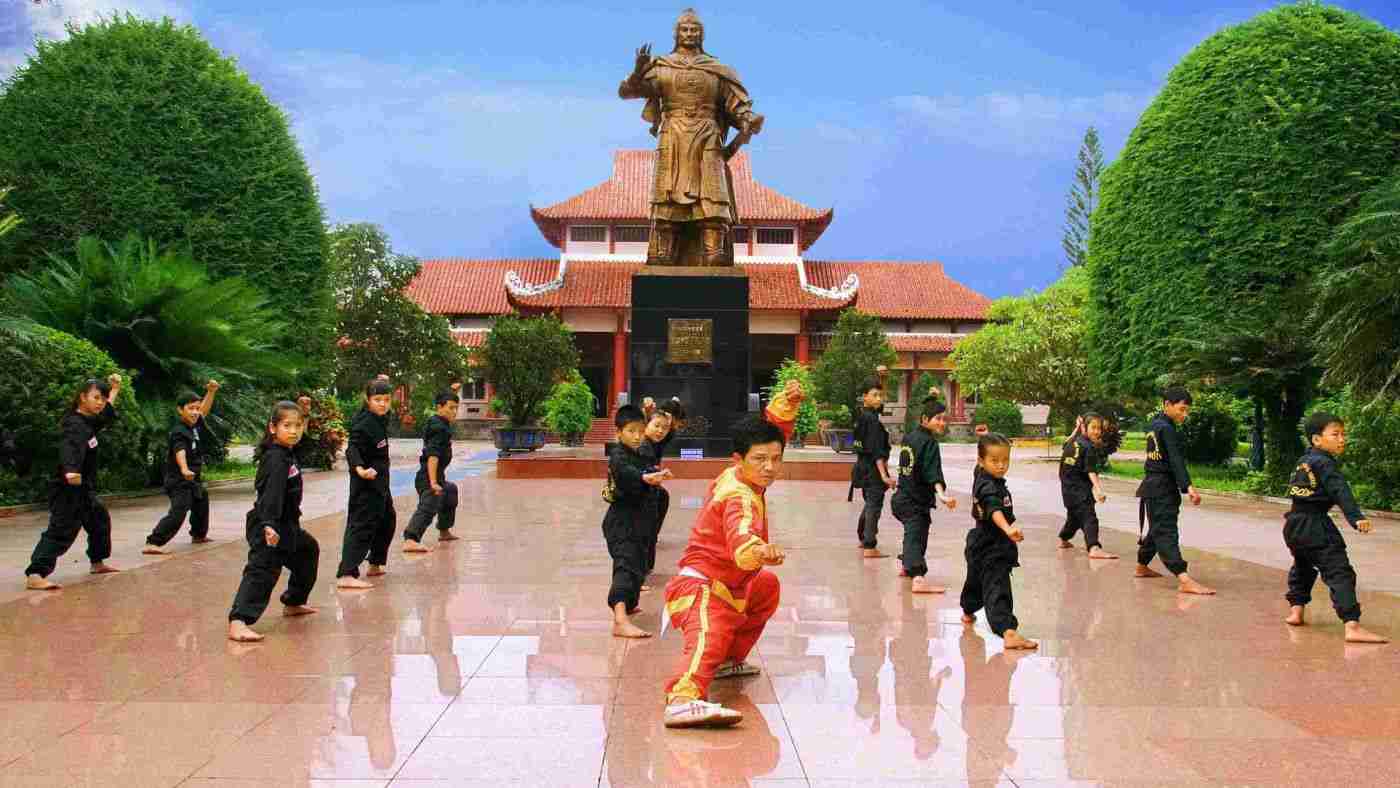 Tay Son Museum displays over 11,000 artifacts related to the Tay Son uprising. Not only the exhibits, the demonstrations of martial arts performed with a bamboo stick is always attractive to viewers. Photo: Internet
Tay Son Museum
Tay Son Museum is dedicated to Nguyen Hue, a national hero of the 18th century. Nguyen Hue was one of the three Nguyen brothers, who led the Tay Son Instruction in 1788 to defeat the Qing invaders and became King Quang Trung in the same year. The museum was built in 1979 in Nguyen Hue homeland in Tay Son District, 45km from Quy Nhon City. Visiting the museum, tourists will enjoy Tay Son martial art demonstrations. Once a year, on the 5th of the lunar 1st month, Dong Da Festival is hold in this museum to memorize the Nguyen Hue's glorious victory.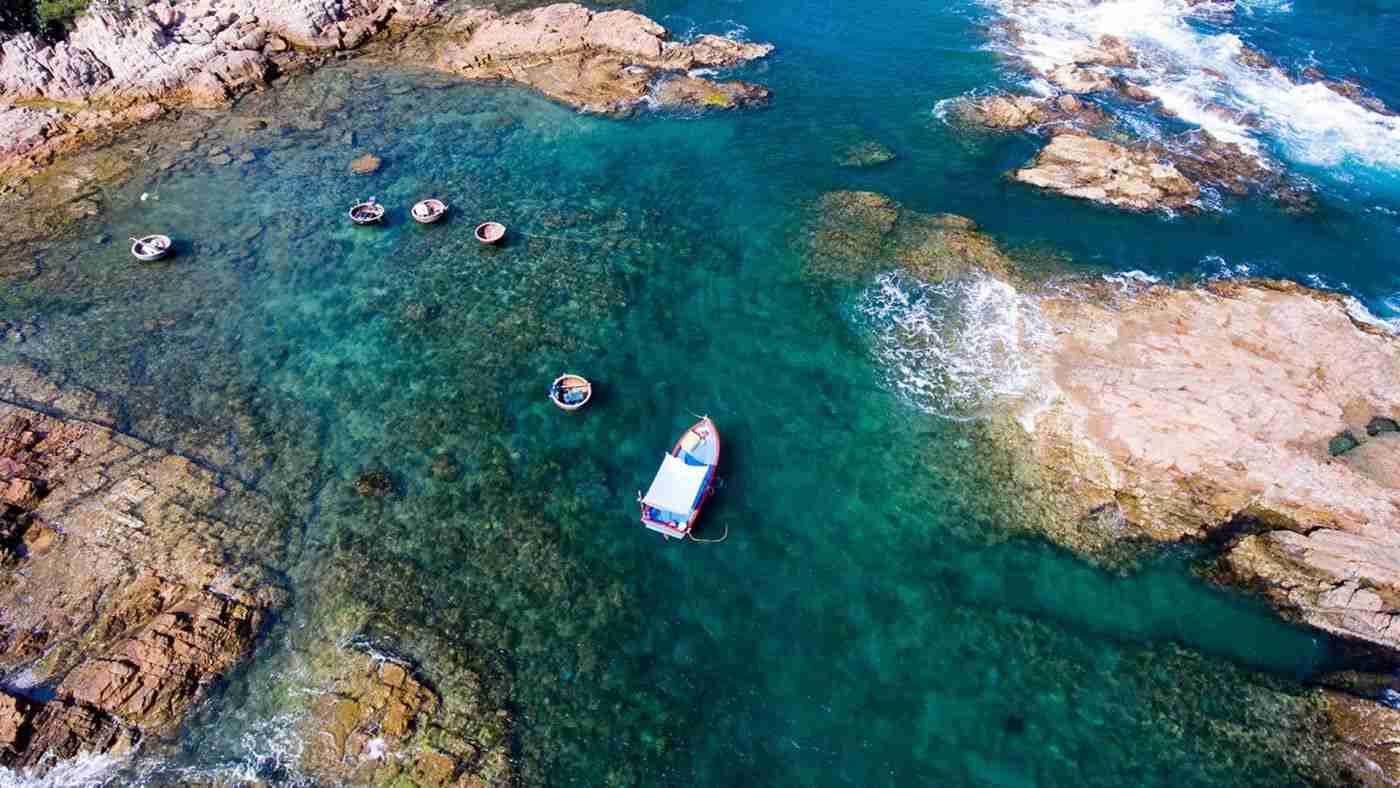 The delicate combination of smooth sands, rugged cliffs, hidden coves and emerald waters makes Ky Co Beach a rare gem. Photo: Internet
Ky Co Beach
Starting from Eo Gio, 25km northeast of Quy Nhon, visitor can take a 20-minute boat ride or enjoy a shuttle tram driving on zigzag winding mountain road (6km) with the spectacular panorama of village and ocean to get Ky Co Beach. Located on the eastern edge of Phuong Mai Peninsula, Ky Co is a crescent-shaped sandy beach stretching 500m long and 80 wide with 3 sides leaning against high cliffs. The large cracked granite blocks naturally make up amazing pools and gorgeous caves as the tide recedes. Crystal clear turquoise water, smooth white sand, magnificent rock formations of all shapes and sizes in harmony with the clear blue sky give Ky Co Beach vivid colors like a great natural picture. That is why people call it "the Maldives of Viet Nam". There is nothing more wonderful than swimming, participating in water sports and enjoying fresh seafood with family, friends and colleagues while immersing in nature and relaxing your mind. From Ky Co Beach, visitor can rent a canoe to explore the coral at Bai Dua, Hon Kho or Hon Sao islets nearby. The best time to visit Ky Co is from April to September.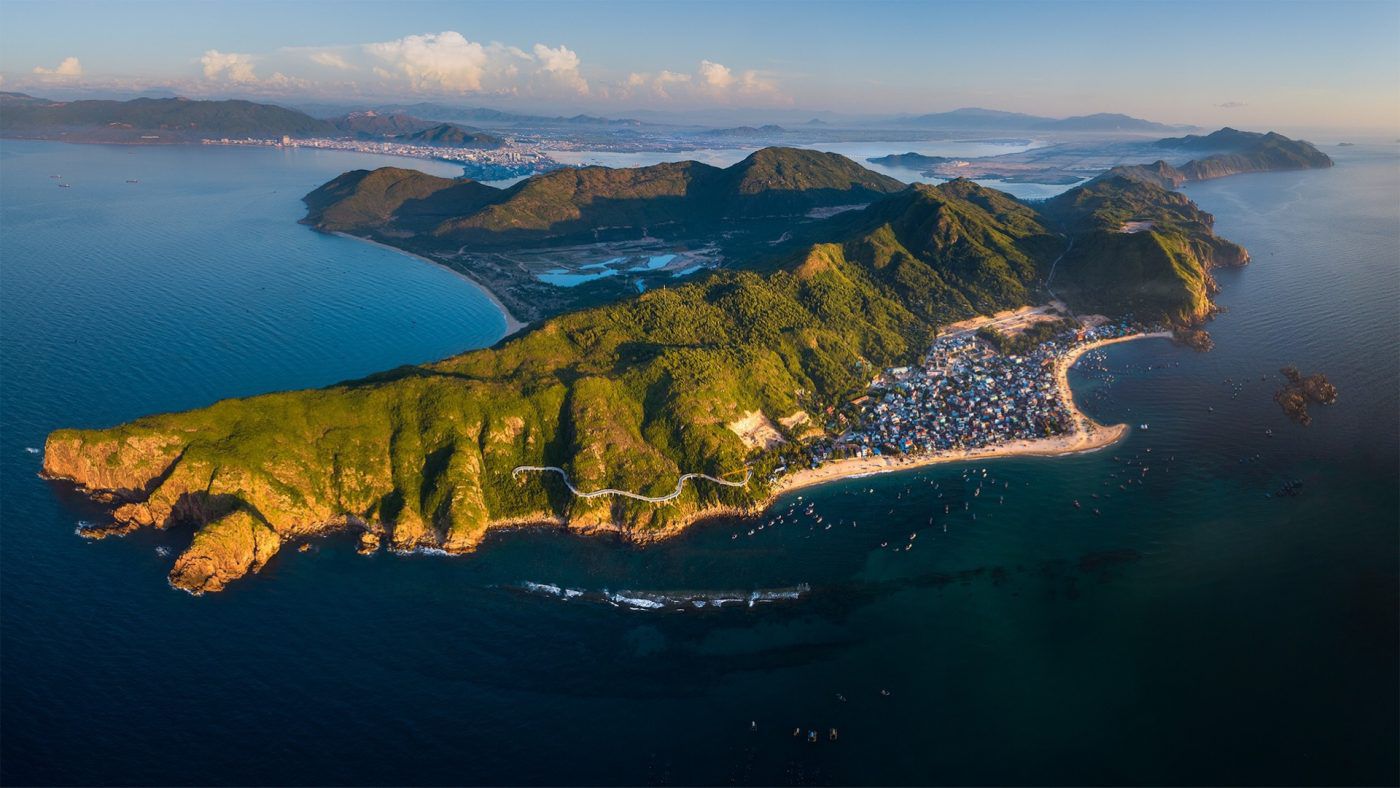 With its untouched beauty, Xanh Islet impresses visitors with "greens" of both sky, water and vegetation. It's ideal for your dreamlike holiday here with much water activities. Photo: Internet
Xanh Islet
About 22km from Quy Nhon City and 6km from Song Cau Town, Xanh Islet (Cu lao Xanh) is also known as Van Phi Islet. Its administrative boundary belongs to Nhon Chau commune, Quy Nhon City, but its geographical distance is closer to Song Cau Town, Phu Yen Province. There are many ways to access Cu Lao Xanh, including hiring fishermen's boats (30 minutes by boat) in Vinh Hoa Village, Song Cau Town, or at Ham Tu Wharf, Quy Nhon City (30 minutes by canoe, 2 hours by boat). The island has an area of 365 hectares and a population of around 2,300 consisting of three villages. Surrounded by the island, many magnificent beaches are ideal places for those who indulge into blue crystal water and snorkel to explore colorful coral reefs. Moreover, nothing is greater than climbing up to the visit a 129-year-old lighthouse to take in the panoramic view of the whole island. Build on the hilltop of 120m, this 19-meter lighthouse was built in 1890 by French. There also are lots of spots on the island for you to take photos, get insight into the idyllic life of the locals, and enjoy fresh seasonal seafood. The best time to visit Xanh Islet is from April to September.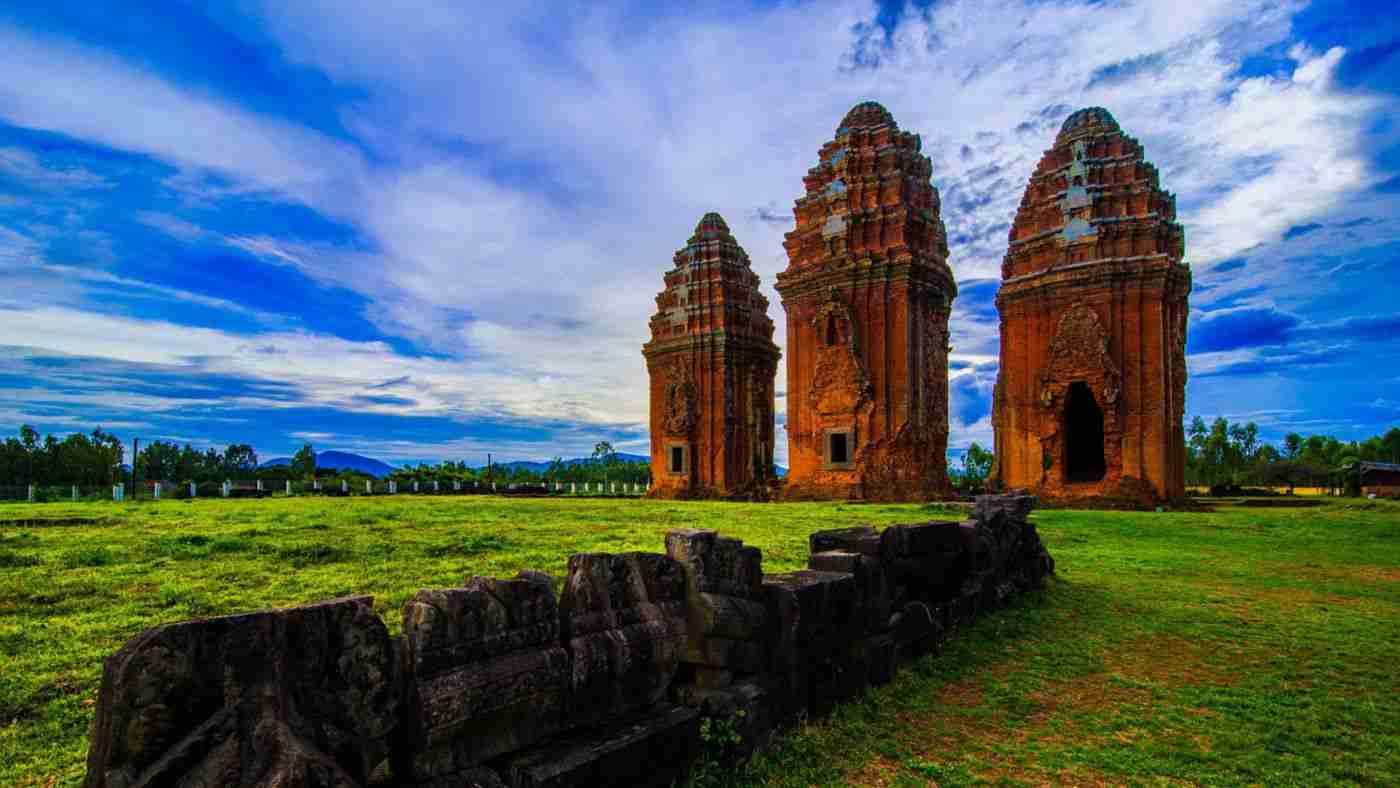 Considered as the tallest brick tower in Southeast Asia, Duong Long Tower with the main tower 39m high was built at the end of the 12th century, this is the most brilliant period of Champa culture. Photo: Internet
Duong Long Tower
Located 50km from Quy Nhon City, Duong Long Tower (built in the 13th century) means the Irovy tower designed in Khmer style. The complex tower is rather famous for its significant size and ancient architecture. Nowadays Duong Long remains only 3 towers (the largest one in the middle is 24m high and the others are 22m). From a distance the towers look alike a giant bamboo bud. The brick towers were decorated in different decoration with granite ornamentation of elephants, bas-reliefs of women, dancers, standing lions, monsters and various other animals.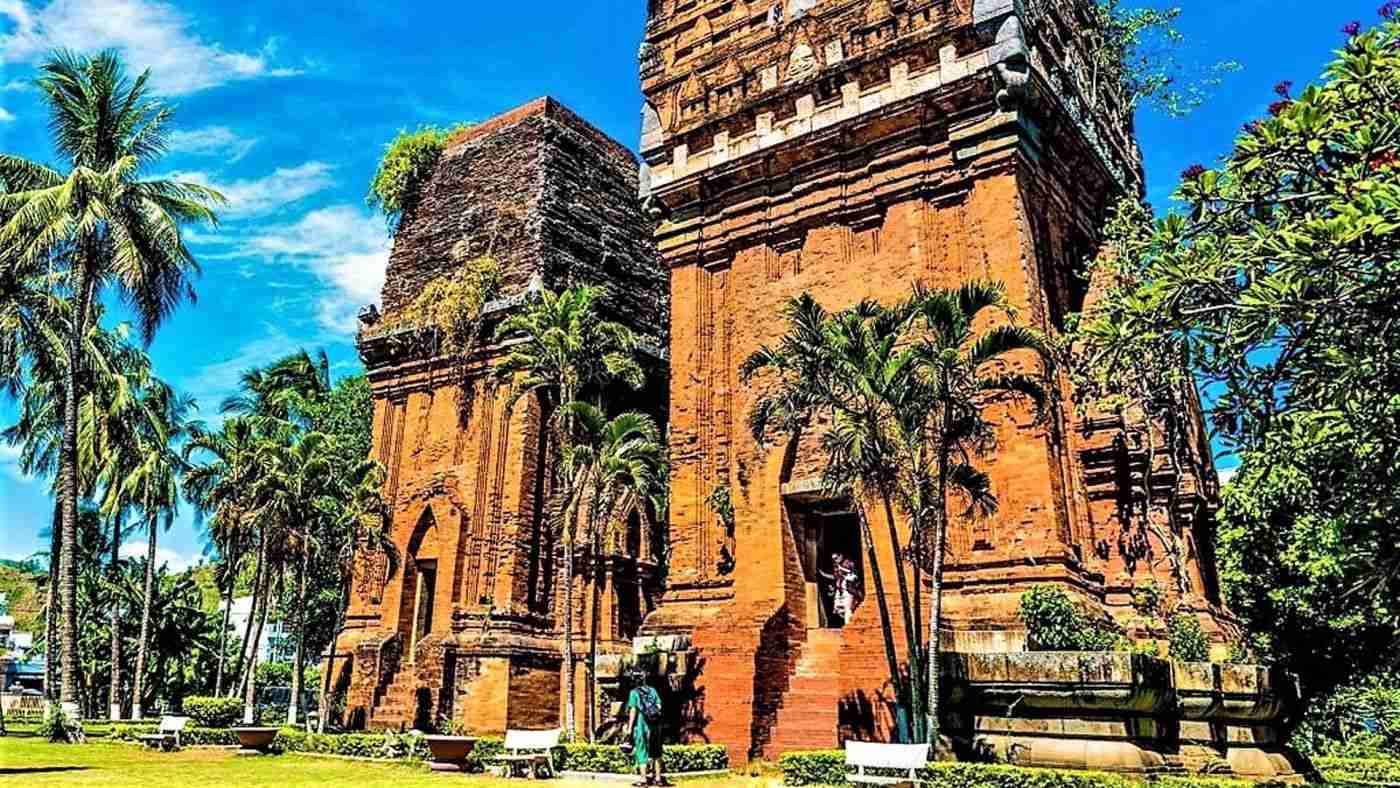 Strongly influenced by Khmer art of the 12th and 13th centuries, the Doi Tower has the appearance of Khmer temples in the Angkor Vat period with a square body and curved top. Photo: Internet
Doi Tower
Within walking distance from the city centre, Doi tower was build in the 12th century and restored in 1996. The tower has a pyramid shape with two towers: one is 18m high and another is 22m. The tower is square in the middle and curved on the top. It was decorated with faked doors and pillars. Affected by Khmer architecture, the tower is made of stone and carved with dancing monkeys, sphinxes, etc. Inside, the towers taper upwards for 20 metres, like giant red brick chimneys, before opening to the sky. Tower structure is quite unique, especially the techniques of stacking and connecting rocks together strongly.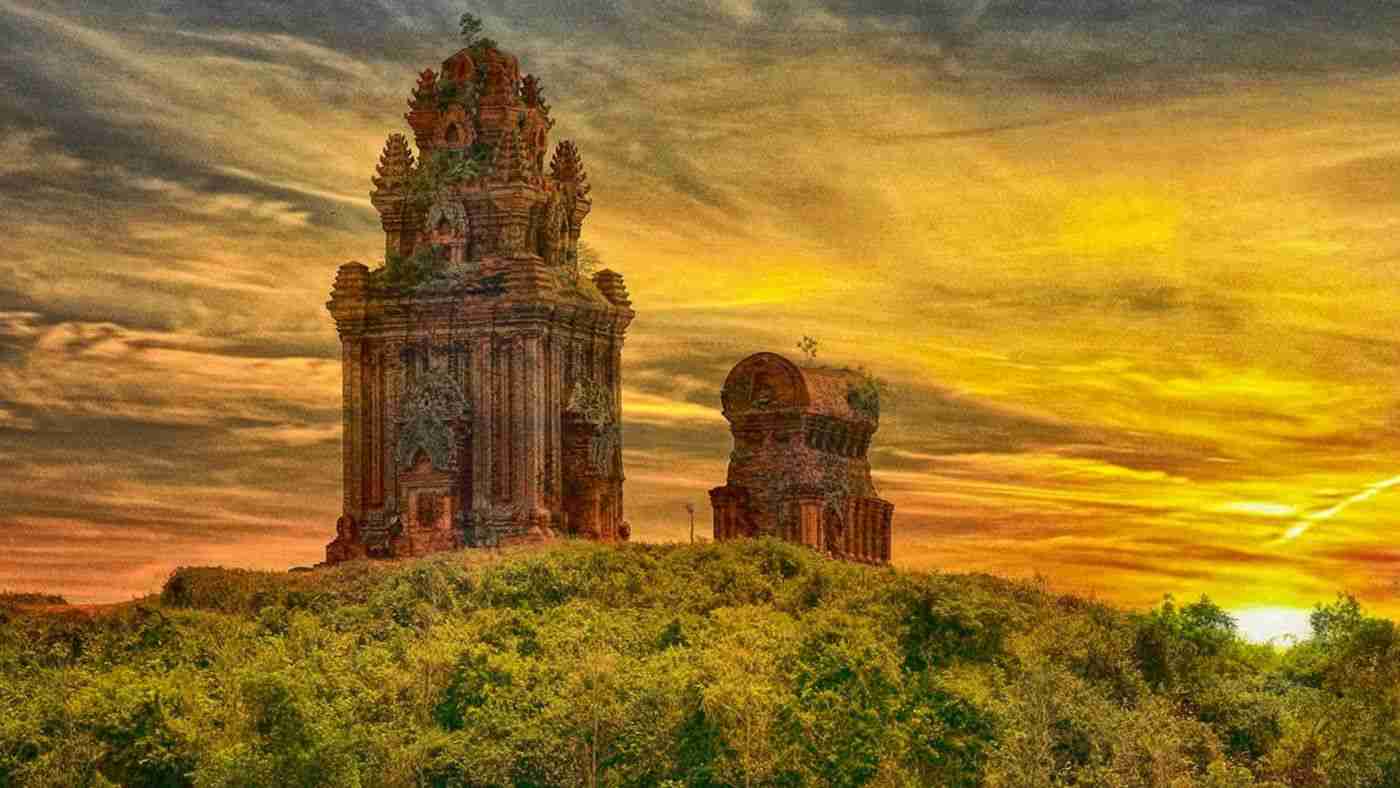 Banh It Tower is an architectural complex scattered on a 75m-high hill. Although each work is not very large, the architectural overall of Banh It is a monumental and majestic space. Photo: Internet
Banh It Tower
Banh It tower or also called Silver tower is 25km from Quy Nhon City. The local people named the tower by its shape. The four surviving towers in this group were probably built towards the end of the 11th Century. The main tower and the adjacent repository are at the very summit of a hill overlooking the Highway 1, the town of Binh Dinh, and a river. Two smaller towers are situated at lower levels on the hill, to the south and east of the main tower. From Banh It tower visitors will catch the panoramic views of a fertile countryside. According to archaeologists, the tower was used to be surrounded by a wall decorated with dancer bas-reliefs. Nowadays, that wall remains only 3 bas-reliefs of dancers. The tower was absorbed the art ideas from Indonesia and Cambodia although it is not as big as Angkor Wat or Bayon. Banh It tower houses of a few statues and sculpture from the late of 19th century. One of the most beautiful statues is statue of Shiva.
Although Canh Tien Tower is not tall, the differences can be seen from other Cham Pa towers in Viet Nam. It is a solo tower and its four corners of the walls covered with many carvings. Photo: Internet
Canh Tien Tower
Built in the 16th century, Canh Tien is 27km west of Quy Nhon City though it used to be in the central of Do Ban town. The remaining of the town is only a wall in Quy Nhon. Inside Do Ban town was a towered architecture, and Canh Tien is one of them. Normally, Champa-style tower has a group of 3 towers but Canh Tien has only one. It is an imposing tower with giant pillars, a cubic and layered architecture. Canh Tien has 2 parts of an antechamber and a sanctuary hall. The most significant thing of Canh Tien tower is the structure and the shape of faked doors with their layered structure and decoration.