TEAM BUILDING IN QUANG BINH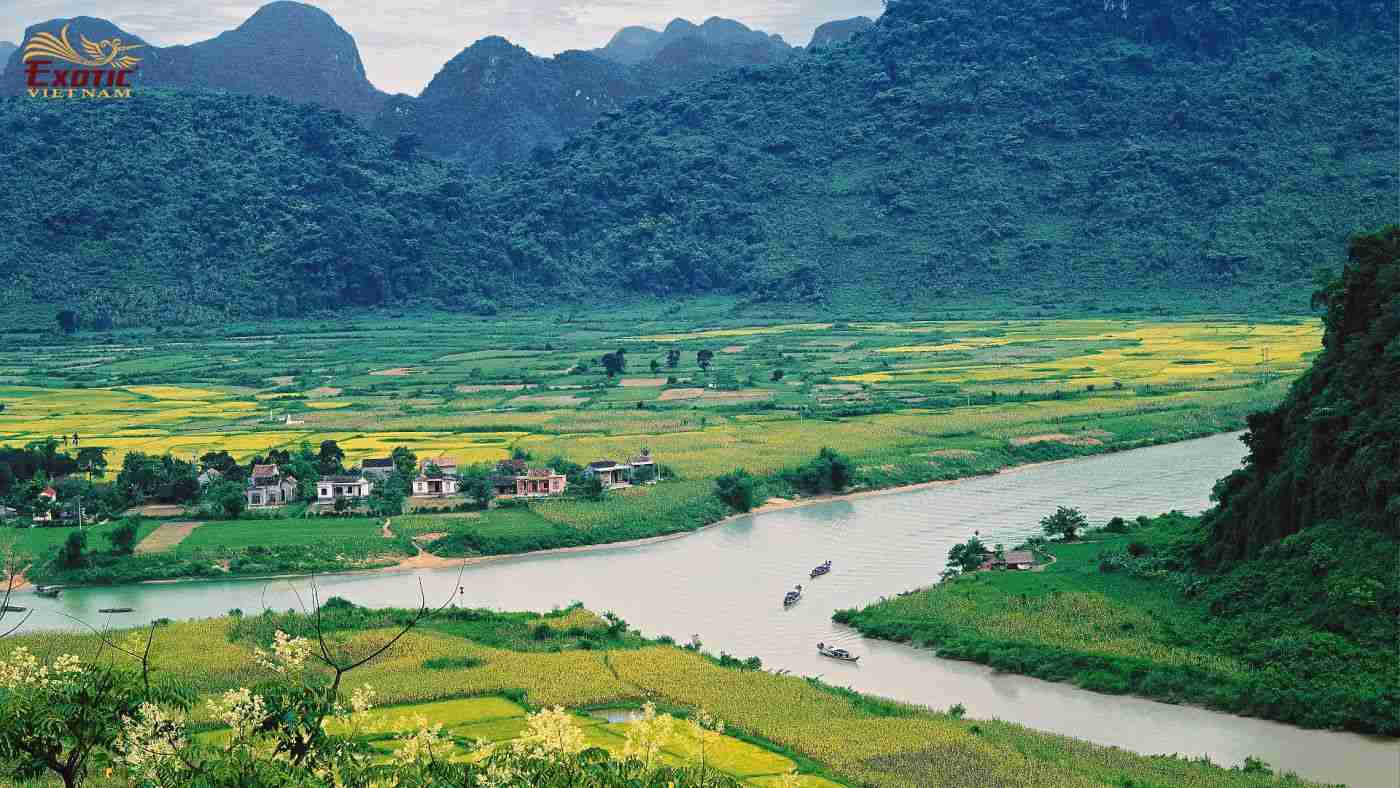 Known as the "land of caves", Quang Binh is home to the largest limestone massif in Indochina with so many natural wonders and unique phenomena. Among the best things to do in karst is a visit to some of its 300 caves and underground rivers. Photo: Exotic Vietnam
Location: 162km from Hue (3½ hours by car), 200km from Vinh (4 hours by car).
Introduction: Dong Hoi, the capital of Quang Binh Province, has graceful rivers, fragrant lotus lagoons, white sand dunes and wild beaches. A little further northwest is Phong Nha – Ke Bang National Park, a World Heritage site recognized by UNESCO in 2003. Known as the land of caves, the park protects one of the world's two largest karst regions with several hundred majestic caves and grottoes in which Son Doong Cave was accidentally known by a local named Ho Khanh in 1990 and then discovered by British cavers in 2008. It has quickly taken the title of the largest cave by the Guinness World Records in 2009. Besides its famous value of the karst landscape, the park is also testified to its globally outstanding biodiversity. The legendary Ho Chi Minh Road and war vestiges can be seen en route.
Highlights: Phong Nha Cave, Tien Son Cave, Eight-lady Cave, Thien Duong Cave, Son Doong Cave, Dark Cave, Tu Lan Cave, Va cave, En Cave, Cha Loi Cave, etc.
Facilities & services: boat ride, cave exploration, world-class hotels & resorts and restaurants.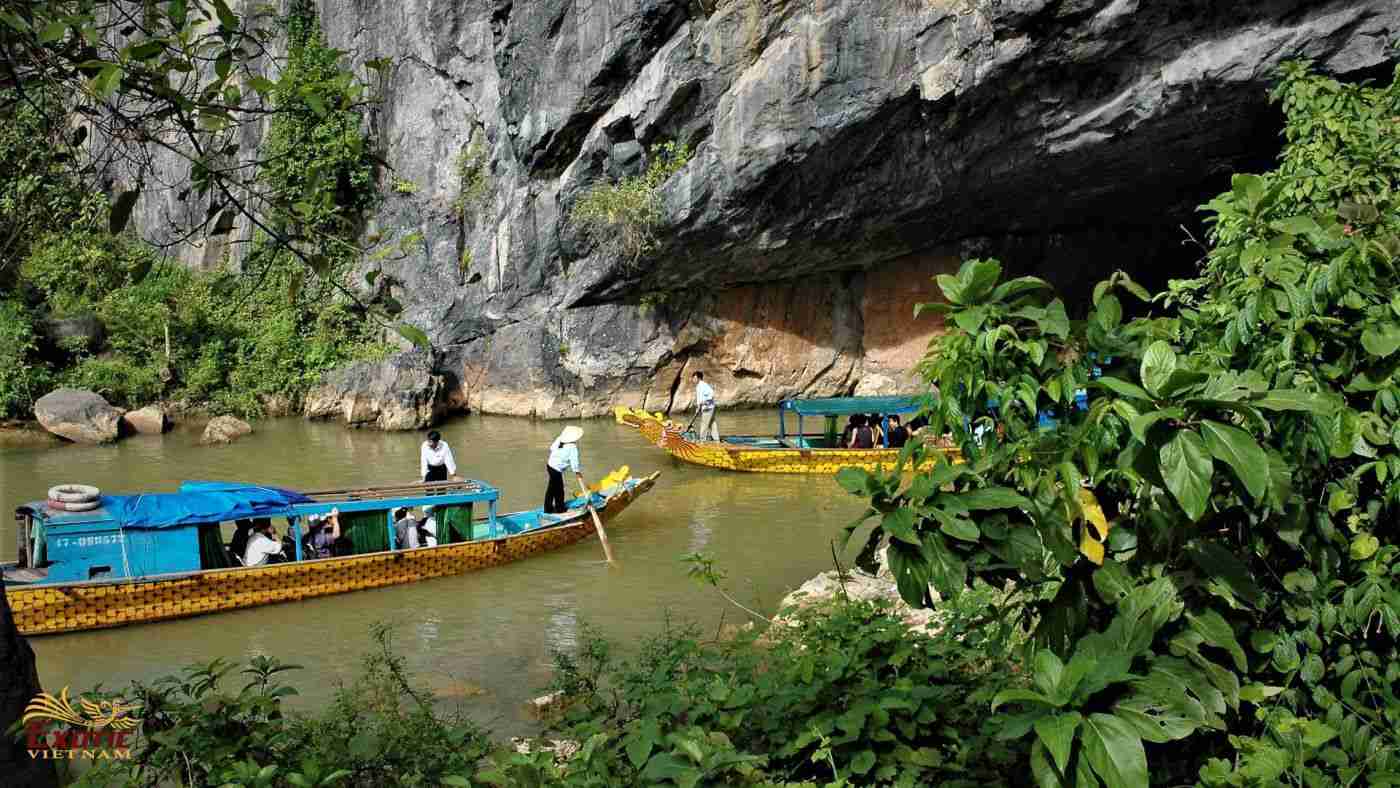 Discovered by the Cham people since ancient times, Phong Nha Cave has also been carved into one of the Nine Dynastic Urns at Hue Imperial Citadel. Photo: Exotic Vietnam
Phong Nha Cave
Phong Nha Caves, 50km northwest of Dong Hoi, lie under the limestone massif of Ke Bang in Quang Binh Province. The main cave system contains 14 chambers, linked by an underwater river that runs for decades kilometres. Secondary corridors branch off in all directions. For tourism, visitors can do sightseeing from the open to some 600 meters long into the cave. The first stop is the Bi Ky Cave, where they step out of the boat to explore a fantastic landscape of white sand stretch and colourful rock. Stalactites and stalagmites jut out like strange trees, exciting their imaginations. Thien Cung cave and Cung Dinh cave are also worth to visit. All three caves are lighten by hidden coloured bulbs.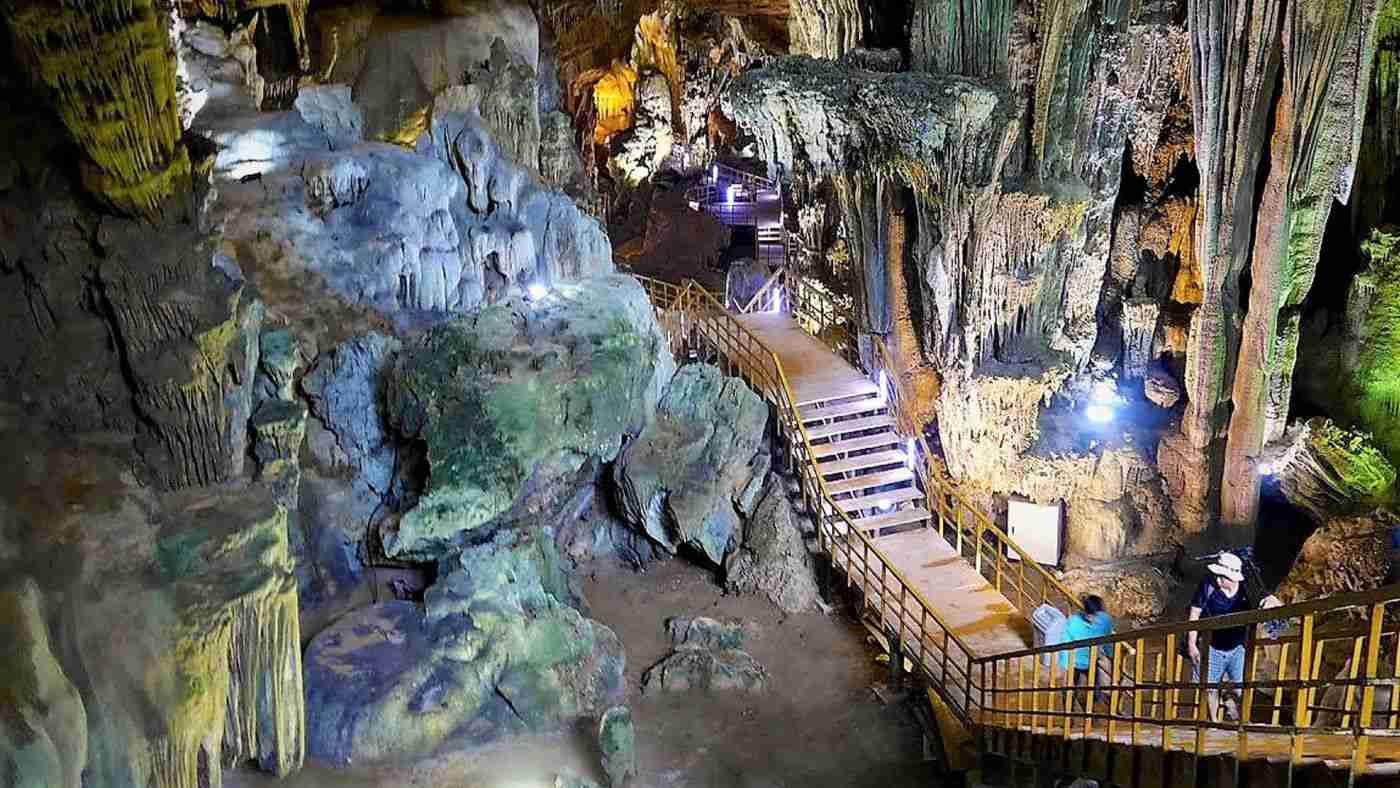 Tien Son cave is the past image of Phong Nha cave. The tectonic movement made this massif rise up, causing the underground river to erode in depth, forming Tien Son dry cave above. Photo: Internet
Tien Son Cave
Tien Son Cave was discovered in April 1935 in the limestone mountain of Ke Bang. It is about 400 metres away from the famous Phong Nha Grotto and at a height of 135 metres. Tien Son Cave is more than 980 metres long. At present, nearly 400m of the cave have been installed with lighting system to make it safe for visitors. The cave looks marvelous inside with hundreds of stalagmites and stalactites of different sizes and shapes. Some look like a man or an animal, and there is one that looks like the Leaning Tower of Pisa in Italy. On the cave ceiling, there are glittering gold and silver-like veins. Some stalagmites produce an echoing sound when slightly knocked.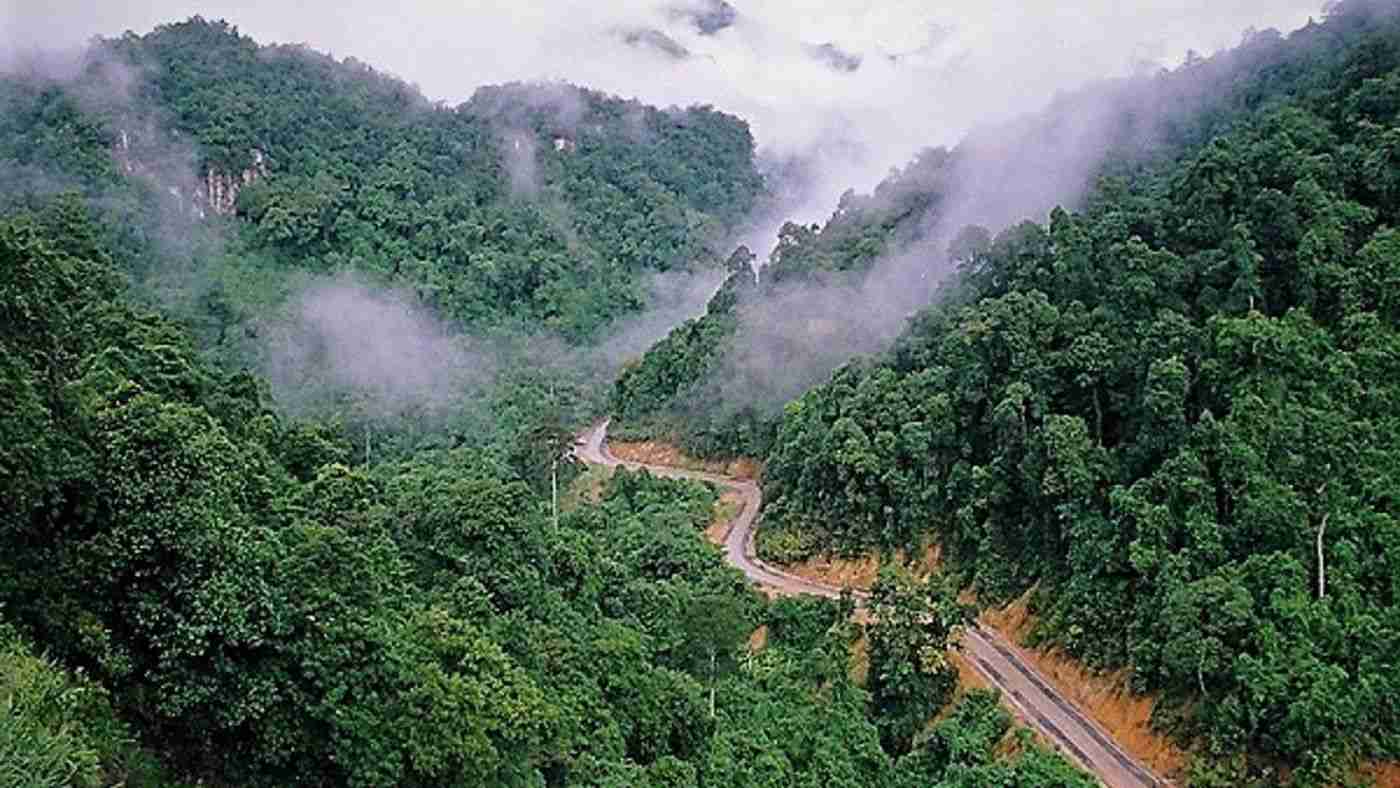 On the Road 20, a branch of Ho Chi Minh trails full of bombs in the past, Eight-lady Cave is considered as a Martyrs' memorial to tribute the great sacrifice of the volunteer girls and artillery soldiers who were tragically trapped in the cave after a bomb strike. Photo: Internet
Eight-lady Cave
The sacred cave is a popular stop for those traveling on Road 20 on the way to the Paradise Cave. The women starved to death in 1972 in a rock cave when they were hiding from U.S. raids. U.S. bombs caused an immense 100-ton rock to fall over the only exit of the cave that the women were hiding in. Great efforts to rescue the women were in vain. Soldiers stationed nearby recalled that they heard cries for help resounding from within the cave. The voices were steadily weaker day after day and stopped after the ninth day. In 1996, the remains of the eight women were taken out of the cave for official burial.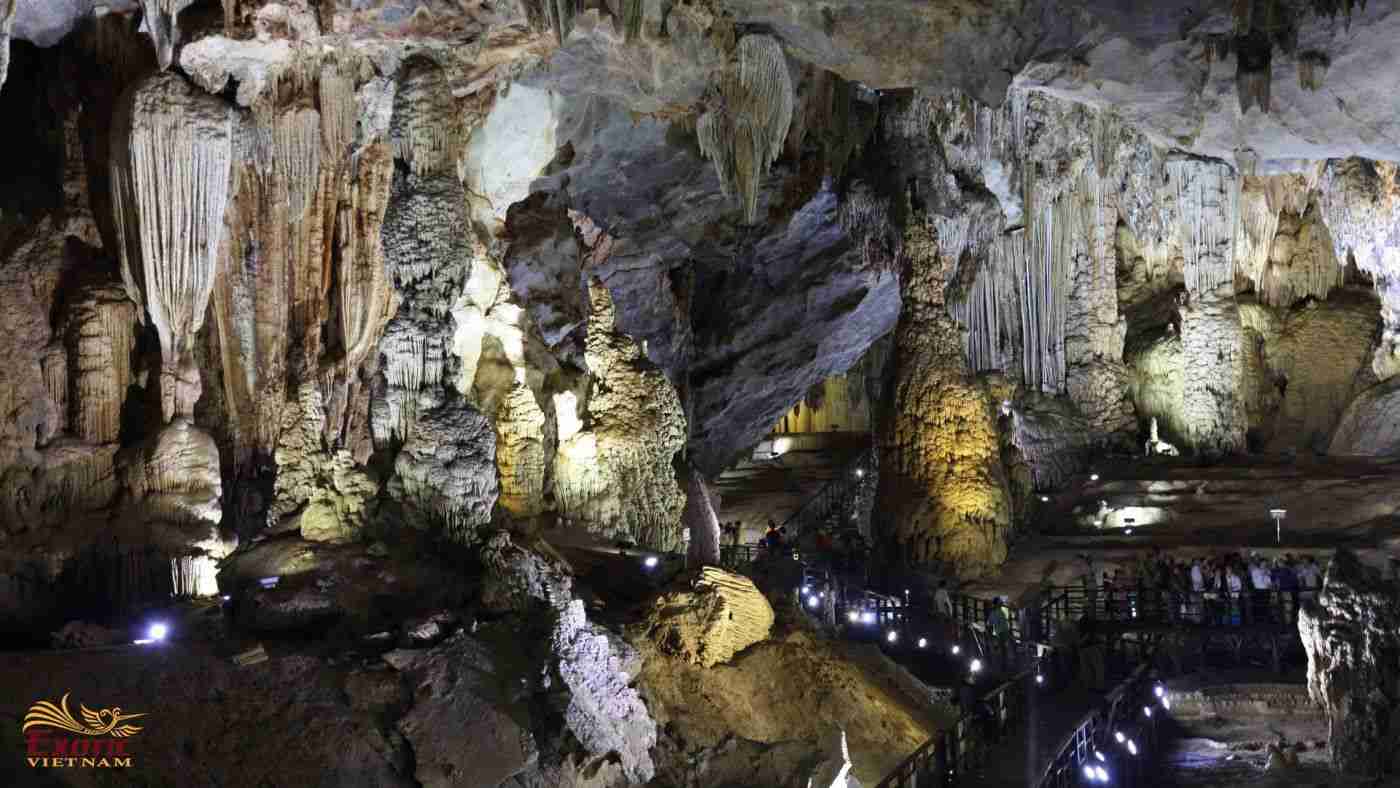 Surrounded by forested karst peaks, Thien Duong Cave can receive a large amount of sightseers at the same time with buggies, wooden staircases and multi-colored lighting system. Photo: Exotic Vietnam
Thien Duong Cave
Thien Duong Cave (Paradise Cave) is a cave in Phong Nha – Ke Bang National Park, UNESCO's World Heritage Site. Located at an elevation of 200 meters above the sea level, the cave was discovered by a local man in 2005 and 5 first km of this cave was explored by explorers from British Cave Research Association in 2005, the whole 31km was explored and publicly announced by the British cave explorers. This cave is 31km long, longer than Phong Nha Cave which had been considered the longest cave in this national park. The cave can reach to 100m high and 150 wide. The limestone formation is also more spectacular than that of Phong Nha Cave. Only the 1-km path is open to travelers since 2010.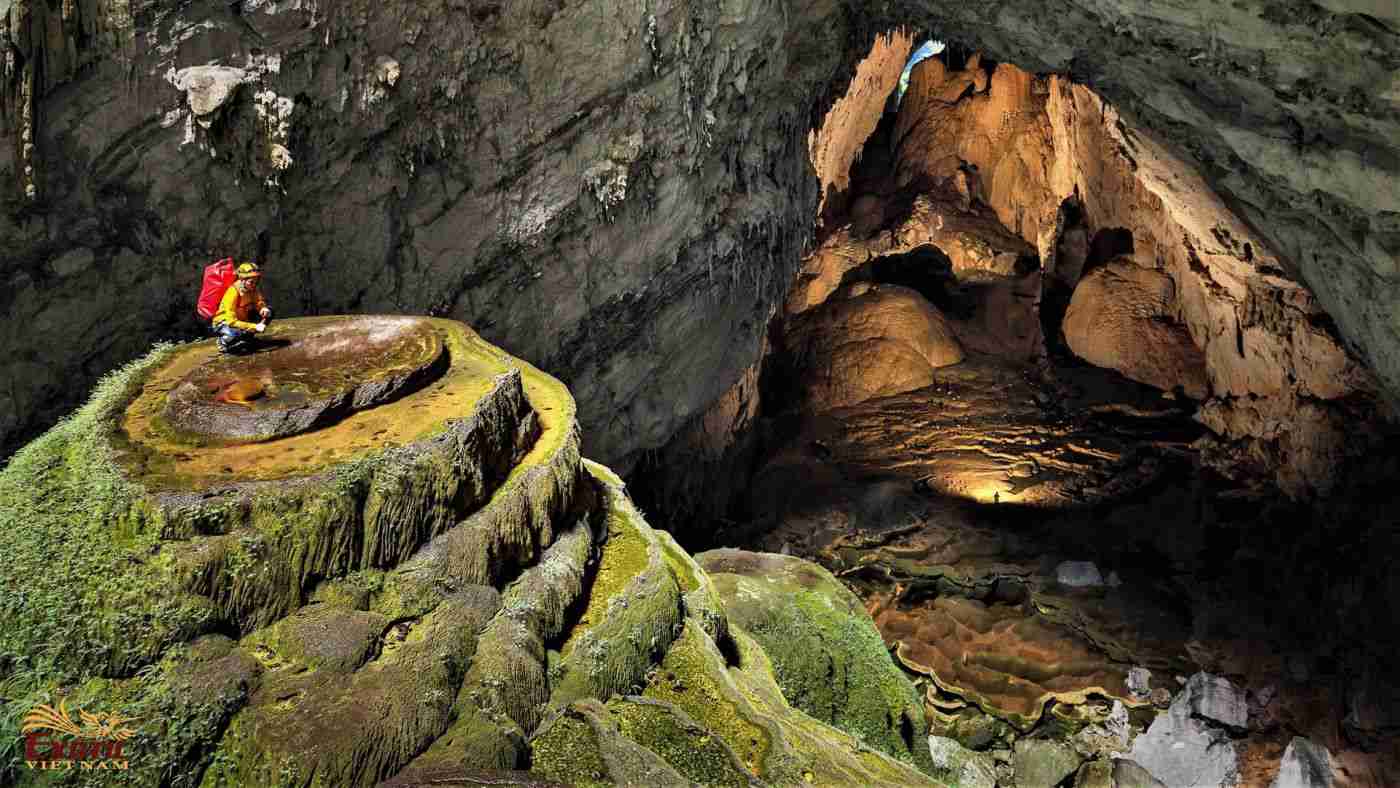 Known as the world's largest natural cave, Son Doong Cave houses many amazing grottoes, stalactites and stalagmites. It is a must visit for adventure travelers to experience "A Journey to the Center of the Earth" as a tittle of Jules Verne. Photo: Courtesy of Ryan Deboodt
Son Doong Cave
Son Doong Cave was discovered in 1990 in the Phong Nha Ke Bang National Park. It was only first explored in 2009-2010 by the British Cave Research Association. It was created 2-5 million years ago by river water eroding away the limestone underneath the mountain Where the limestone was weak, the ceiling collapsed creating huge skylights… The length of Son Doong cave is nearly 9km, in some places the ceiling height is up to 200m, 160m wide. With an estimated volume of 38.5 million cubic meters, Son Doong was officially confirmed as the world's largest cave, five time the size of Malaysia's Deer Cave. The stalagmites in Son Doong rise up to nearly 80m.  This deep underground scene shows that the world still has many beautiful landscapes to explore.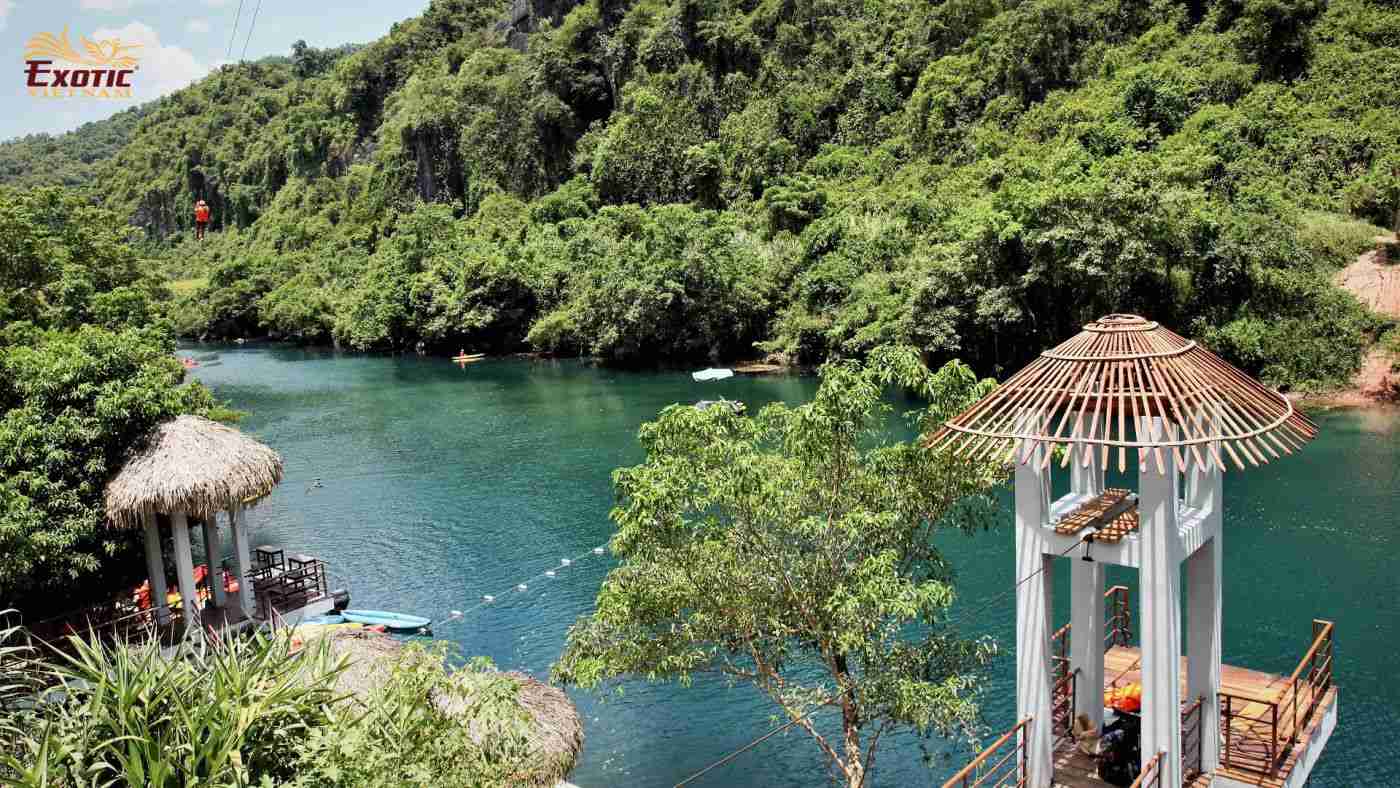 Dark Cave is where fun and adventure meet. Its attractions include zip-lining, swimming, kayaking, mud bathing, and cave exploring. Photo: Exotic Vietnam
Dark Cave
50km to the northwest of Dong Hoi, Dark cave (Hang Toi) was evacuated very early, during the war against American army and was used by the local people as shelters to avoid bombs. In 1992, the British Royal Caves Adventure Association conducted surveys, mapped and measured Dark Cave with an entrance of 40m high & 20m wide, a horizontal length of 5,558m, a height of 80m. Dark cave has a very strange beauty. The cave is still pristine with thousands of stalactite columns with diverse and unique shapes and is the refuge of many animals such as bats and swallows. In particular, the area of ​​​​the cave is also a shelter for Ha Tinh langurs – one of the primates listed in the Red Book of Viet Nam. Although the name of the cave is Dark but actually not dark at all. The light from the outside cleverly knit into the cave, shoveling the cliffs a little wave of the sun, reflecting the surface of the water shimmering. Not only swimming and kayaking, zipline is a challenging, fun activity that attracts many visitors here.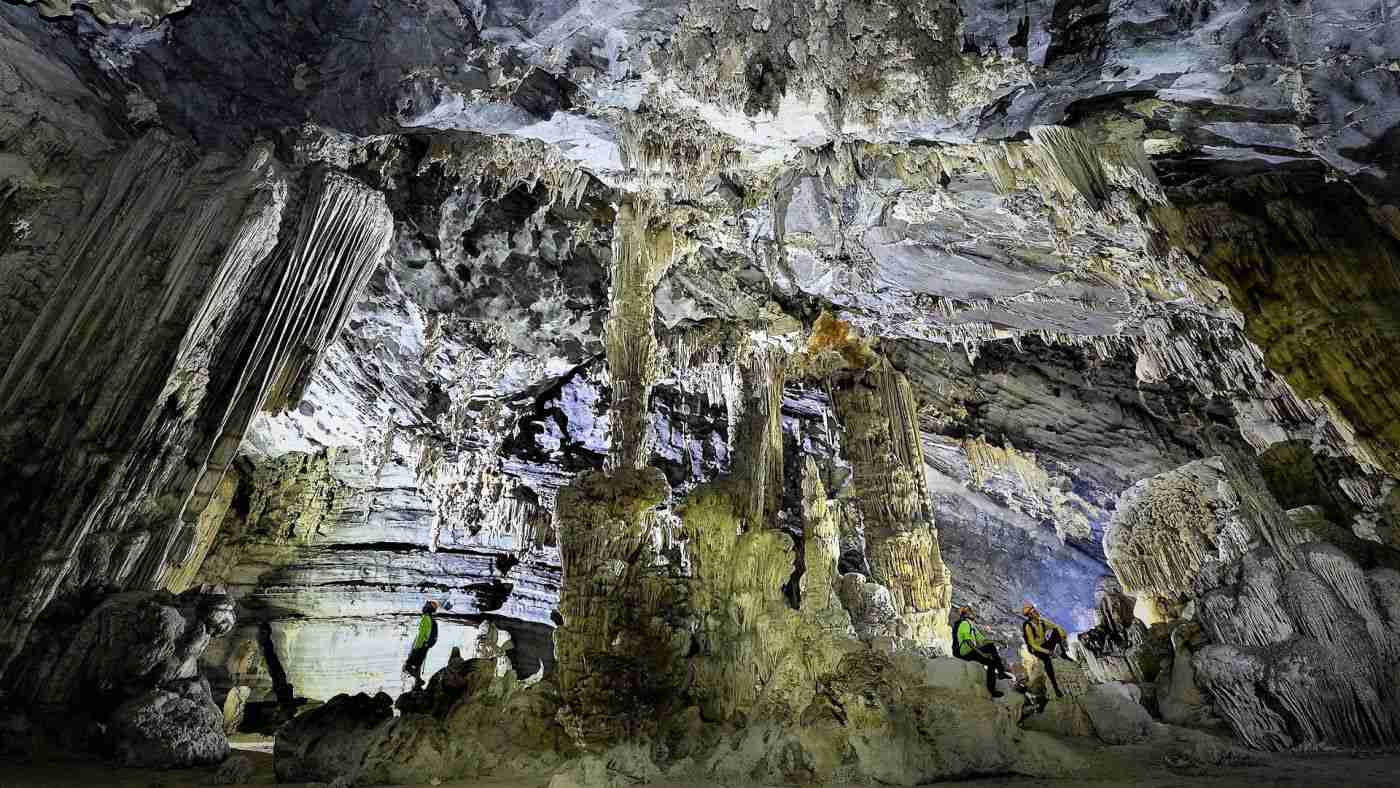 The Tu Lan cave system comprises of more than 20 wet and dry caves. Explore these caves with activities like swimming, climbing, and picnicking that will give you an adventure of a lifetime. Photo: Internet
Tu Lan Cave
About 100km north of Dong Hoi, Tu Lan cave system consists of 8 caves, was discovered from 2009 – 2012. Tu Lan cave system has the main cave system, including Tu Lan cave and the other caves: Song cave, O Sao cave, Chuong cave, Hung Ton cave, Kim cave, Ken cave and Co Mat cave.
Tu Lan cave system is still unspoilt, capturing the secrets of the majestic nature in limestone mountains, with underground rivers and endless waterfalls. To conquer this cave, you will have to go through the rugged mountains, cross the jungle, walk among the vast valleys, muddy slides, and swim through the rivers while suffering the cold under 20 degrees C. With the magical beauty of stalactites, the mysterious underground river plus wild nature of the mountains will make you forget everything once coming here.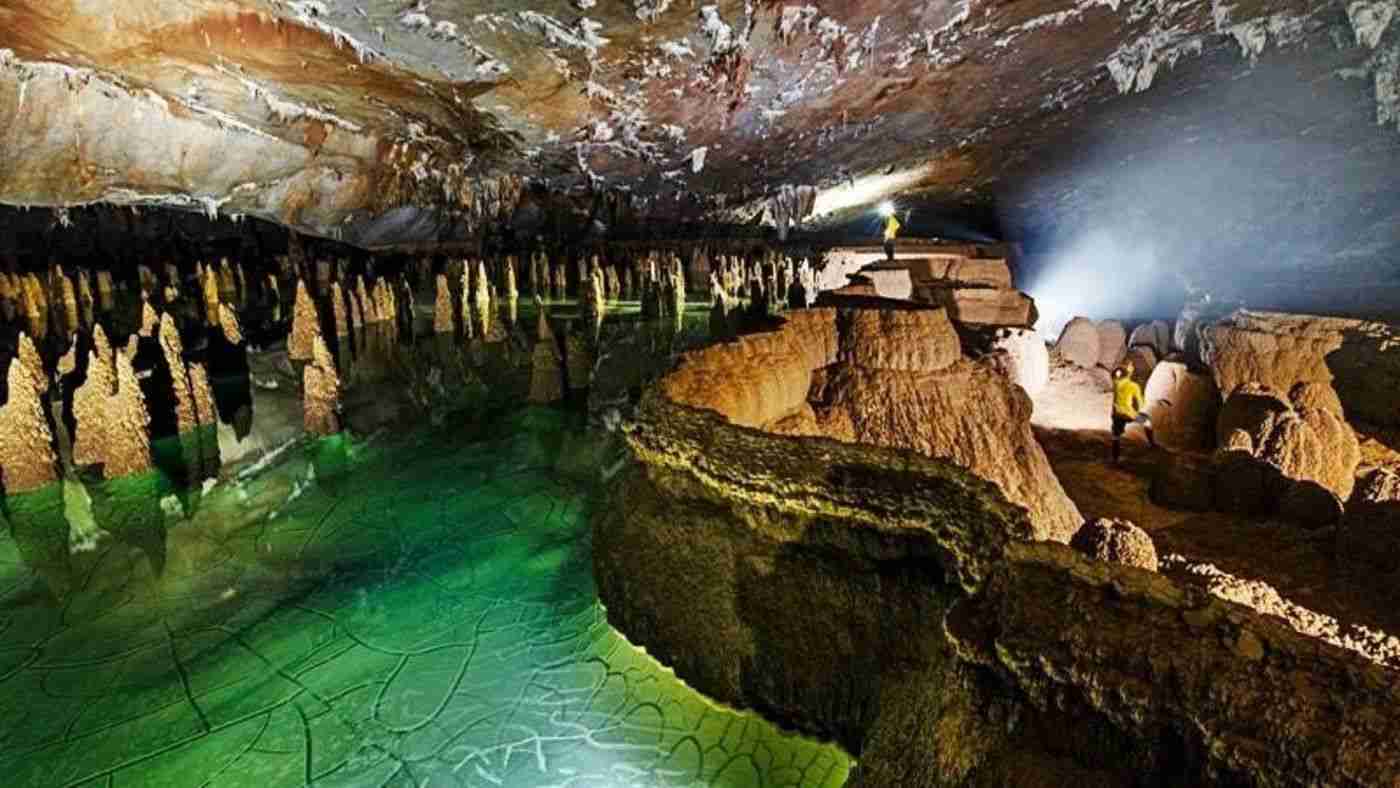 Hang Va is famous for more than a hundred unique stalagmites. These formations rise from emerald water in shapes of raft & tower. Photo: Internet
Va Cave
Located in the heart of Phong Nha – Ke Bang National Park, about 400m from Son Doong Cave, Va Cave was discovered in 2012, and opened to tourism in 2015. It is a million-year-old cave and a mysterious underground river. This cave is 1.7km long and easy to access and explore. The entrance to Hang Va has a collapse in the floor mading up a small steep valley, with cliffs to the north. A descent of about 15m leads into a stream passage, 5m high and wide, which is full of water throughout the dry season. Va Cave is famous for the most unique stalactite formations in shapes of raft & tower cones in the world.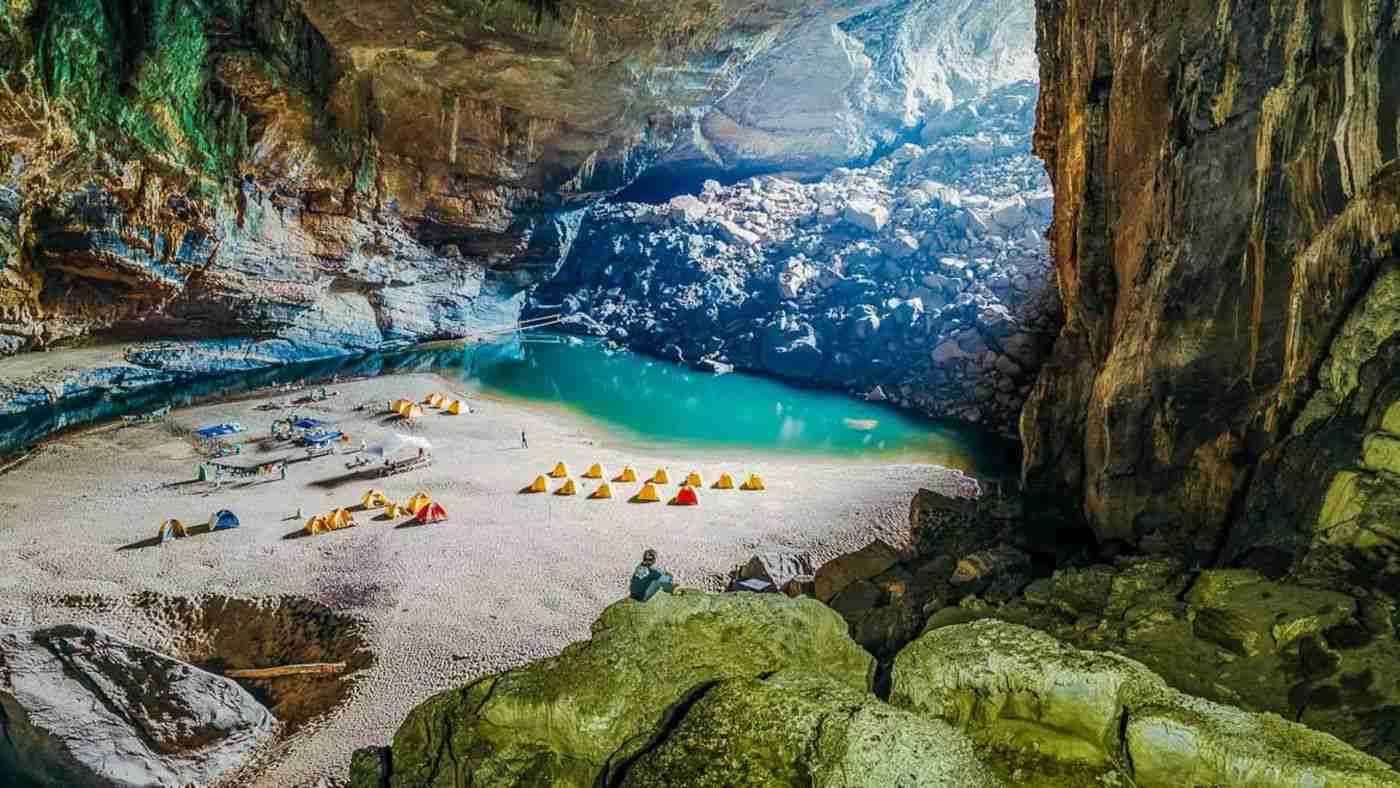 Recognized as the third largest cave in the world, En cave is part of Son Doong cave. The unique feature of En cave is the campsite on fine sand at the cave entrance and the magical world of light and dark at sky caves when magical golden spotlights through the humid air into the green rivers. Photo: Internet
En Cave
Located in the heart of Phong Nha – Ke Bang National Park, about 9km from Ho Chi Minh Road, formed about 3 million years ago, En Cave was first found by the British Caving Association in 1994. The cave is named En (Swallow) because of habitat of many swallows. The cave is 1,645m long, 120m high, 170m wide and has three gates. Two of which are entrance gates at mountain foot and the other one being exit gate at mountain slope. This gate style is a rare feature of cave structure in Viet Nam. There are 3 lakes separated by small alluvial grounds and stones overlapping one another. On ceiling, cliffs of the cave also have many stalactites in unique shapes and swallow nests. The unique feature of En Cave is the holes on the ceiling creating "sky wells" to shine Rao Thuong Stream.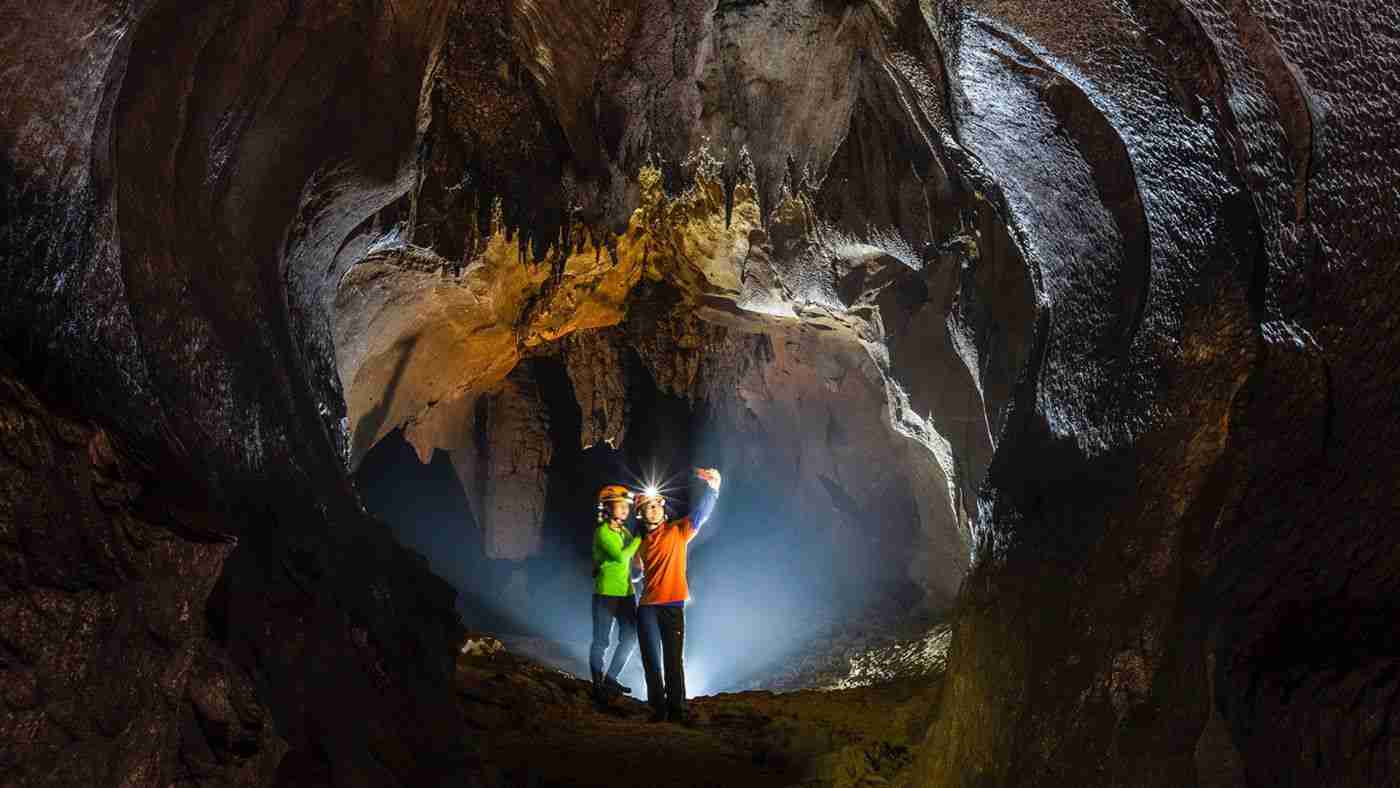 In 2019, Cha Loi cave, a new magnificent and mysterious cave is opened to the public. It's amazing to explore an underground river with imposing stalagmites and stalactites that is a habitat for many special species of shrimp and fish. Photo: Internet
Cha Loi Cave
Operated as a tourist site since 2019, Cha Loi Cave is located about 40km southwest of Dong Hoi city, this place has once imprinted General Vo Nguyen Giap's footprints and also the living place of the ethnic local people, Bru Van Kieu. Behind a narrow entrance of ​​​​only 4m2 is an extremely large mysterious world. The cave has 3 floors, the width of 30 to 100m, the average height of 60m, the highest ceiling at about 90m high. The cave also has a cool and blue underground river, small lakes, where some species of shrimp and fish have a very special transparent color. Stalactites in the cave contain many calcium crystals, so every time the lights shine on, they become beautifully shimmering.