TEAM BUILDING IN PHU QUOC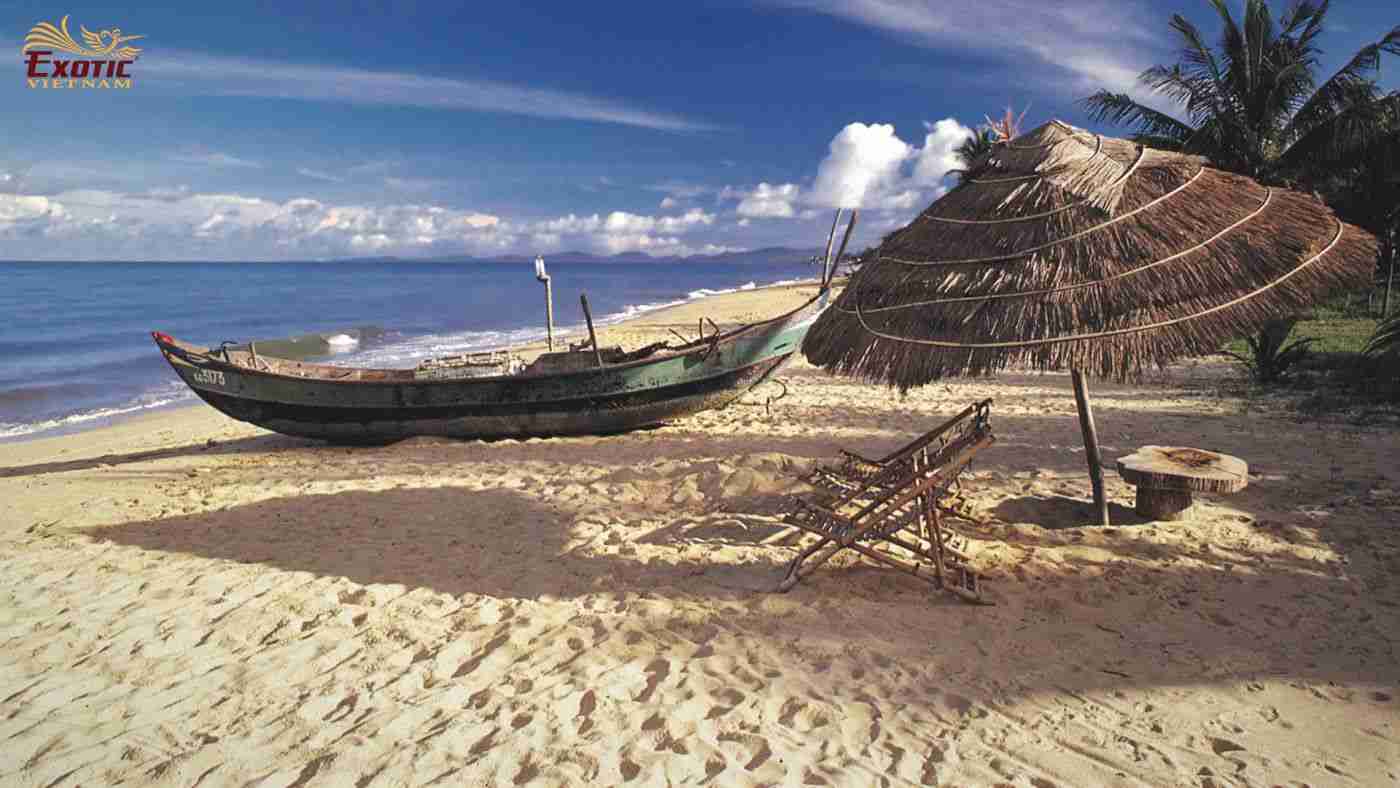 Phu Quoc meets all your interests for an impressive trip with contrasting choices: luxury resort block – thatched guest house, sleepless entertainment area – calm fishing hamlet, bright crowded town – quiet uninhabited islet, etc. There are still countless secrets about nature, history and life, waiting for your discovery. Photo: Exotic Vietnam
Location: About 1 hour by air from Ho Chi Minh City, 120km from Rach Gia (2½ hours by speed boat), 45km from Ha Tien (1 hour 15 minutes by speed boat).
Introduction:
Before the arrival of the Vietnamese and Chinese in the 17th century, Phu Quoc was known as Koh Tral, meaning "the shuttle" in the Khmer language. Mac Cuu, a Chinese merchant turned this area into a rich commercial center and named Phu Quoc. In 1708, Phu Quoc's officially relationships with Lord Nguyen helped it to be protected from Siamese attacks.
Just 120km from Rach Gia or 45km from Ha Tien by sea, Phu Quoc Island boasts 150km of beautiful coastline and decades of idyllic islands in the Gulf of Thailand, in which Phu Quoc is the main island with an area of 567km2, the largest island of Viet Nam. Composed of sandstones, Phu Quoc's terrain is rugged with "99 mountains" which feature the asymmetric shapes of alternating steep and gentle slopes. The highest is the 603m Chua peak, formerly Vo Quap in the north. The sea surroundings are quite shallow, with a depth of less than 10m. However, the small island cluster of An Thoi Port is completely separated from the southern tip of Phu Quoc by a strait with a depth of more than 60m.
Dominated by white-sand beaches, emerald waters and dense tropical jungle, Phu Quoc is considered a "pearl" where visitors can fully enjoy the natural beauty of sun-drenched beaches, romantic sunset, vivid marine life, diverse forest ecosystem and verdant countryside with traditional trades such as pearl farming, growing pepper, fishing industry and its famous fish sauce.
With countless big projects from record-breaking trans-sea cable car, to safari zoo, huge seaside resorts, sleepless amusement parks, elegant coastal villas, bustling shop houses, immense golf courses, etc. show that the large-scale mass tourism has been booming since 2015. Environmental pollution and coastal erosion in Phu Quoc has become a serious problem that concerns everyone from the government, investors, residents to tourists. The natural beauty of the Phu Quoc National Park and the Kien Giang Coastal and Marine Biosphere Reserve has gradually disappeared. That's the reason why visiting Phu Quoc makes you feel all nostalgic for its green world as well as know more about the fragility of the beautiful local environment you are enjoying.
Eco Team building in Phu Quoc promises many interesting things, helping you have new experiences and raising awareness about the sea nature. Pearl Island will not disappoint you with special products: The Amazing Race, Island Survivors, Lost in Jungle, or fun activities on the beach. Tell us your team building plans and preferences and Exotic Vietnam will make with the best partners in Phu Quoc to create the best trip match for your business.
Highlights: White sandy beaches, Cua Can River, Phu Quoc Nature Reserve, Dinh Cau, Pagodas in Phu Quoc, Phu Quoc Prison, An Thoi Archipelago, Phu Quoc Safari, etc.
Facilities & services: international standard restaurants, hotels and resorts, safari park, themed parks, boat ride, fishing, scuba diving, golf course, etc.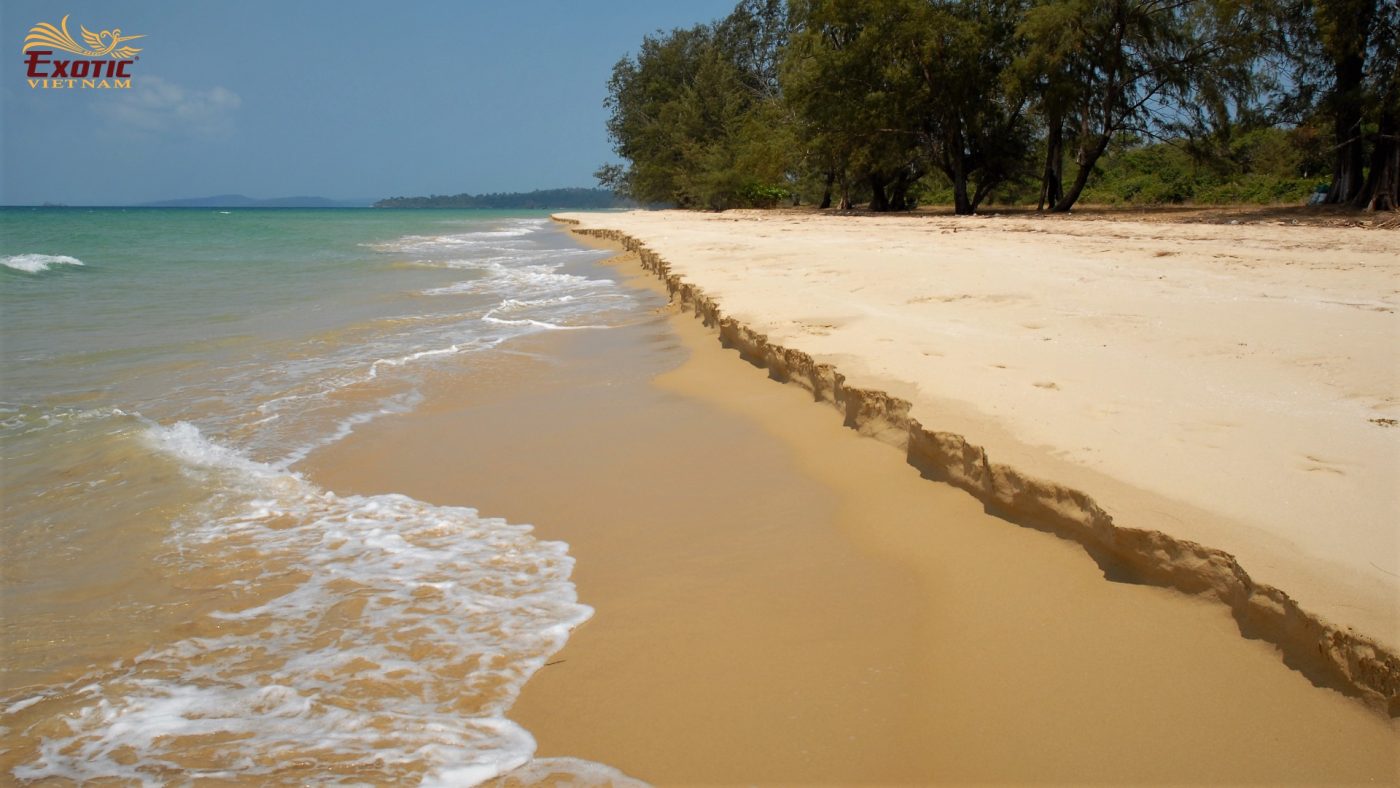 Phu Quoc boasts of plenty of different beaches, through the national park in the north, it's clean water, natural setting and quiet environment, or just steps from west coast resorts, it's a fantastic strand of white sands, stretching about 40km with many water sports and premium facilities. There is nothing more truly happy than to enjoy soaking up the sun, watching the sunsets, exploring the islets nearby, or just swinging in hammock under palm shades. Photo: Exotic Vietnam
White sandy beaches
Bordered around the Phu Quoc Island, there are around 20 sandy beaches. First-time visitors to Phu Quoc are often surprised that its beaches can be so sugary-white and the water so crystal-clear. The seasonal variation of wind direction also creates different wave levels for each coast. Phu Quoc beaches are all rated as the best in Viet Nam.
However, before the rapid development of infrastructure for mass tourism, there are only a few beaches left on the island, where there is no large-scale resort construction, environmental damage or presence of garbage. In general, the west coast which owns the longest and most beautiful beaches and ideal viewpoints for sunsets (Bai Dai, Vung Bau, Ong Lang, Bai Truong) and the southern end with powder soft sands caressed by gentle waves (Ong Doi, Bai Khem, Bai Sao) are densely covered with countless luxurious resorts, entertainment centres and commercial buildings, etc. Meanwhile the north coast known as secluded blue havens ringed by coconut palms, wild bushes and fishing hamlets (Ganh Dau, Rach Vem, Rach Tram, Hon Thom) and the northeast with a few small silt beaches as well rocky headlands, remain quiet and relatively unspoiled.
Trash drifting along the sea currents and landing on beaches is not only a challenge at high-end resorts but also for any deserted and romantic beach of Phu Quoc.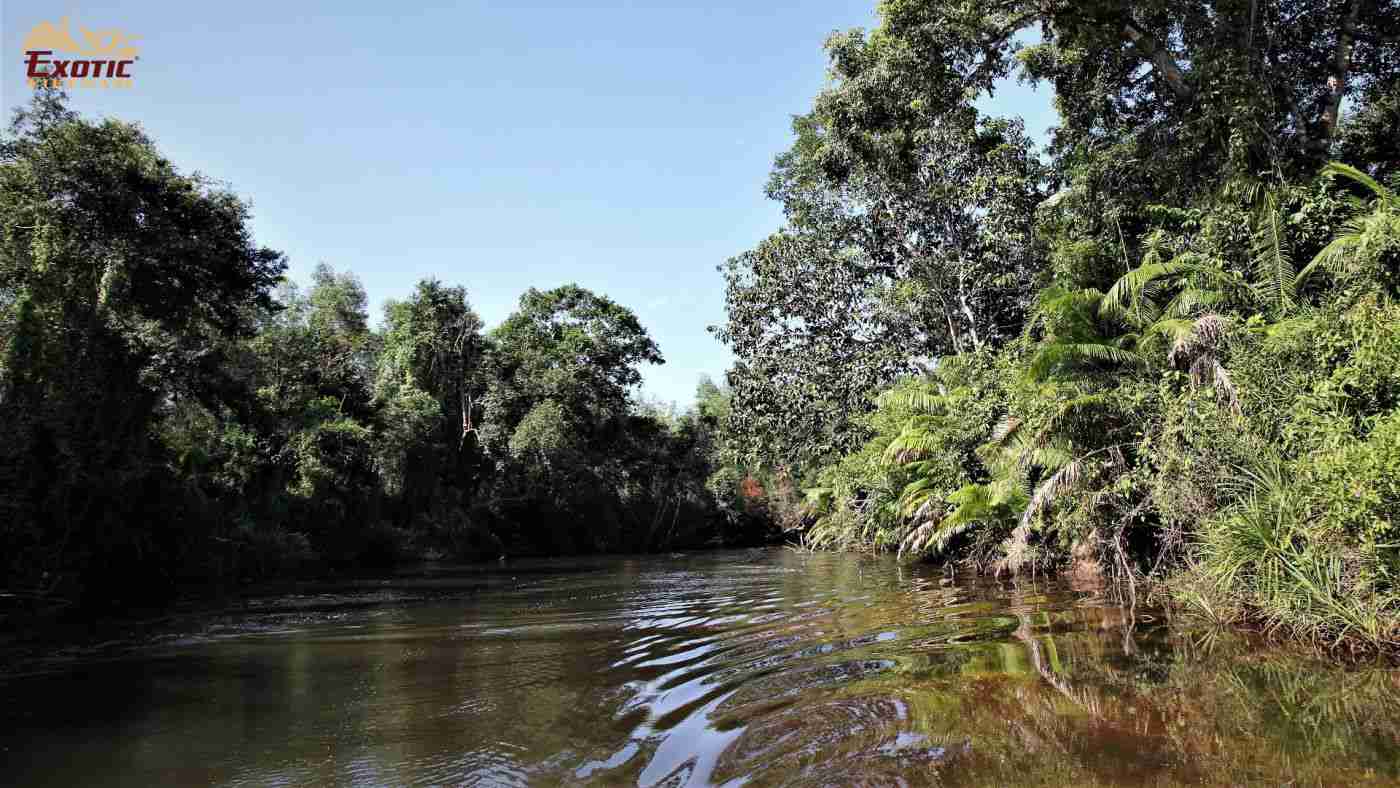 Rich in history, daily life, and natural beauty, Cua Can River offers an opportunity to visit a relic of Hero Nguyen Trung Truc, explore pepper plantation, and paddle through kilometres of winding waterways with crystal clear waters. Immerse yourself in the lazy current and soak in the stunning views of mangroves and many wildlife species. Photo: Exotic Vietnam
Cua Can River
In 1868, hero Nguyen Trung Truc built many army bases here to withstand the strong French attack for 10 months. The temple and fragments of his wooden boats can be found at Ba Trai, on the bank of Cua Can River.
With the length of 15km, Cua Can River originates from Ham Ninh forested mountain and draws down to Cua Can hamlet, 10km north of Duong Dong Town, meets the west coast of the island. In the rainy season, the waves bring sand to fill up the river mouth. River's minimal flow not enough to prevent blockage by formation of sandbars. Boats that want to pass sandbar must come together in a group of five or seven. When the tide is low, people dig a drainage line through the sandbar, so that the river water flows into the sea, making the water line wider just enough for boats to move through. A few weeks later, it's deposited and sealed again. The river mouth is nearly stocked up and that is the reason why it is called Cua Can.
Nowadays, the river has become one of the most popular spots on the island due to its historical interest and natural beauty, so you should take a boat trip along the water to admire the beautiful scenery. It features very clear and clean water, so you can see through the clear blue water with schools of fish swimming beneath. On both sides of the river, you can also see flocks of birds and storks chirping on the bushes, even lots of clusters of mangrove with its branches swooping down on the water. The more you move upstream, the more you will see the winding small streams hidden in the dense melaleuca trees.
If you're looking for something that brings the team together in a memorable way, there's nothing better than engaging people on an adventure. With incredible scenery, friendly locals and exciting adventures, Cua Can River is your perfect choice.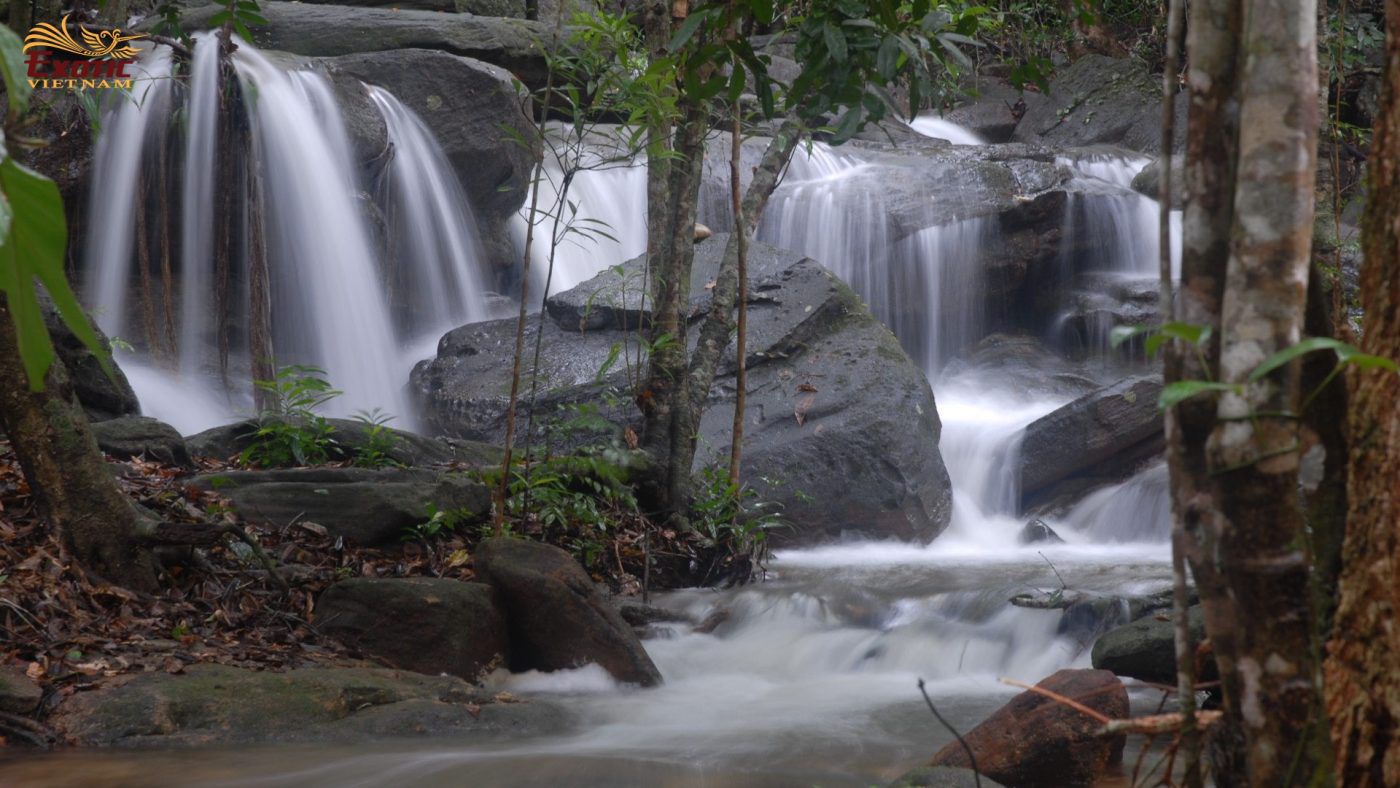 Phu Quoc is an island with a large area of amazing nature reserves from the national park to the marine protected area and the UNESCO biosphere reserve. They create a contrast to areas that are densely built with leisure centers and resorts. These sanctuaries give you an opportunity to see the island's wildlife from the mountains to the seabed. Photo: Exotic Vietnam
Nature Reserve in Phu Quoc
Established in 2001 and later expanded to a total area of 31.422 ha, Phu Quoc National Park with diverse flora and fauna covers mainly the mountainous northern part of the island. There are nearly 929 tree species of which 19 newly-found species are first recorded in Viet Nam. The forest is home to many species of birds and small mammals (flying squirrels, sloth-monkeys…). As explained by the French Larousse dictionary, the famous Phu Quoc dog is a well-tamed wild canine species which has become hunters' favourite companion. Many beautiful streams such as Tranh and Da Ban are also found in the forest as must-see attractions for many tourists.
In 2006, to protect the ecosystem of coral reefs and seagrass beds, coastal mangroves and many other rare marine creatures, Phu Quoc Marine Protected Area was established and then expanded to an area of ​​nearly 41,000 ha. Phu Quoc is home to extensive coastal ecosystems including nearly 108 species of coral, 135 species of coral reef fish and 132 different types of mollusks, as well as migrating fish and marine mammals in its surrounding waters. Here is one of the few places in the country where wildlife enthusiasts can spot unique species like dugong, hawksbill turtle and green turtle. In 2006, this area becomes part of an area of 11.881km2 with 105 islands in Kien Giang Biosphere Reserve recognised by UNESCO.
Nature tours such as conquering Mt. Nui Chua with trekking under the dense forest canopy or swimming and diving in the clear blue water to watch the colorful coral reefs, etc. are always attractive to tourists. This is also a team building playground with many survival-style scenarios in the wild. However, the construction of too many theme parks, villas, resorts now and in the future may cause the forest area to shrink and the marine environment to be compromised in Phu Quoc.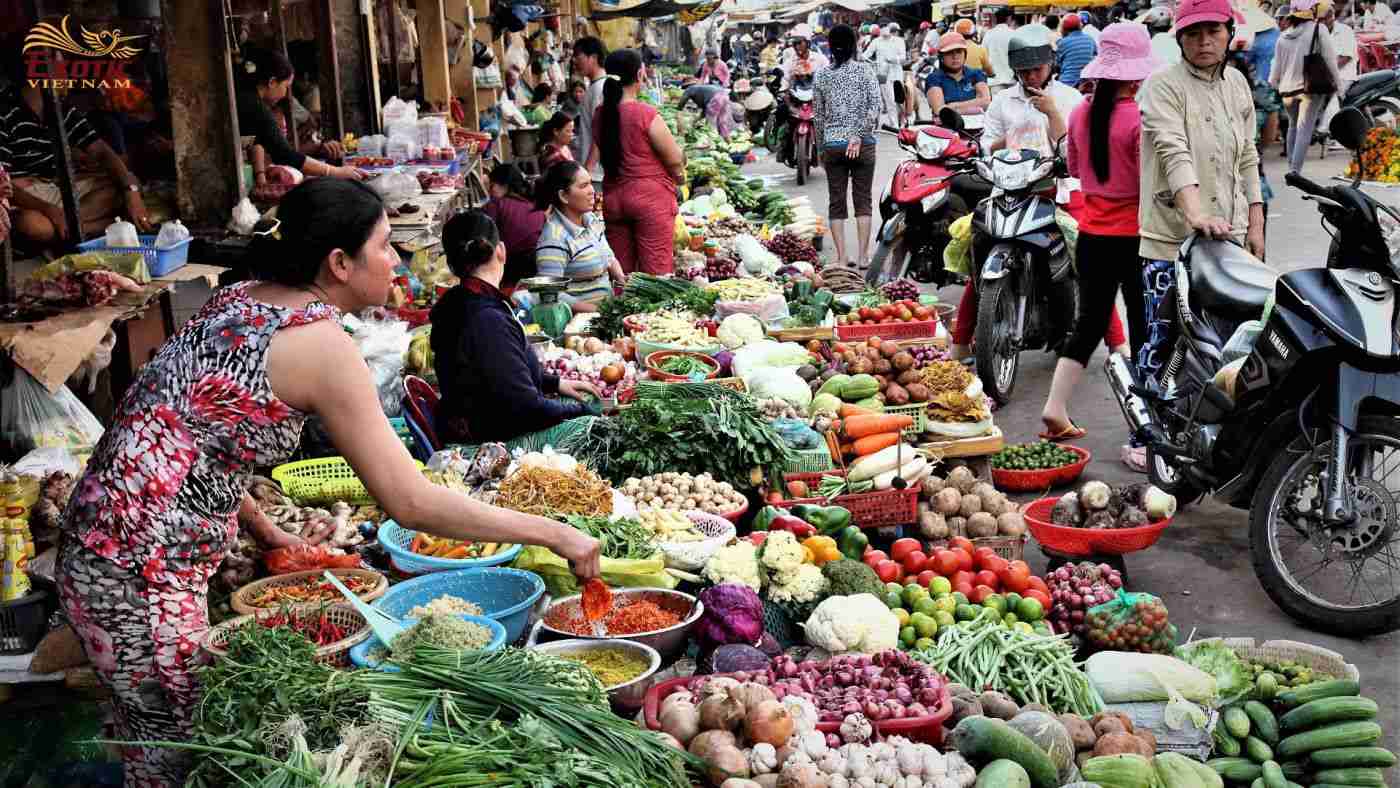 Packed with a large number of the sellers and buyers as well as travelers wandering back and forth, Phu Quoc Market is a bustling hotspot that most tourists gather here to soak up its distinctive atmosphere, learn about people's lives and buy some sea specialties, especially dried seafood. At every corner, you'll see something worth remembering with a photo. Photo: Exotic Vietnam
Duong Dong Riverside Market
Located on the bank of the Duong Dong River, Phu Quoc Market is convenient for both water and land transportation. Fishing boats easily dock and unload fresh catches right at the market. This bustling market includes a large house selling all kinds of daily necessities, a variety of dried seafood, souvenirs and an outdoor area specializing in selling fresh seafood with a variety of seafood such as fish, shrimp, crab, squid, snails, etc. In addition, there are many stalls serving fruit juices and Vietnamese cuisine. Famous Phu Quoc specialties such as fish sauce, myrtle wine, dried seaweed, black pepper and cashew nuts are also items that tourists often find at the market. The market is open from early morning around 4 o'clock in the morning to evening with a large number of merchants.
A nice way to get an insight into the life of a locality is by socializing yourselves in its marketplace. Everything in Duong Dong market looks so different from everything else in town: huge fish, odd fishing tools… A lively and cheerful atmosphere permeates the marketplace from vendors in conical hats sitting on the ground with their small baskets of little fruits and vegetables to salespeople at their big well-stocked stands. A walk to the market jetty where visitors can take wonderful snapshots of boats constantly loaded and unloaded in a hurry is worth trying.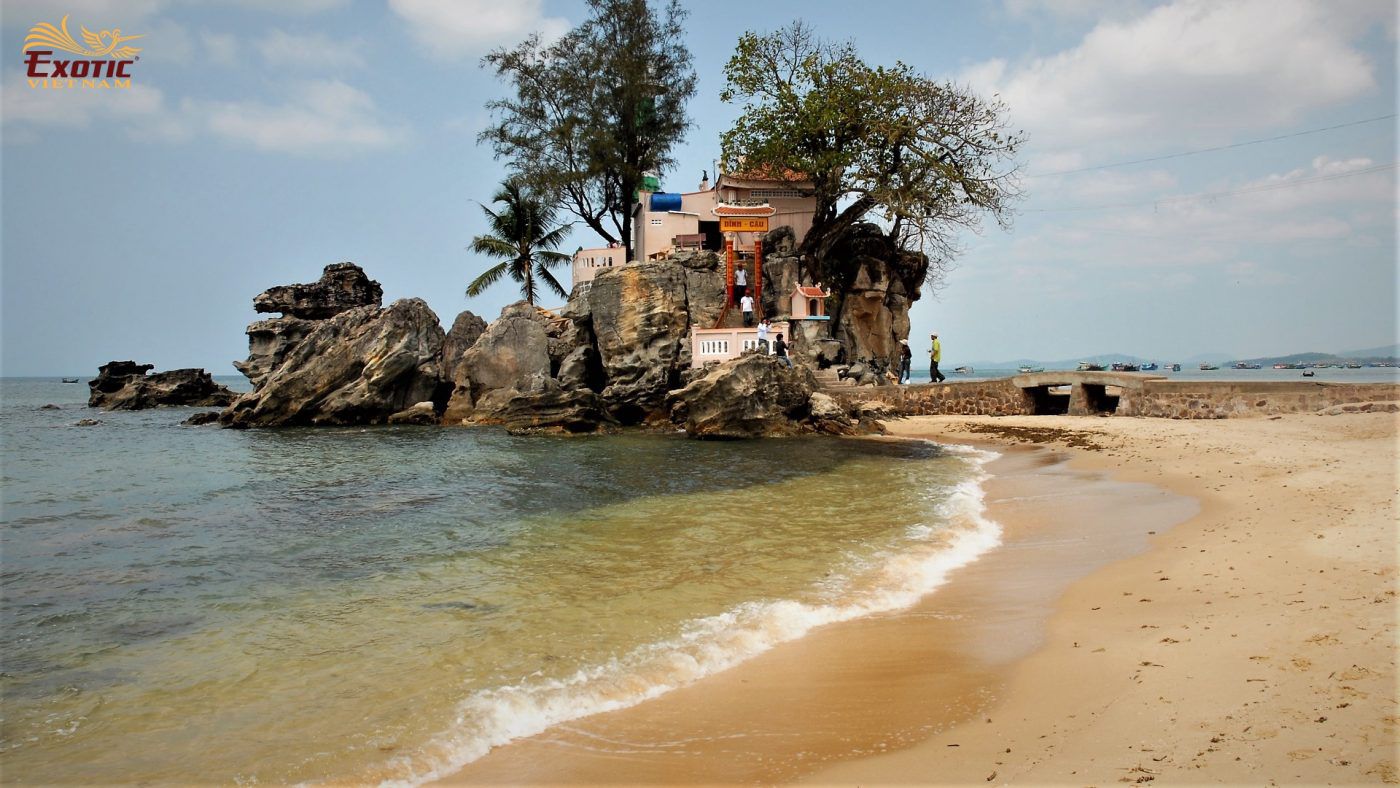 Considered as the center of Phu Quoc island, Dinh Cau includes Dinh Cau Rock at the mouth of Duong Dong River and the night market with seafood feasts waiting for you. Normally, after waiting for sunset on Dinh Cau Rock, visitors quickly move on foot to the night market to pick fresh seafood and enjoy their favorite hot dishes: echinus porridge, grilled mackerel or barracuda, steamed flower crabs, etc. Photo: Exotic Vietnam
Dinh Cau
Situated by the mouth of the Duong Dong River, Dinh Cau Rock is considered the symbol of Phu Quoc where sand, sea, sun and stone blend in perfect harmony. It is not only an odd-shaped scenic beauty but also a quaint sacred holy place. From the beach, climbing up 30 stone steps is to a small shrine called Thach Son Dien built in the 17th century and undergone many restorations. Inside the shrine, there are statues to worship Uncle Tai – red shirt, Uncle Quy – blue shirt and an inscription of the Goddess in Chinese characters. As gods, Uncle Tai and Uncle Quy rule over the waters and can save boats while in distress. Before each fishing trip or on the occasion of the New Year, the fishermen come to the shrine to burn incense to pray for peace and happiness. At the top, not only visit the shrine and listen to interesting folk stories, visitors also feel the gentle sea breeze, watch sunset over the eroded rock formation and enjoy a peaceful view of the Duong Dong River.
Dinh Cau Night Market is a 300-metre pedestrian street with many stalls and tents set up along Vo Thi Sau Street about 5-minute walk from Dinh Cau Rock. After sunset, the street takes on a new look with hundreds of bright neon lights, diverse seafood selection curled up with aromatic grilling fumes and the bustling greetings of enthusiastic hawkers. There are about 100 stalls, more than half of which serve fresh seafood, street snacks and drinks, the rest are souvenirs, even "pearls". Squid, sea snails, scallops, shrimps, crabs, flower crabs, etc. sparkle on thick ice trays and live fish, lobsters, etc. are raised in large tanks with prices listed in front of every stall. The food here always attracts gourmets because of fresh and various seafood, eye-catching display, on-site processing, acceptable price and fun atmosphere. This is a must-visit place for travelers when coming to Phu Quoc Island.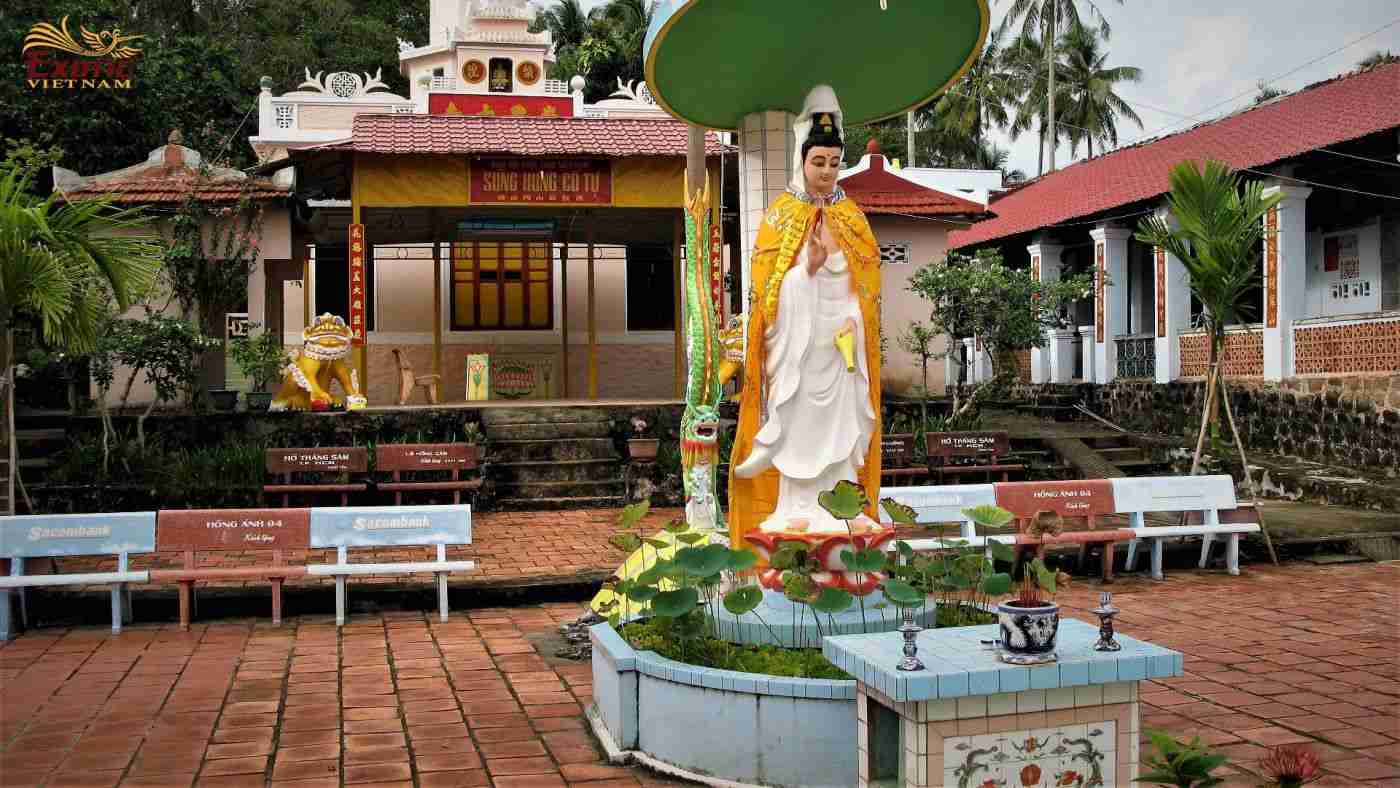 Not only is the birthplace of Cao Dai religion, Phu Quoc also has many old temples showing the people's faith in the Buddha, helping them have a good life in the midst of strong winds and high waves. Many pagodas still retain the natural beauty which are havens of stillness for contemplation of life. Photo: Exotic Vietnam
Pagodas in Phu Quoc
Away from the hustle-bustle of the mainland, Phu Quoc is an ideal serene retreat for those who wish to while away the time in contemplation or meditation. Quite a few pagodas and shrines lie scattered across the island, in the district town and in the surrounding countryside as well.
Merged from Sung Nghia and Hung Nhan pagodas from the late 19th century, after many restorations in 1924 and 1960, the pagoda has its current state. Located at the foot of the mountain in the heart of Duong Dong town, the architectural works are built in stairs that gradually rise up along the mountainside. Behind the pedestal gate, a statue of the Goddess of Mercy stands in the middle of a lotus, next to the Bodhi tree. Going deeper to see the main hall is built on a stone foundation nearly 2m high. In the main hall there is the altar of Buddhas: Amitabha in the middle, on the left and right being Avalokitesvara and Mahasthamaprapta. Behind the main hall, Amitabha Buddha, Reclining Shakyamuni Buddha and many ancient towers are hidden in the canopy of a lush trees. Sung Hung Pagoda, with its original structure and intriguing statues, is well worth visiting.
5km from Duong Dong market, through the concrete road winding up the mountain, visitors meet a large temple located in the middle of a quiet forest, under a 300-year-old wild almond tree, konia in Vietnamese. Founded by a monk Nguyen Kim Muon in 1932, although the pagoda's name is Hung Long Tu, but it is called Su Muon Pagoda, meaning Monk Muon's pagoda. Everywhere offers you a lot of Buddha statues to pray for good things: a large statue of Shakyamuni Buddha in the dignified main hall, Avalokitesvara Bodhisattva and Maitreya Buddha surrounded by monks in front of the yard. Behind the temple, a statue of Shakyamuni Buddha sits in meditation by the Bodhi tree in the background of high cliffs and dense forests. Su Muon Pagoda is always an inspiration for visitors thanks to its unique blend of nature and architecture. All the rest is yours to discover and learn about the spiritual world of the islanders.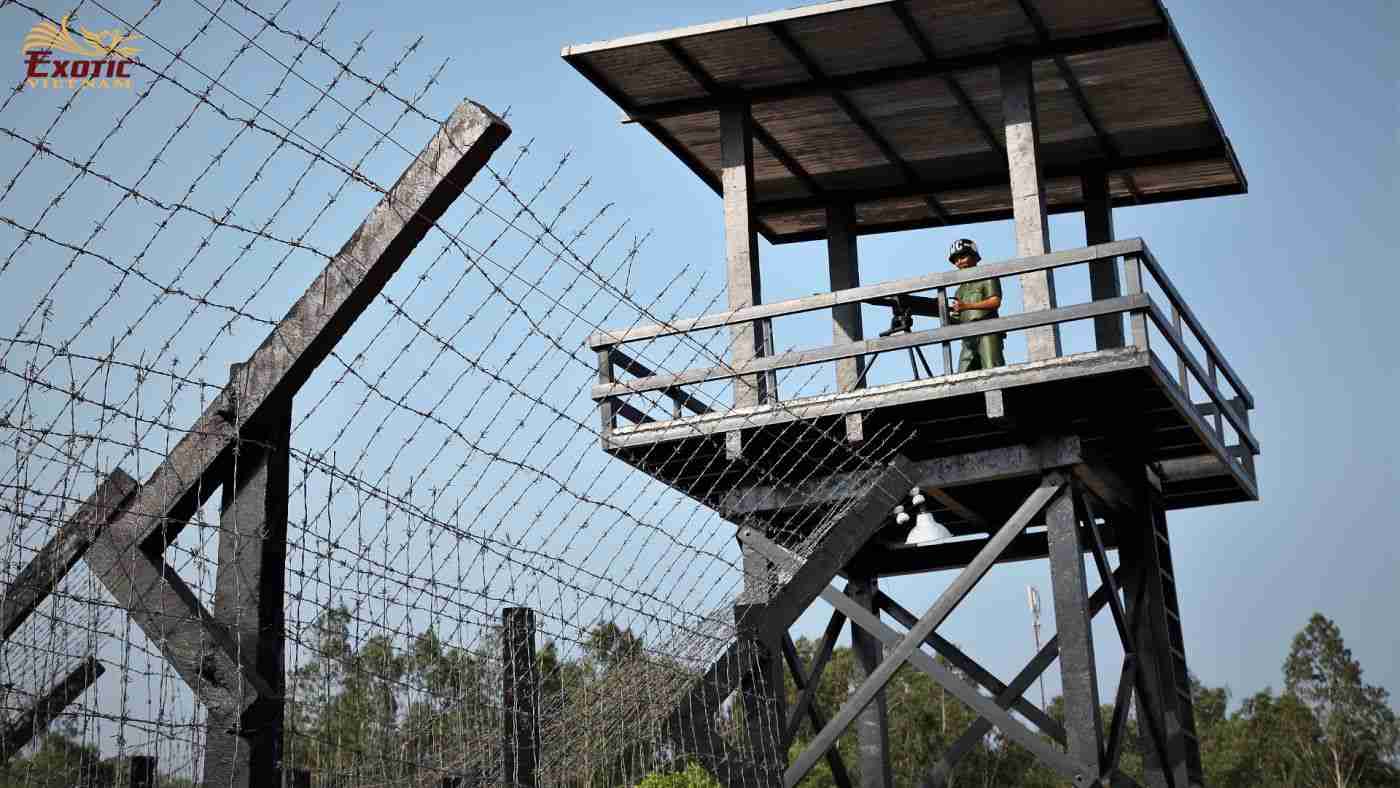 Exhibiting cruel tortures through plaster figures in a space filled with barbed wire, the Museum creates an emotion that cannot be expressed in words. It's one of Phu Quoc Island's most iconic landmarks, attracting mostly former prisoners and visitors who want to learn the island's history. Photo: Exotic Vietnam
Phu Quoc Prison Museum
Located in the south of the island, 28km from Duong Dong town, this is a 20-hectare French-built prison to detain anti-French patriots. In 1956, Ngo Dinh Diem's ​​government repaired and established the "Coconut Tree Training Camp". In 1967, the prison for political prisoners was built in an area of 400ha where once held nearly 40,000 prisoners, about 4,000 of whom were permanently lying here.
Surrounded by plenty of barbed wire fences from 10-15 layers with a dense lighting system, Phu Quoc prison had 12 areas numbered from 1 to 12. The additional areas as 13 and 14 were built at the end of 1972. Each area can hold about 3,000 prisoners. To guard, the prison apparatus had 4 battalions fully equipped with weapons and mobile means kept and patrolled day and night. At the sea, there was a naval convoy patrolling the outer perimeter.
Currently, only a few artifacts of the original prison remain. The prison museum with plaster figures, photos, torture tools and a monument has been newly built. In 1995, the prison was declared a national historical site and opened to the public. Visitors are impressed with the difficult life of prisoners in cramped cells, brutal punishments and extremely savage tortures they have to endure. The prison is a place to reminisce about Phu Quoc's painful past which aims to educate current generations about the cruelty of war, be grateful to those who have fallen and appreciate the peace that everyone is enjoying.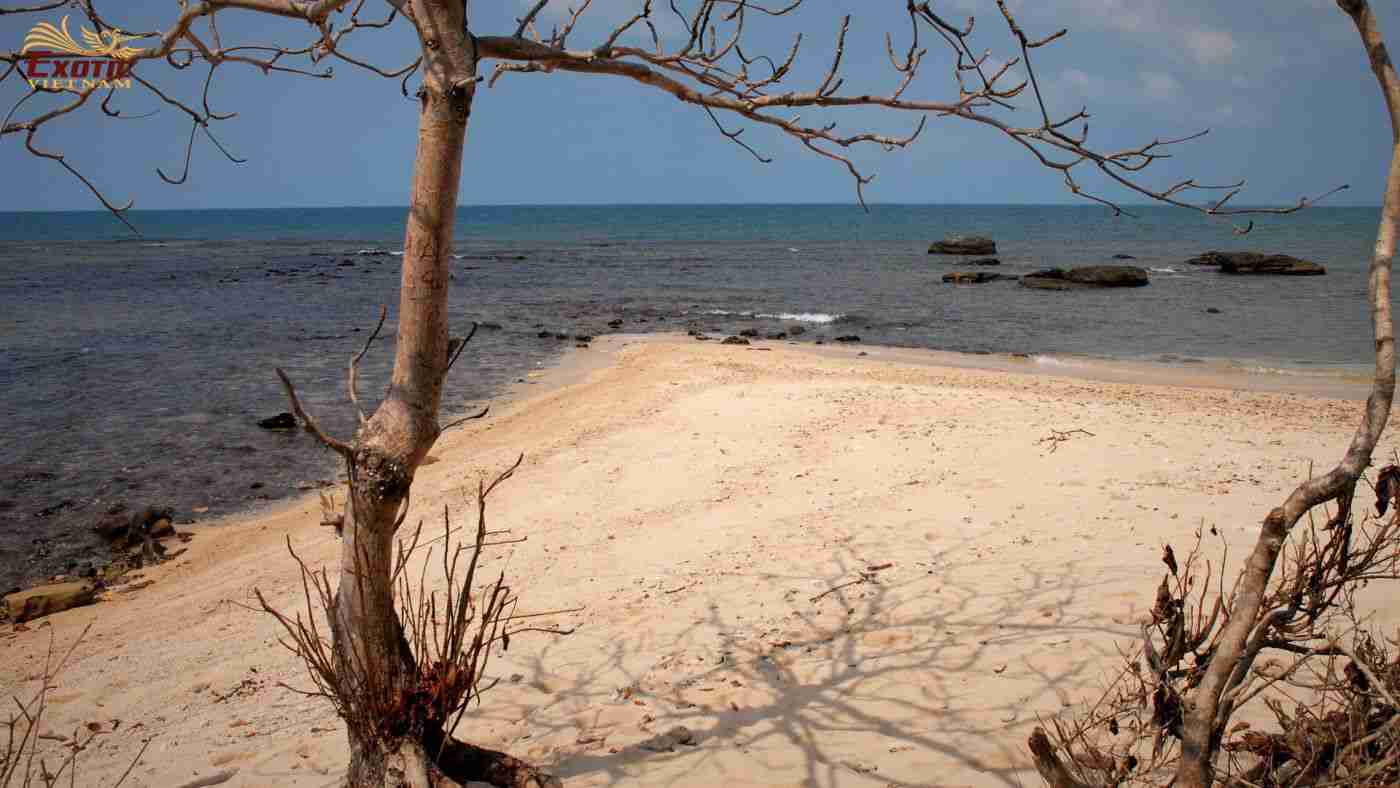 The scenic islets of An Thoi, where are filled with an abundance of nature treasures and the warmth of its people. Freely soak up the sun on the fine sands and dip in the turquoise waters and get a taste of its local culture and cuisine. Romantic and quiet space here is waiting for your enjoyment. Photo: Exotic Vietnam
An Thoi Archipelago
Located at the southern tip of Phu Quoc island, An Thoi Archipelago has 18 islets in total as part of the UNESCO Biosphere Reserve where the nature still retains its pristine beauty with clear blue water. However, there are 5 of them have local people living. Previously, it was only possible to come here by boat, but since 2018, visitors have reached Hon Thom (Pineapple Islet) by 7,900-metre cable car. About 3km in length, Hon Thom is the largest islet in the group and is now home to a huge entertainment park. Around Hon Thom, there are pearl farms and fish farms on floating rafts where you can visit to admire the aquaculture on the water.
If you want to find secluded corners in the waters of An Thoi, head to further south about 4km from Hon Thom to the islets such as Vong, May Rut Trong, May Rut Ngoai, Rong Ngang, Gam Ghi, Xuong, Mong Tay, etc. Some of them are still really quiet and lonely, away from the crowds. These islets enchant with small beaches shaded by palms, whispering waves, turquoise waters, stunning coral reefs, and so on where you enjoy chilling on the beach, snorkeling to observe colorful sea creatures, relaxing and having a good time. Team building to promote team spirit in the tranquil and isolated settings is an interesting activity that your team mates can spend the whole day engaging in. Exotic Vietnam looks forward to welcoming your business very soon.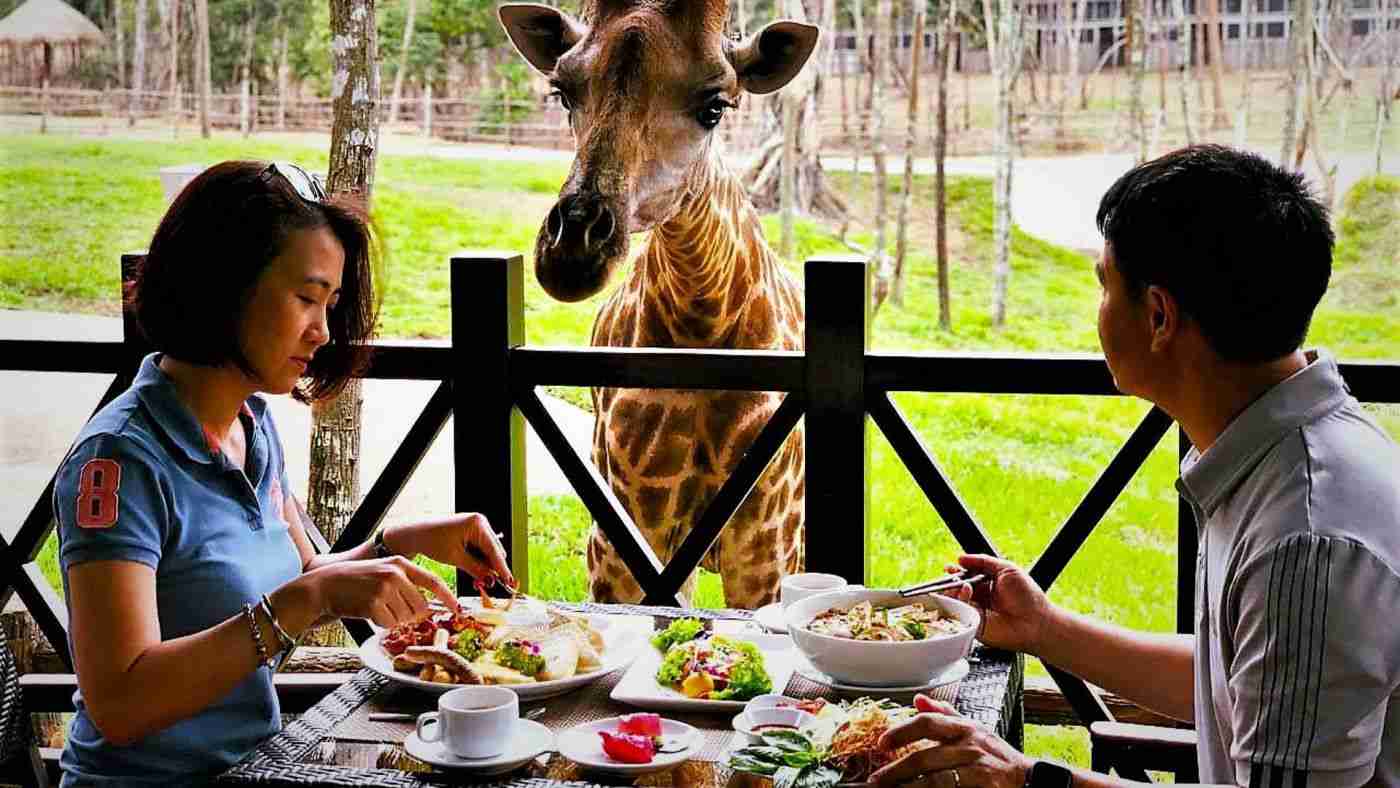 Boasting to be Viet Nam's largest zoological park, Phu Quoc Safari collects abundant indigenous and exotic flora and fauna. Safari Park is a place you can experience an impressive journey through a fenced area, where animals roam freely within bounds and where people are "confined" to vehicles. Performances by Zulu dancers from South Africa, the animal shows same as in Thailand or Singapore or a meal before the giraffe's daze, etc give you strange and unexpected feelings. Photo: Internet
Phu Quoc Safari
Covering a total area of ​​nearly 380 hectares, once a part of Phu Quoc National Park, Phu Quoc Safari is home to 400 species of plants and 3,000 individuals of wildlife represent 150 different species, many of which are considered rare and threatened with extinction, in need of strict conservation.
Considered as the first semi-wild zoo in Viet Nam, this is where visitors can find Bengal tigers, Arabian gazelles, black and white lemurs, flamingos, rhinos, … in semi-natural habitats. The safari boasts of a collection of rare animals with a large number of individuals such as 200 flamingos, 100 rhinos and 60 giraffes, etc. The safari consists of two main zones: Open zoo surrounded by a moat creates habitat in harmony with nature and bring visitors the most authentic sight; and Safari Park where visitors can watch wildlife by specialized vehicles. Visitors also will have chance to experience many periodic activities such as watching animal performances, taking photograph with animals and mascots, kneading coloured dough into coloured paste animals, etc.
Although safari park markets themselves as more "natural" by giving animals more living space, this business is really harming the animals and the natural environment of Phu Quoc National Park.