TEAM BUILDING IN PHAN THIET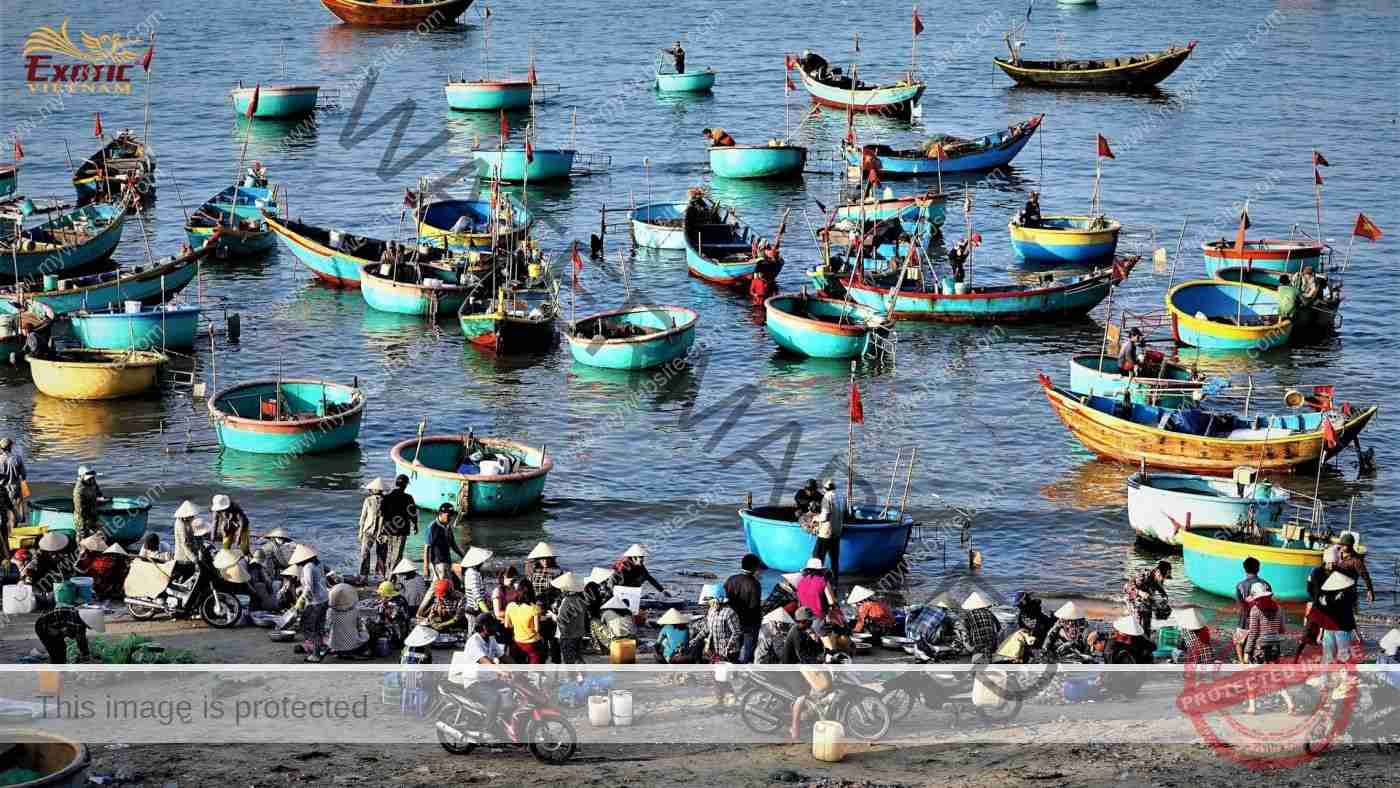 Known as a small coastal town with its traditional fish sauce, since 1995, Phan Thiet has rapidly transformed to become the leading beach resort hub in Viet Nam. Phan Thiet offers a hideaway to relieve stress and tension, and has a force of attraction for corporate team building activities thanks to its suitable travel distance, many choices of restaurants & accommodation, and diverse event spaces. Photo: Exotic Vietnam
Location: 200km north of HCM City (3½ hours by car), 173km from Da Lat via NR28 (3½ hours by car), 252km south of Nha Trang (5 hours by car).
Introduction: About 200km north of Ho Chi Minh City, Phan Thiet is formed by a long beachfront shaded with coconut trees, where many fishermen, fish sauce (nuoc mam) workshops and their fishing boats can be found. After the event of solar eclipse in 1995, Phan Thiet has become immensely popular with tourists thanks to the majestic beaches and nice seaside resorts. It now offers opportunities for aqua sports such as kite surfing, jet skiing, swimming, etc. or simply lazing in front of turquoise waters. Phan Thiet is also home to various places of interest: sand dunes, dragon fruit farms, Cham towers, the giant Reclining Buddha on Mt. Ta Cu, the ancient light house of Ke Ga.…
Highlights: Mui Ne sand dunes, White Lagoon, Cham vestiges, Lighthouse of Ke Ga, Phan Thiet Harbour, Mount Ta Cu, etc.
Facilities & services: camping sites, international standard resorts, hotels and restaurants.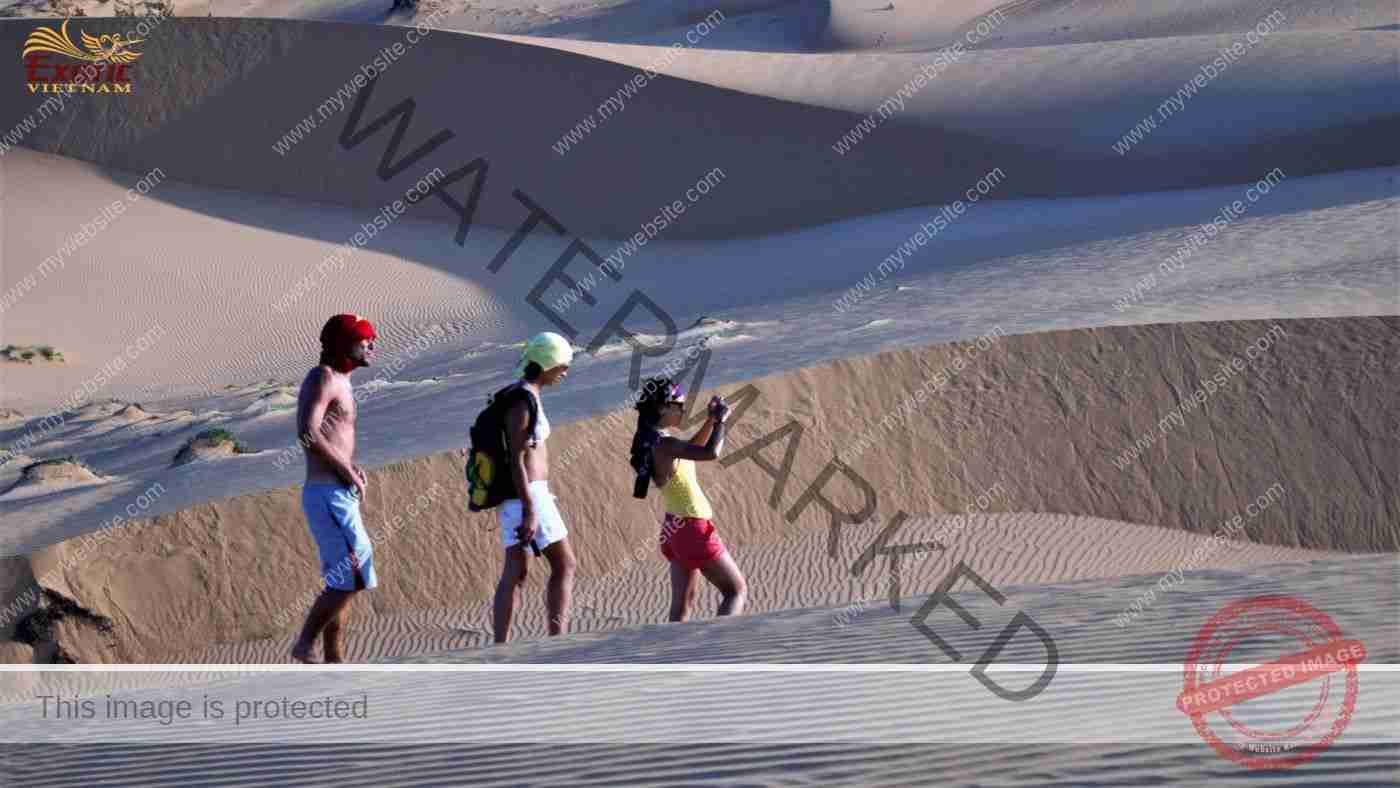 Mui Ne was once famous for its enormous red and white sand dunes. These traditional fishing villages have quickly become a popular resort hub with countless projects springing up along the coast. The traditional life of the fishing community and the natural landscape suffer many negative impacts as a trade-off of hot development. However, there is still a bit of sand dunes like a quiet and peaceful corner to unwind, relax, have fun and escape from everyday life. Photo: Exotic Vietnam
Mui Ne dunes
Mui Ne is located 24km northeast of the town of Phan Thiet. It is a fishing village as well as a popular tourist spot in Binh Thuan Province. Mui Ne is famous for its enormous sand dunes. A lot of photographs have been taken here. The seasoned winds make dunes move forward and backward yearly which forms a variety of colourful sand formations. In addition, there is a small watercourse, called Suoi Tien, setting in stunning natural surroundings. Unspoiled by humans, it offers spectacular views of mountain water, majestic sand peaks coloured in red and white. Mui Ne is also an ideal place for relaxation & team building activity. Visitors can enjoy swimming in the sea or climbing to the sand dunes.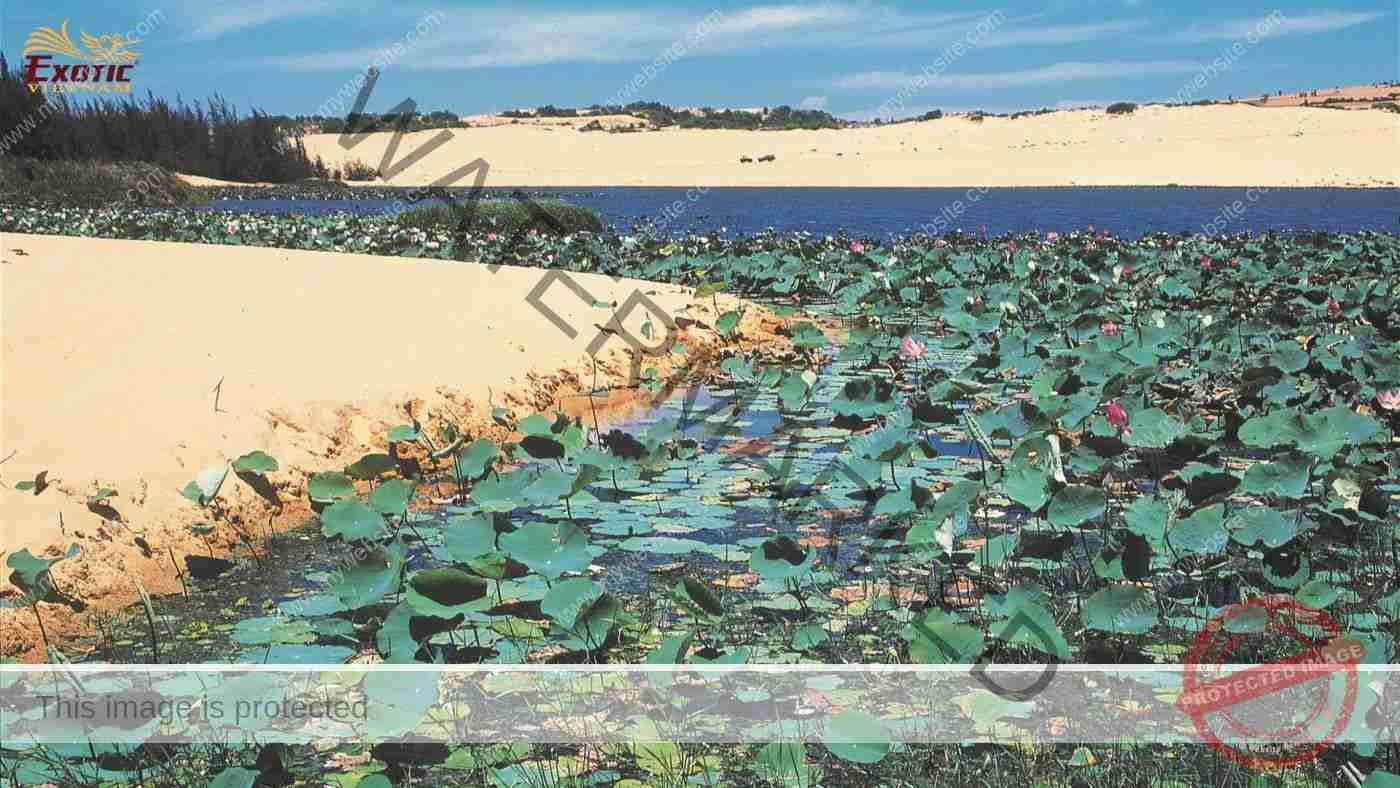 Surrounded by white sand dunes, White Lagoon consists of 2 beautiful lakes located side by side that are remnants of the sea before being invaded invaded by mobile sand dunes. Arriving at this attractive attraction, visitors are truly amazed by the high sand dunes with many fancy shapes reflecting on the calm lake surface under the bright sunlight, the pink lotus petals flickering behind the green leaves, painting a beautiful natural landscape. Photo: Exotic Vietnam
White Lagoon
This lake is located around 65km north east of Phan Thiet. The white sand dunes bordering it give the beach its name. The landscape has, however, transformed over the course of time and today greenery covers most of the white sand. Lining the edge of the lake are attractive, blooming lotus flowers.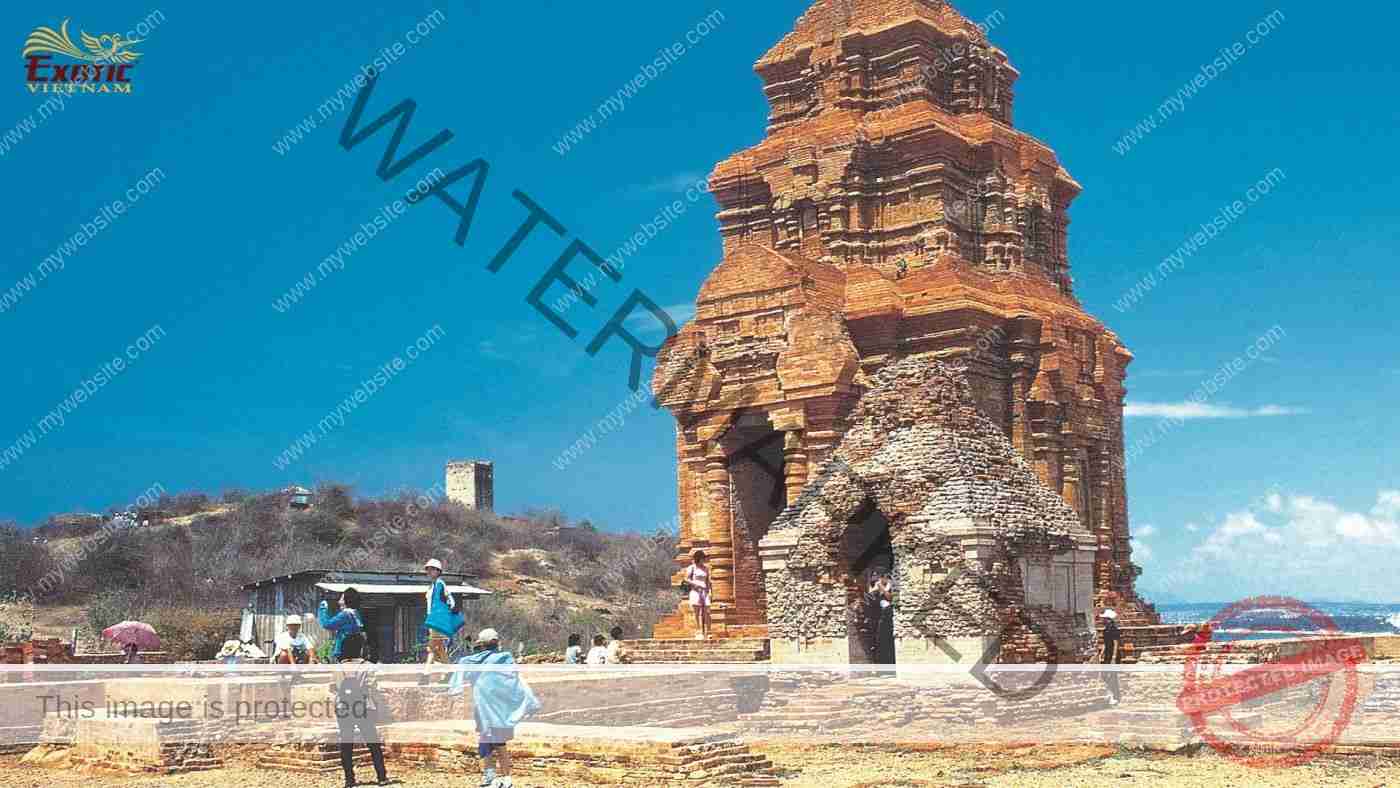 Perched on a hilltop with expansive views of the sea and nearby Phan Thiet City, Po Shanu Tower consists of the three red brick towers with sandstone Linga and Yoni figures as the emblem of the Hindu god Shiva inside the main tower. There is also a small pagoda and the remains of an old building covering many of the military bunkers beneath. Photo: Exotic Vietnam
Cham vestiges
Built in the 8th century, a small Cham tower called Po Shanu is located about 6km from Phan Thiet on the way to Mui Ne. There are other three towers constructed in the Hoa Lai artistic style situated on a hill called the Prince Palace. Another Cham vestige is Cham Royal Family Collection. This is a collection of more than 100 precious objects once belonging to King Po Klong Moh Nai, the last Cham king ruling in the early 17th century.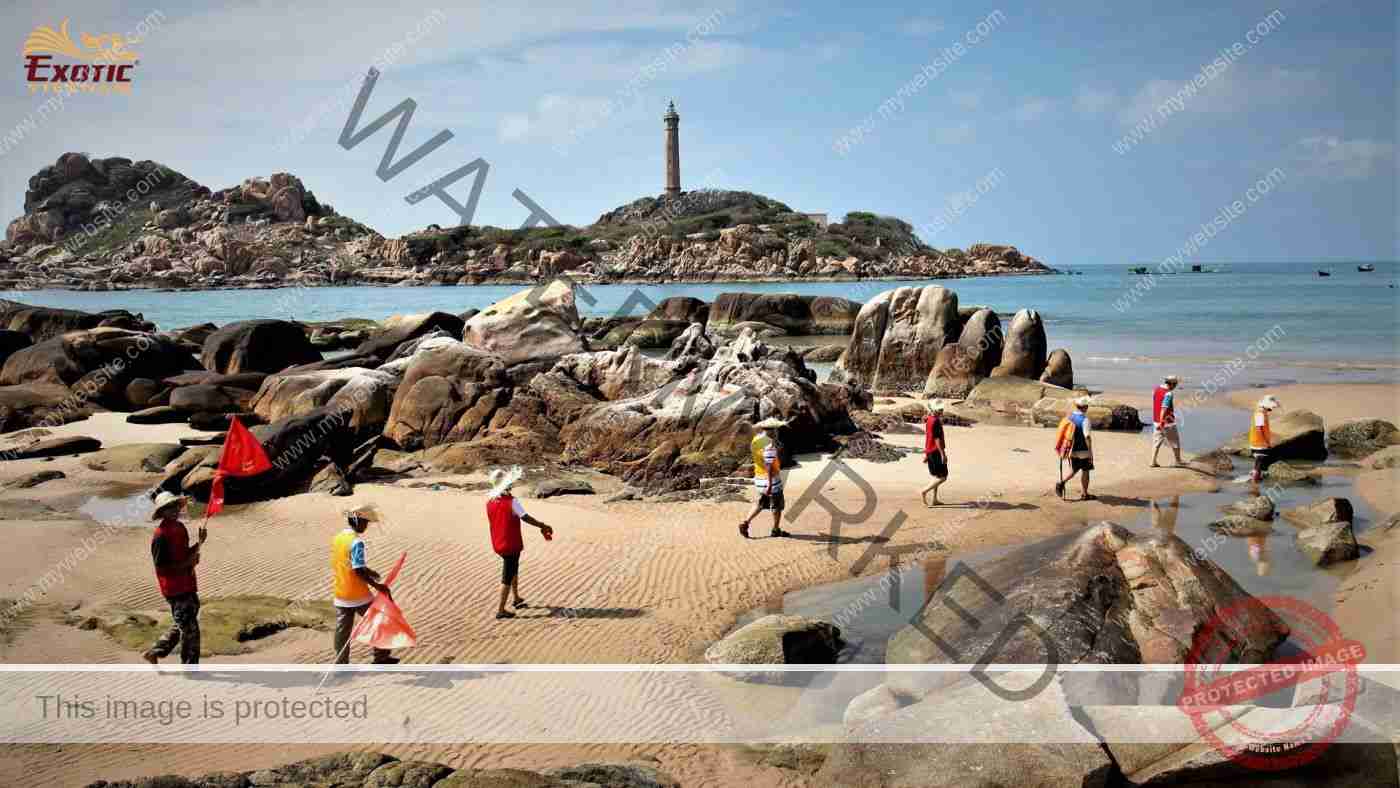 Located on a small island 500m from the mainland, Ke Ga Lighthouse is a perfect place to get in touch with history while seeing dramatic views of sea, stone and sky. This is also an ideal team building playground with many survival challenges such as swimming across the sea, rafting, fishing, etc. Photo: Exotic Vietnam
Lighthouse of Ke Ga
45km south of Phan Thiet is the island of Ke Ga. This is where a French engineer constructed a lighthouse in the waning days of the 1800s. There were more and more French soldiers in the area, and a lighthouse was required to guarantee the safety of commercial and naval ships. Made of granite, the tower stands 65m tall and is the province's only remaining example of European influence.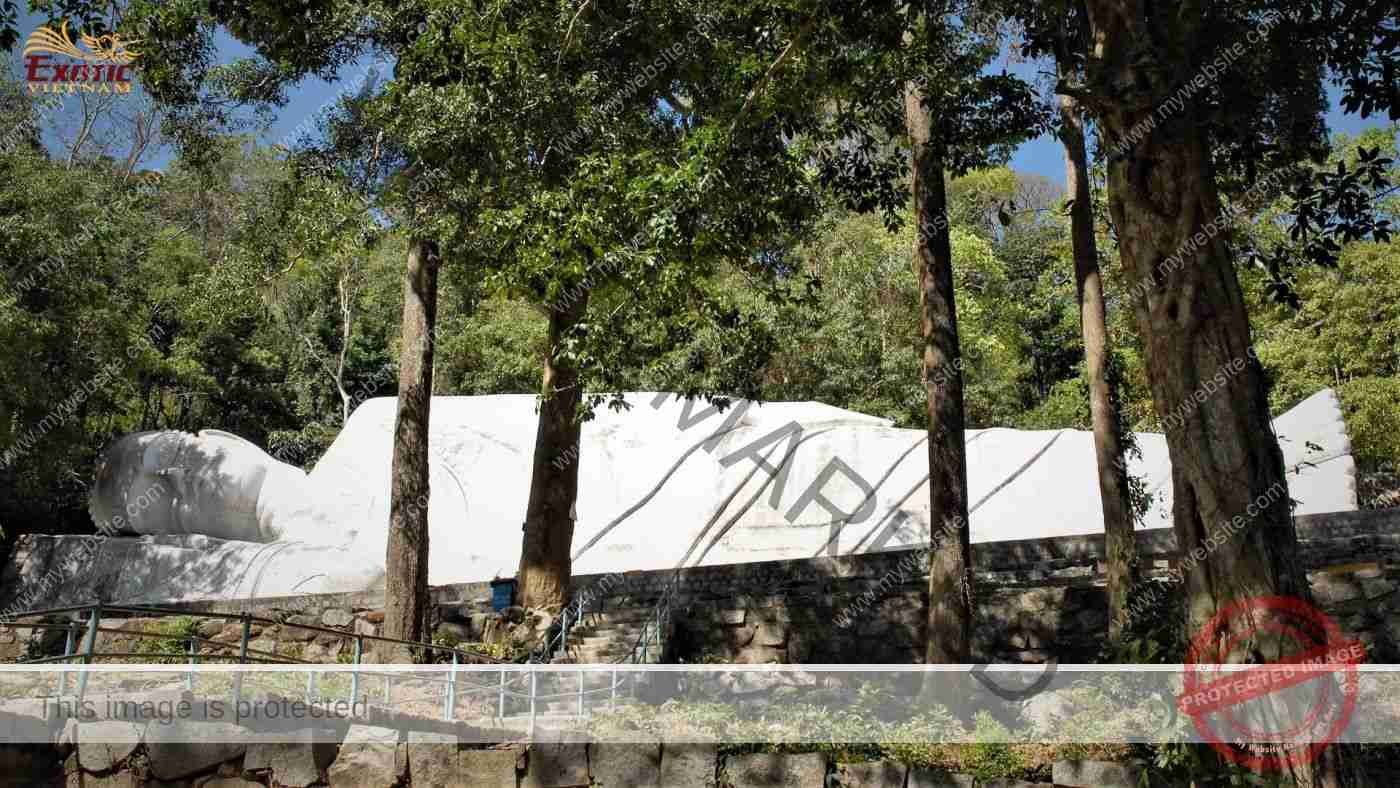 Ta Cu Mountain has lush tropical forests and a pagoda complex at an altitude of 400m. There are 2 ways to explore the mountain: hiking on steep trail under lush canopies for 2 hours or taking a cable car for 10 minutes. The big statue of the reclining Buddha in the forest is worth visiting. This mountain gives you a deep connection with both nature and self. Photo: Exotic Vietnam
Mount Ta Cu
Only 30km south of Phan Thiet on Mount Takou, you can find the elegant reclining Buddha statue, 10m high and 49m long. You can either hike up through the forest for two to three hours or take the 1.64-kilometer cable car system. Trekking offers walkers a chance to see birds, monkeys, wild flowers and other animals and plants up-close along the trail up to the peak.