TEAM BUILDING IN NINH BINH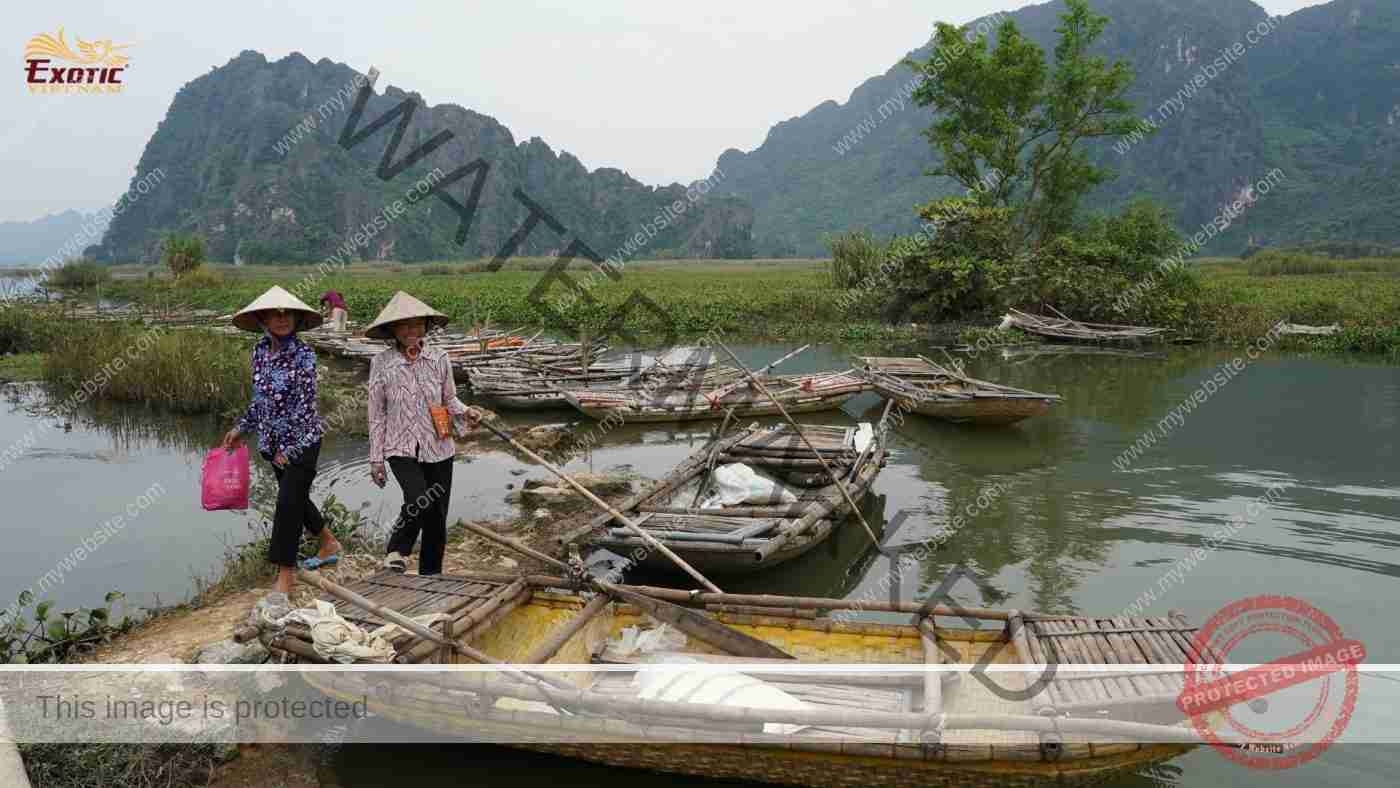 The peace of daily life, the majesty of the limestone mountains and the epic of centuries-old history will bring lasting experiences in the journey to discover Ninh Binh. Photo: Exotic Vietnam
Location: 91km south of Ha Noi (2 hours by car), 122km from Hai Phong (3½ hours by car), 126km from Hoa Binh (3½ hours by car).
Introduction: Ninh Binh is a nice town by Day River, which is surrounded by a number of lesser known interesting sites. In this province, Hoa Lu was chosen as the first capital of the independent Viet Nam, under the Dinh dynasty and the early Le Dynasty (968-1009). There are few remains of the ancient citadel in this provincial capital, two old sanctuaries exist. The area is now widely known as Viet Nam's "inland Halong Bay" owing to its huge rock formations jutting out of rice paddies. The Trang An Landscape Complex is a mixed cultural and natural property contained mostly within three protected areas: Hoa Lu Ancient Capital, Trang An-Tam Coc-Bich Dong Scenic Landscape, and Hoa Lu Protected Forest. In 2014, Trang An Complex is recognized by the UNESCO as a cultural and natural heritage site.
Highlights: Hoa Lu ancient capital, Tam Coc valleys, Trang An Eco-tourism Complex, Phat Diem cathedral, Cuc Phuong National Park, Van Long Nature Reserve, Bai Dinh Pagoda.
Facilities & services: sampan ride, world class hotels and restaurants.
Surrounded by craggy limestone mountains and meandering tributaries like natural walls and moats, Hoa Lu ancient capital was once a strong defensive fortress on a wide and flat valley. Photo: Exotic Vietnam
Hoa Lu ancient capital
Hoa Lu was the capital of Viet Nam under Dinh Dynasty (968-980) and Early Le Dynasty (980-1009). The site is an attractive place which is said to resemble inland Ha Long Bay. The ancient citadel of Hoa Lu, most of which has been destroyed except Dinh Temple & Le Temple, covered an area of about 3 sq.km.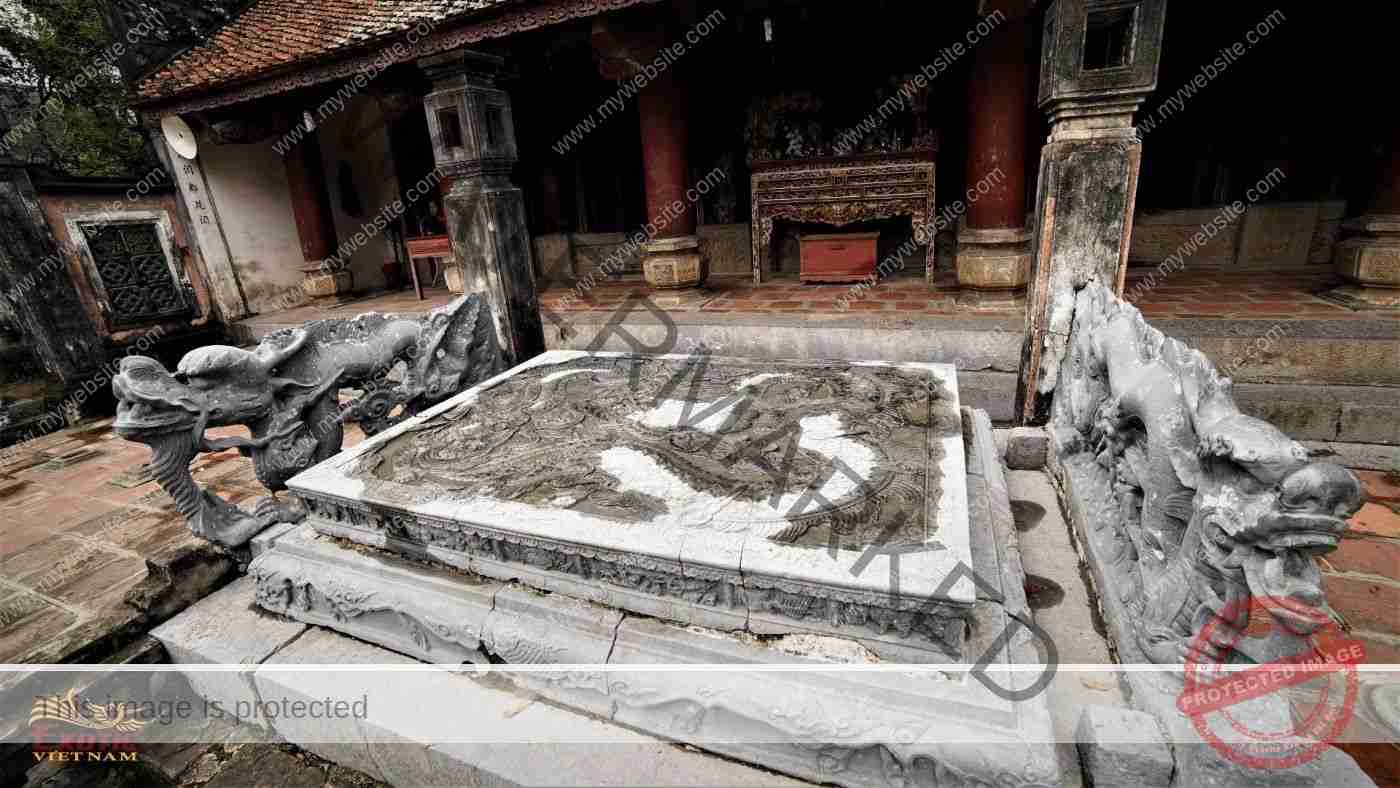 The photo taken in front of the main sanctuary of Dinh Dynasty's Temple shows the most beautiful and valuable stone royal bed in our country with skillful stone carving art. Photo: Exotic Vietnam
Dinh Dynasty's Temple
Dinh Temple was built in the shape of a Chinese character. Through the first entrance called Ngo Mon, there is a stone royal bed with Nghe (imaginary animals of the old times) standing on both sides. Inside the temple is Khai Thanh in worship of Emperor Dinh's parents. The temple consists of three parts: Bai Duong for the community, Thien Huong in honour of mandarins, and Chinh Cung where Dinh Tien Hoang's statue is located. On his left is the statue of his eldest son Dinh Lien, and on his right are those of Dinh Hanh Lang and Dinh Toan. On each side of the altar, there is one stone dragon similar to the ones placed near the royal bed.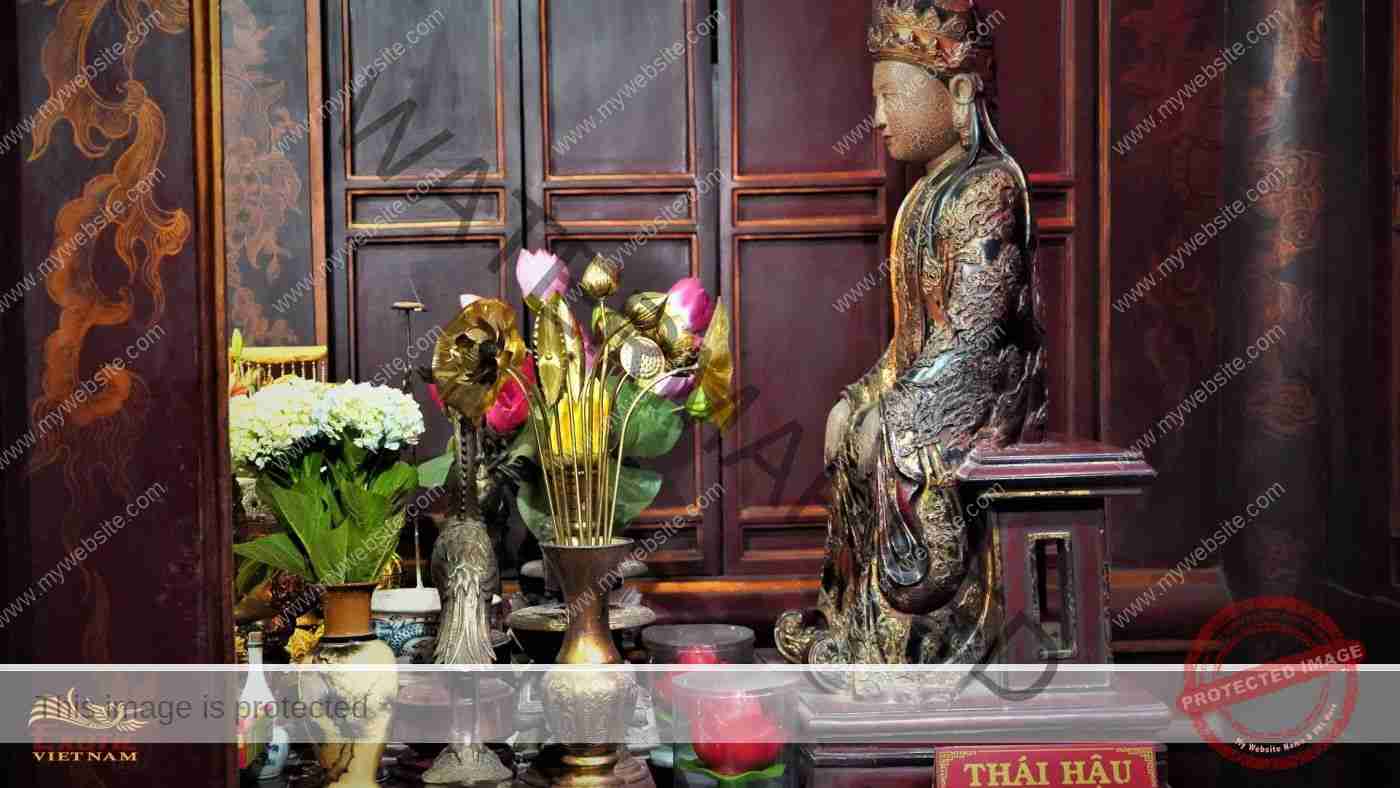 Statue of Queen Duong Van Nga can be found in the sanctum of Le Dynasty's Temple. She made great contributions to the prosperity of the two Dinh – Le dynasties. Photo: Exotic Vietnam
Le Dynasty's Temple
Le Temple is almost the same as Dinh Temple in term of architectural design, except for some details. Le Temple also consists of three parts: Bai Duong, used for the community, Thien Huong, in memory of the royal mandarins of Le King, and finally, the altar in memory of the King. The statue of Le Hoan is at the centre, on the left is the statue of Queen Duong Van Nga and on his right is that of Le Ngoa Trieu, his fifth son and the third King of the First Le dynasty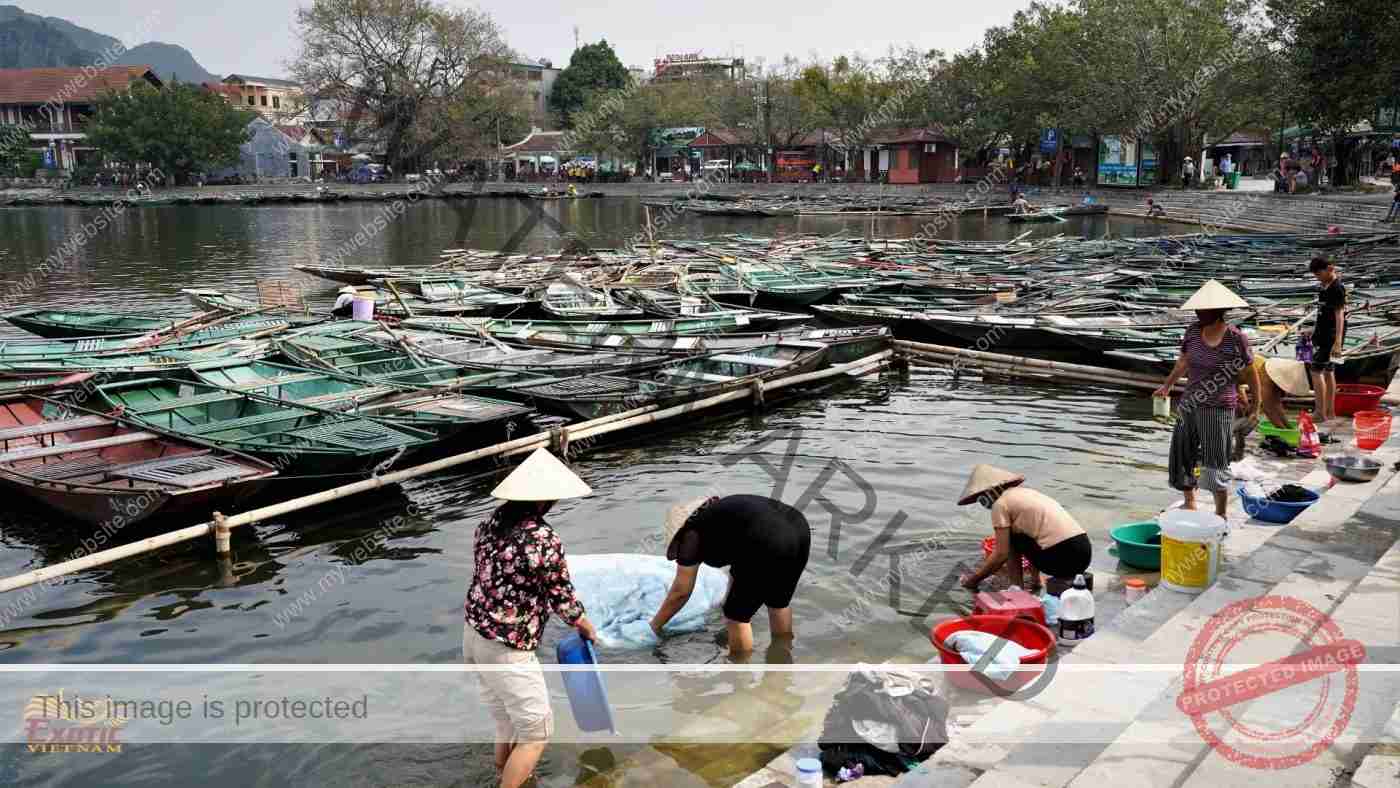 The blend of green rice fields, towering limestone cliffs and the idyllic life of the locals makes Tam Coc Valleys a natural paradise that you can hardly find elsewhere in the world. Photo: Exotic Vietnam
Tam Coc valleys
Tam Coc wharf where hundreds of sampans are ready to serve visitors is also the laundry place of the local community.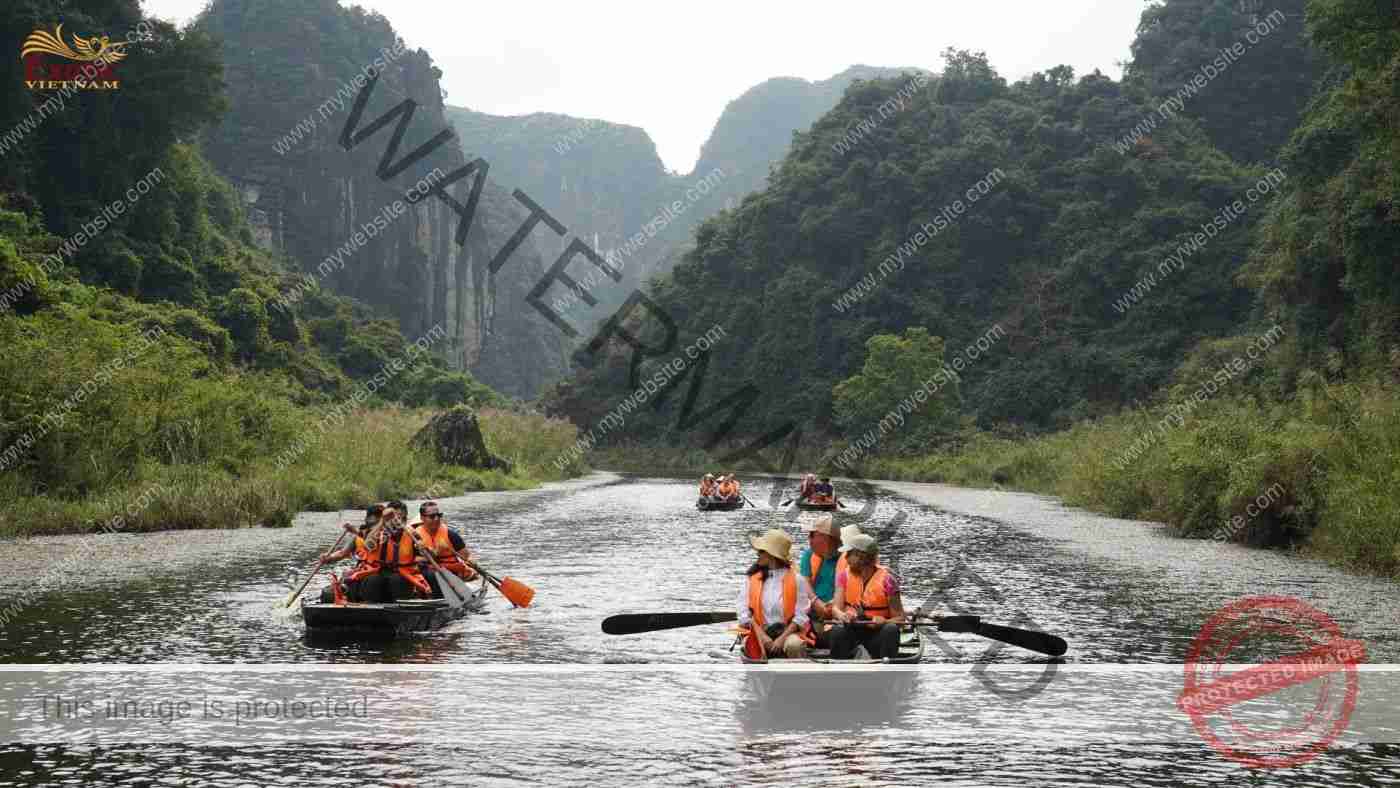 Made up by multi-shaped mountains and many mysterious caves, Trang An Eco-tourism Complex is where marks the 1000-year history of struggle of the Vietnamese people. Photo: Exotic Vietnam
Trang An Eco-tourism Complex
Surrounded by mountains of limestone, lakes, caves and a rich ecosystem with hundreds of different species, Trang An Eco-tourism Complex is the comnination of wild natures and rich cultures. It covers an area of ​​2168 ha which is dominated by the large and separated limestone karst peaks covered in plants. There are 48 caves connecting with 31 wetlands and 2km of waterborne caves like Sang (Light) cave, Toi (Dark) cave, Ba Giot (three-drop) cave, Nau Ruou (Brewing wine) cave, Dia Linh cave, Ao Trai cave, Si cave, Sinh cave and so on. Each cave features exactly like its own name. Rivers cross each other to create a highlight of Trang An and make water ways for tourists to paddle along. There is 1 of the three choices of rowing routes for your exploration of Trang An:
Route 1: Boat landing – Trinhtemple – Toi cave – Sang cave – Nau Ruoi cave – Tran temple – Ba Giot cave – Seo cave – Son Duong cave – Phu Khong temple – Bao Hieu pagoda – Khong cave – Tran cave – Quy Hau cave – back to boat landing (3.5 hours)
Route 2: Boat landing – Lam cave – Vang cave – Thanh Truot cave – Suoi Tien temple – Dai cave – Vu Lam temple – back to boat landing (2.5 hours)
Route 3: Boat landing – Trinh temple – May cave – Suoi Tien temple – Dia Linh cave – Dai cave – Vu Lam temple – back to boat landing (3 hours).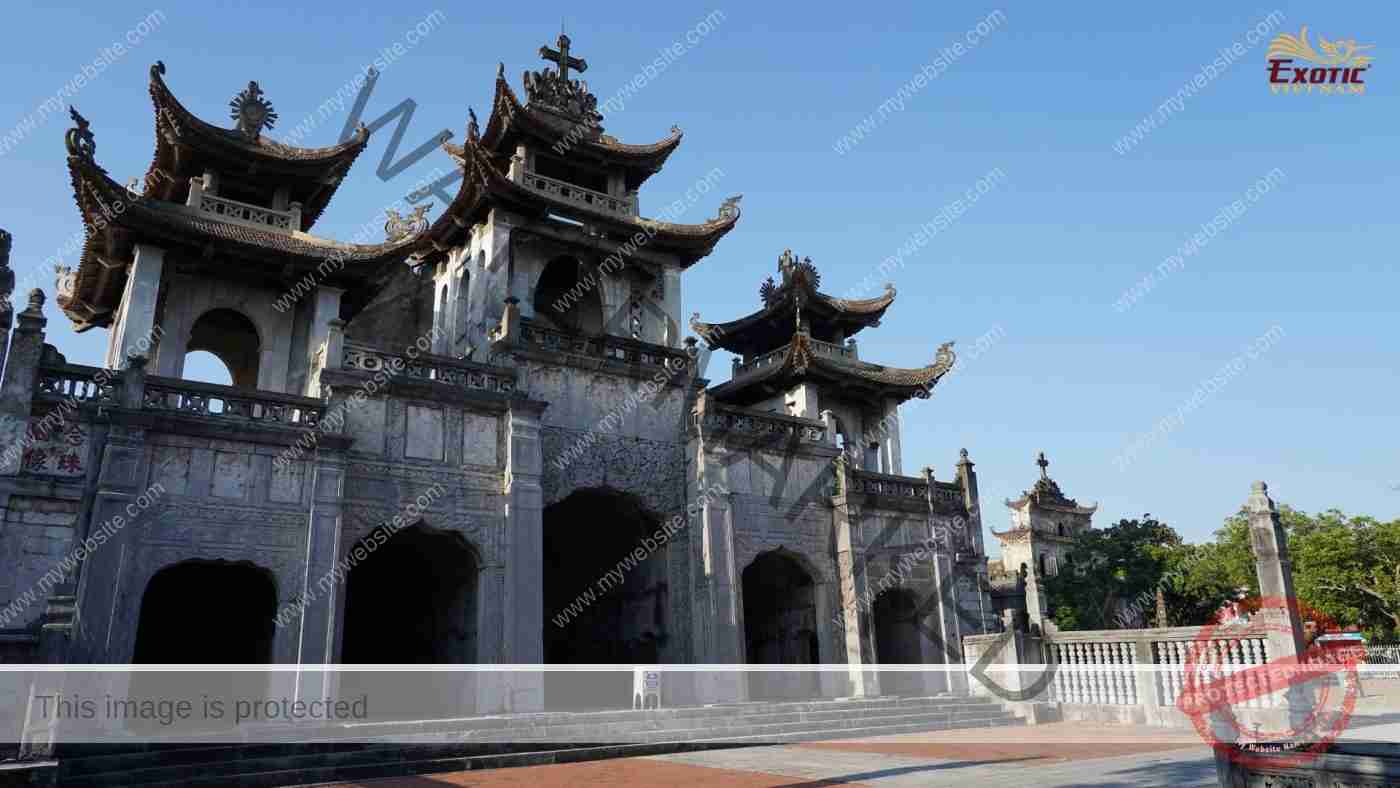 Built from 1875 – 1898, Phat Diem cathedral is called as "Stone church", because of its walls, columns, earth, pubs to tie beams all made of stone. Photo: Exotic Vietnam
Phat Diem cathedral
Located 28km southeast of Ninh Binh, Phat Diem Cathedral was built between 1875 and 1899. The church and its annex buildings cover an area of 8ha. It is 80m long, 24m wide, 18m high and supported by wood columns. Indeed, with its multi-tiered, curling roofs and its 48 lime wood columns (the largest of which weigh seven tons), the church is a far cry from a European cathedral. Stone relief angels overlook carved dragons and the cathedral's two-ton bell is accompanied by a giant brass gong. Phat Diem Church is really an interesting architectural complex combing the traditional pagoda architecture of Viet Nam with the Gothic style of Christian architecture. The best day to visit Phat Diem Church is on a Sunday, when the district's roads are full of people, walking or cycling towards the cathedral or one of the dozens of neighbouring churches.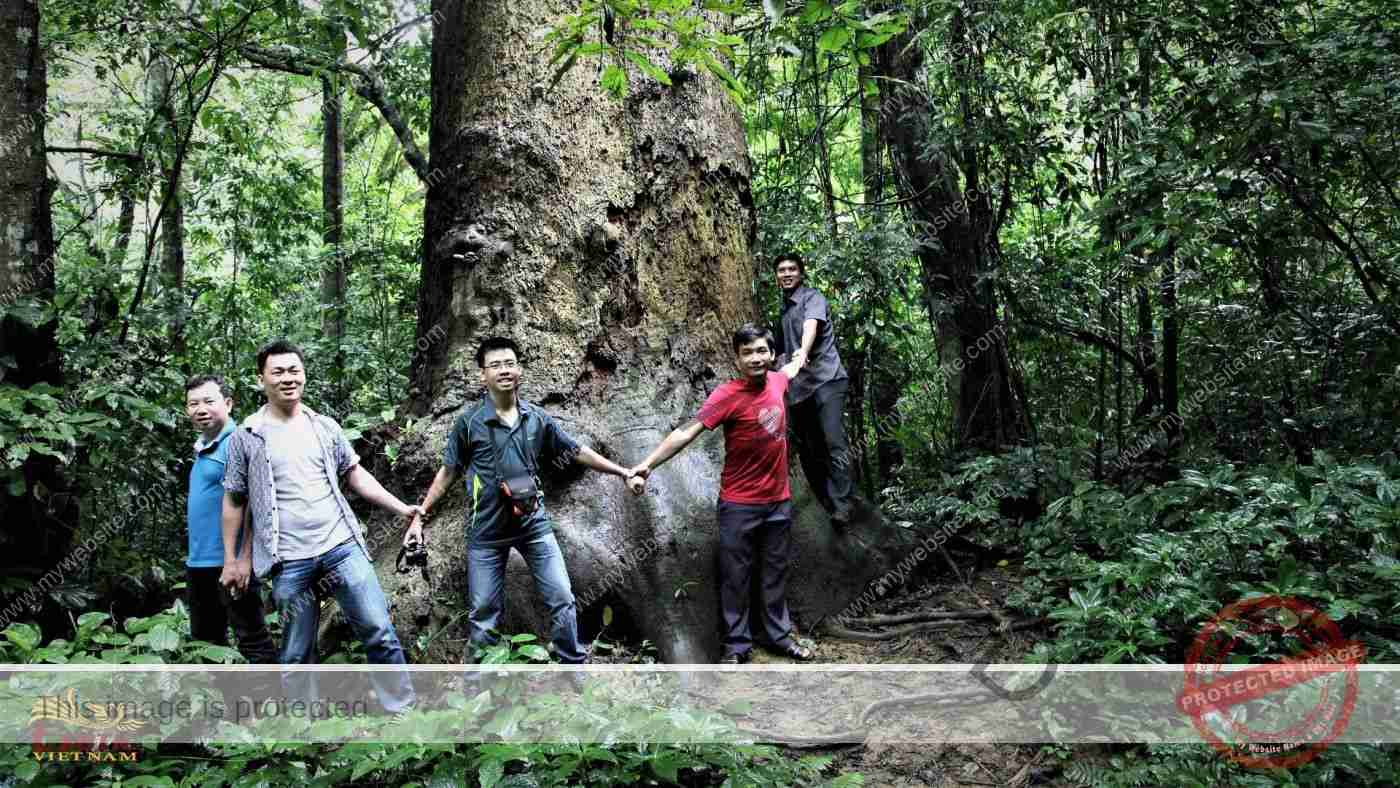 The diversity of its fauna and flora, the beauty of its nature and its many cultural and historical features make Cuc Phuong National Park one Viet Nam's most important protected. Photo: Exotic Vietnam
Cuc Phuong National Park
46km from Ninh Binh, Cuc Phuong National Park covers an area of 25,000ha, three-quarters of which are limestone mountains with altitudes ranging between 300m and 600m above sea level, including the highest being May Bac, meaning "silver cloud," with a height of 656m. The park was discovered in 1960 and officially claimed as the first national park in Viet Nam two years later. It is home to some 2,000 species of flora and 450 species of fauna accounting for 38% of the national fauna. The best time to visit Cuc Phuong National Park is during the dry season, from December to April, when the hard forest rain accounting for 90% of the annual rainfall is over.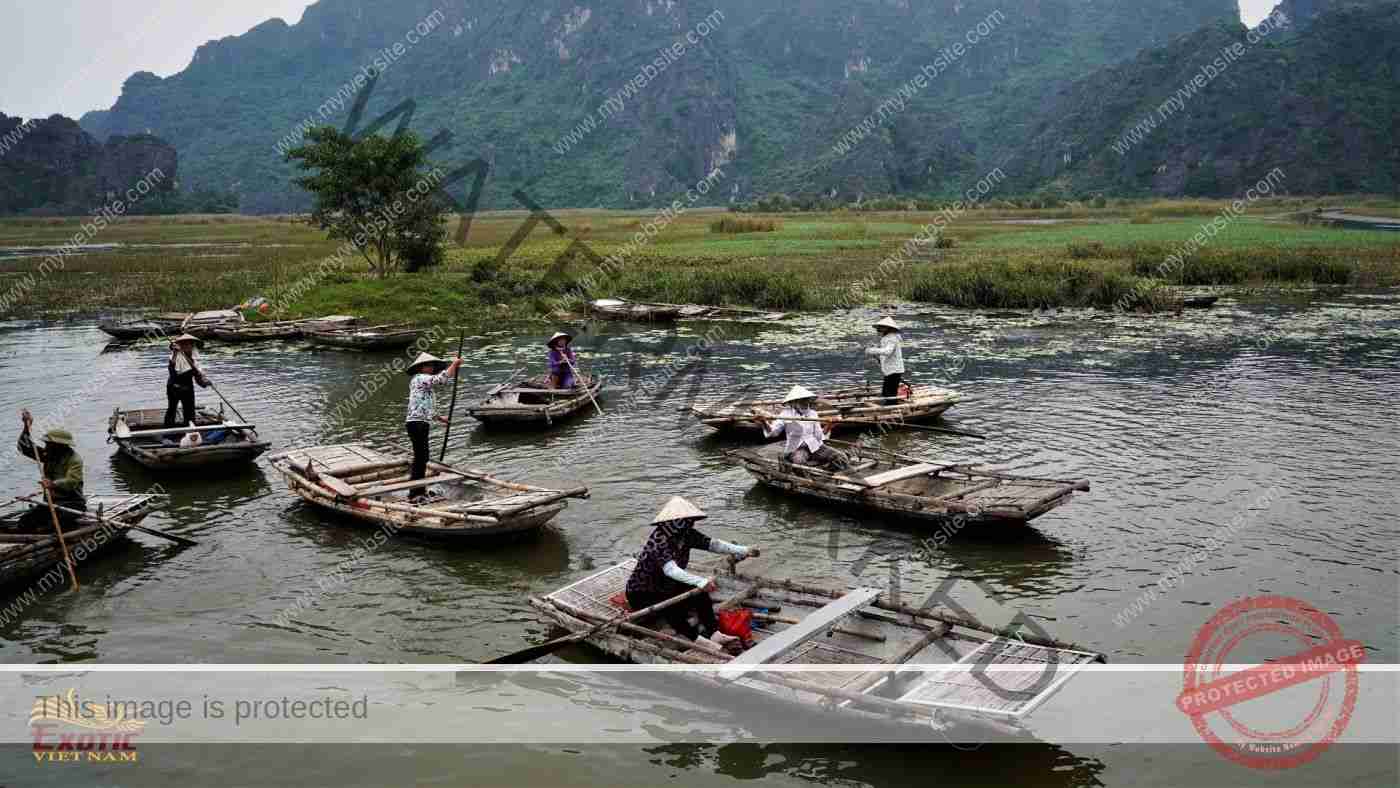 This is the only place in Ninh Binh where visitors can ride genuine bamboo sampans through high reeds into the wilderness to explore the largest wetland reserve in the Red River Delta. Photo: Exotic Vietnam
Van Long Nature Reserve
16km from Ninh Binh, the Van Long wetland covers an area of 2,643ha. There are 457 species of plants and 39 species of animals, some of which are listed in Viet Nam's Red Book. Until now, local people and visitors can spot in the reserve a critically endangered primate, the Delacour langur, a black monkey-like animal weighing up to about 35 pounds, with a white band around its abdomen that gives him the local nickname "Mr. Whiteshorts." Naturalists say this is the largest population of Delacour langurs anywhere in the world.
It is not only famous for its nature reserve, there are many cultural and scenic sites in the area. At the marshy foot of an embankment that divides the town from the protected wetland, there is a small dock for traditional woven-bamboo boats, punted by young men or women with long poles that suit the shallow water better than paddles or oars. Eco-tourists would change nothing here.  The boats are perfect for meandering silently through the labyrinthine rock formations to view scenery of mountains of Nghien, Hom Sach, Da Ban, Meo Cao, Co Tien, Voi Dung, Canh Cong and Moi Coi, and to explore some of 32 nice caves in the reserve, including Fish, Shade, Tortoise, Lemon caves…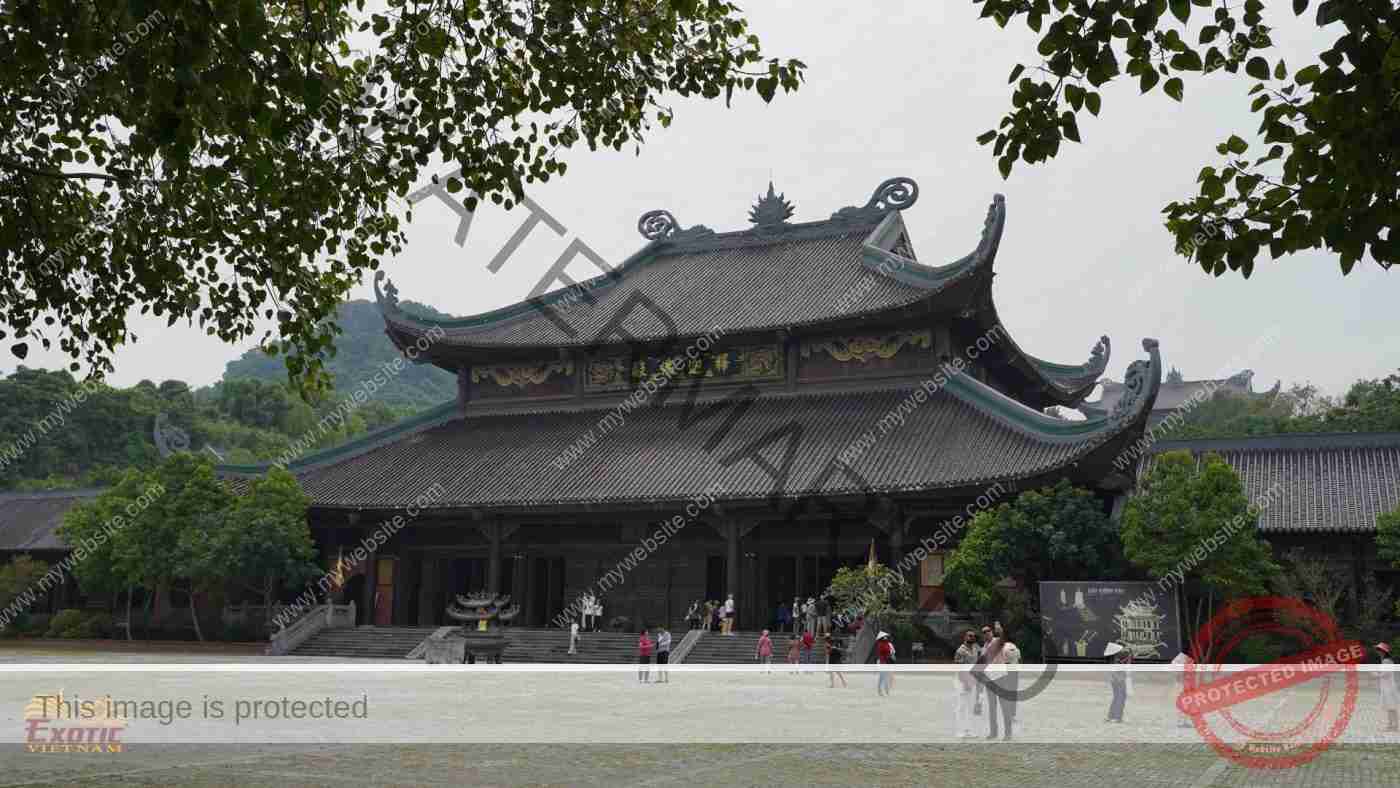 Leaning on the reputation of a small ancient temple of the same name, the new Bai Dinh Pagoda, a massive concrete complex, has claimed a long list of Vietnamese and Asian records. Photo: Exotic Vietnam
Bai Dinh Pagoda
Covering an area of 539ha, the complex of Bai Dinh Pagoda includes an ancient pagoda, dating back to 1136, founded by Nguyen Minh Khong and a new pagoda built in 2003. The pagoda is located on a mountain slope, between vast valleys and limestone mountains, about 9km from Dinh & Le Dynaties Temples. The massive new pagoda architecture is made of giant concrete and large natural trunks. This complex is famous with many Asian and Vietnamese records as the pagoda with the largest gold-plated bronze Buddha statue in Asia, the longest Arhat corridor in Asia, the largest bronze statue of Maitreya in Southeast Asia …  The pagoda attracts a huge crowd of local devotees and travelers to look for sightseeing and pray for their fortunes.