TEAM BUILDING IN NHA TRANG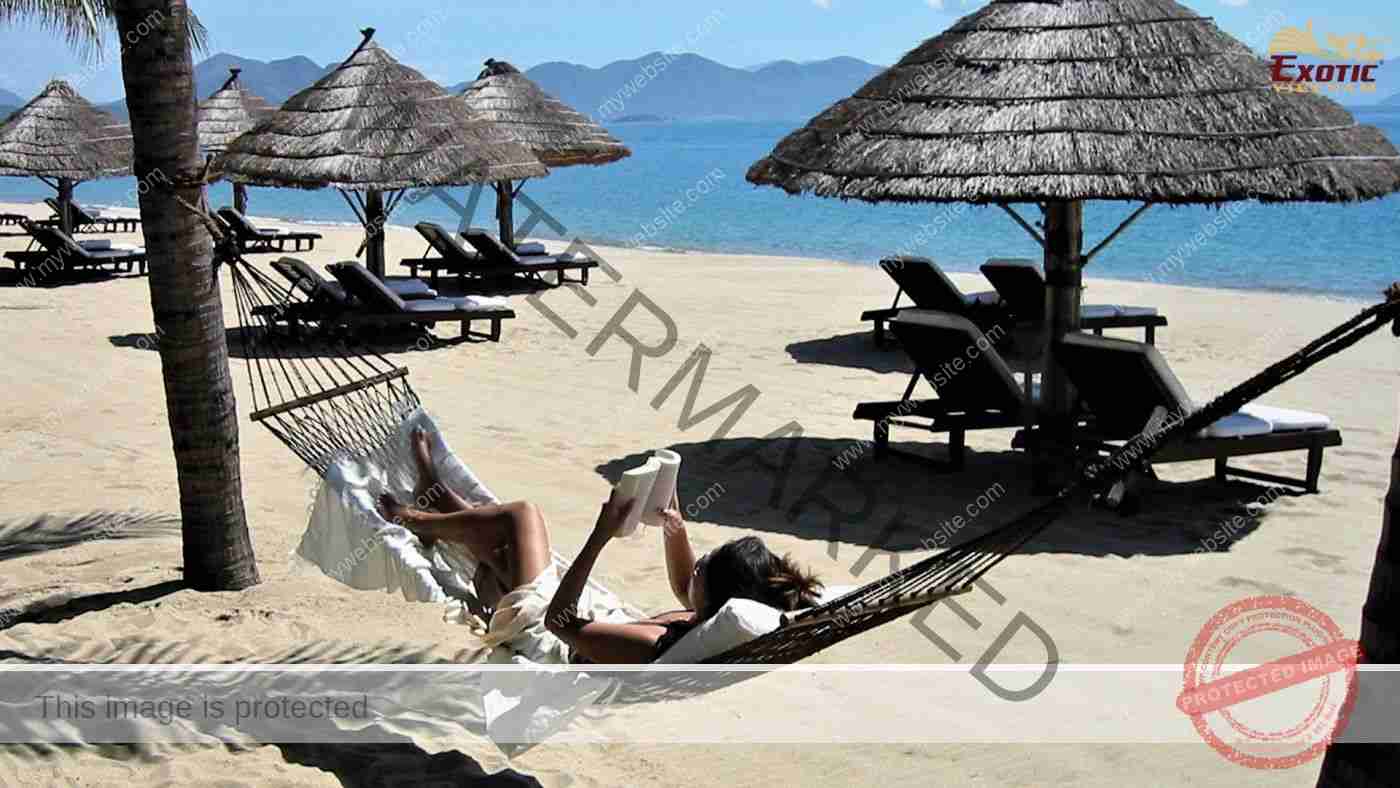 From frolicking in the water to action-packed adventures, Nha Trang offers many things for everyone to enjoy or nothing to do except spending a lazy day in the shade of a palm tree on the beach. The scenery is so fascinating, the clear blue sky is filled with light, the fresh seafood is skillfully processed, etc. you never want this warm and happy life to end. Photo: Exotic Vietnam
Location: 450km north of HCM City (8 hours by car or 1 hour by plane or 8 hours by train), 185km from Buon Ma Thuot (4 hours by car), 215km from Da Lat (4½ hours by car), 235km from Quy Nhon (4 hours by car).
Introduction: Nha Trang is considered to be one of the most beautiful bays in the world. It is endowed with vast tranquil beaches, beautiful islands and the finest climatic conditions. It is perfect for leisure makers, sightseers and event planners. You can find everything you need in one of the most beautiful beaches in the world: luxurious resorts, top class restaurants, theme parks, golf courses, water sports, as well as imposing attractions including the Cham towers of Po Nagar, the white Buddha statue, the Mountain Cathedral, the Ocean Institute and a Museum to Alexandre Yersin, the French Swiss researcher who found the cause of bubonic plaugue and dedicated his life to Viet Nam.
Highlights: Islands in Nha Trang, Bai Dai Beach, Cam Ranh Bay, Long Son Pagoda, Nha Trang Cathedral, Oceanographic Institute, Pasteur Institute, Po Nagar towers, Thap Ba hot springs.
Facilities & services: boat ride to off-shore islands, scuba diving, snorkeling, jet skiing, wind surfing, parasailing, international standard hotels, resorts and restaurants.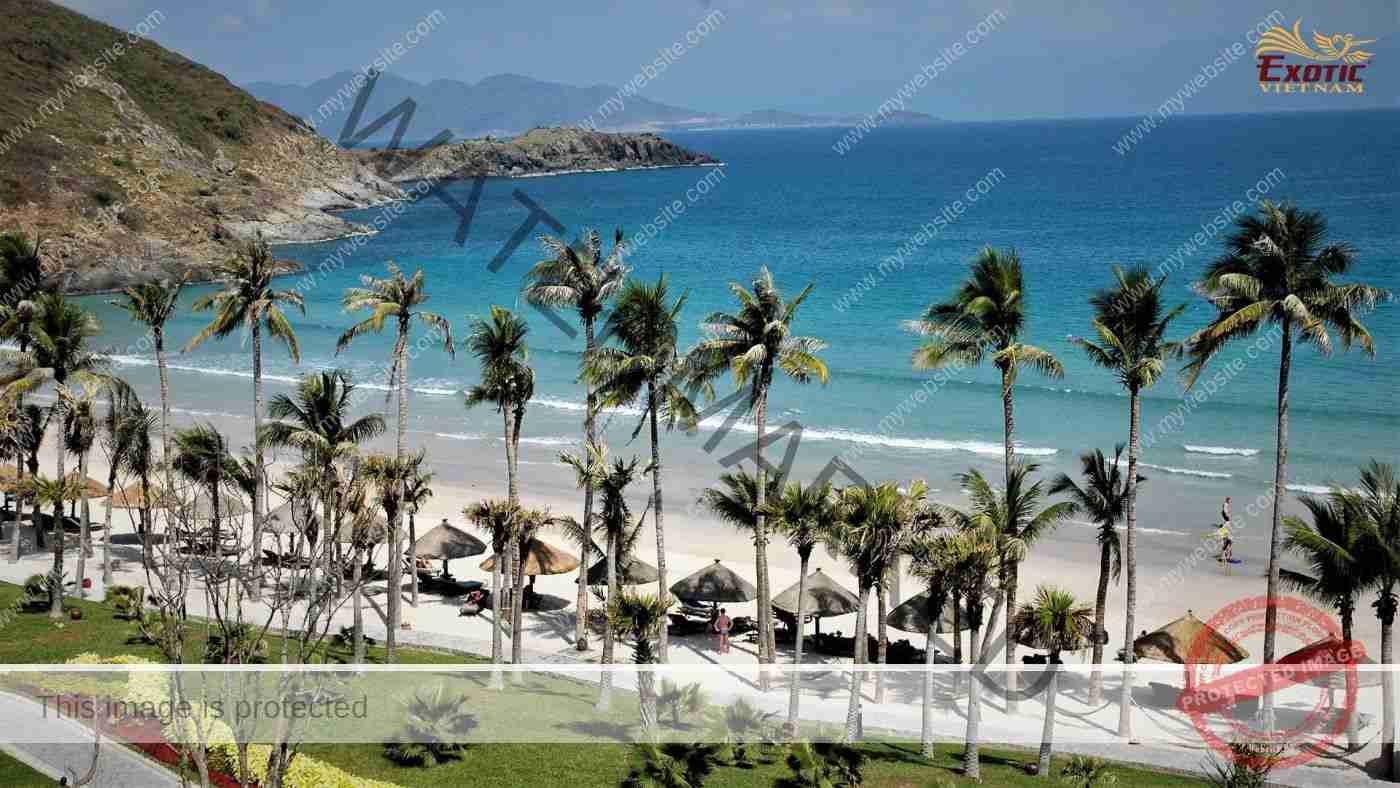 The islands in Nha Trang are not only screens to protect the city against strong winds, but also provide habitat for a vast array of sea creatures and birds. The clear blue water and diverse underwater world ensure that aqua activities such as snorkeling and scuba diving or sea walking become impressive. Photo: Exotic Vietnam
Islands in Nha Trang Bay
The islands of Hon Tre, Hon Mieu, Hon Mot, Hon Tam and Hon Mun are just a few kilometres from Cau Da Wharf. The water is clear and the marine life is diverse enough to ensure marine sports such as snorkeling and scuba diving. After a swim or a dive, visitors may go punting to explore fishing villages on the islands, tasting local seafood specialties, watching fishermen go about their daily jobs or simply enjoying completely unspoilt scenic beaches.
Previously, Bai Dai Beach was a deserted beach in the south of Nha Trang, now it has transformed into a resort town with dozens of large-scale resorts. Fringed by a long stretch of the white sands, Bai Dai Beach is a place where you can enjoy the sun and wave or get involved in leisure facilities at the beach. Photo: Exotic Vietnam
Bai Dai Beach
Located between Cam Ranh airport and Nha Trang city, the heart of Bai Dai is only about 20km south of Nha Trang. Stretching over 15km, this stretch of sand is part of Cam Ranh peninsula with one side overlooking the East Sea and the other being Thuy Trieu lagoon. No doubt this is really a very beautiful beach with flat coast, clear blue water and calm waves. Bai Dai Beach impresses with its beauty and combination of colors: absolutely white sand, fair blue sky and wonderfully clear water, which contains the entire color spectrum from powder-blue to dark blue.
With a land fund of nearly 800ha, approximately 40 luxury resort projects have been licensed by authorities. Some of them have been put into operation such as: Vipearl Long Beach, Duyen Ha, Fusion, Maia, Mia Resort, Eurowindow, Alma, Riviera, Selectum Noa, etc. What could be more wonderful than being immersed in the clear blue sea, resting by the whispering green coconut trees, or participating in vibrant team building activities and enjoying a great meal with fresh seafood dishes.
The title of "Resort Capital" in Viet Nam is soon becoming a reality in Bai Dai Beach. In 2017, National Geographic Magazine (US) continued to vote Bai Dai, Cam Ranh in Khanh Hoa province as one of the 10 most beautiful beaches on the planet. For many years since 2010, Bai Dai has always maintained this appellation.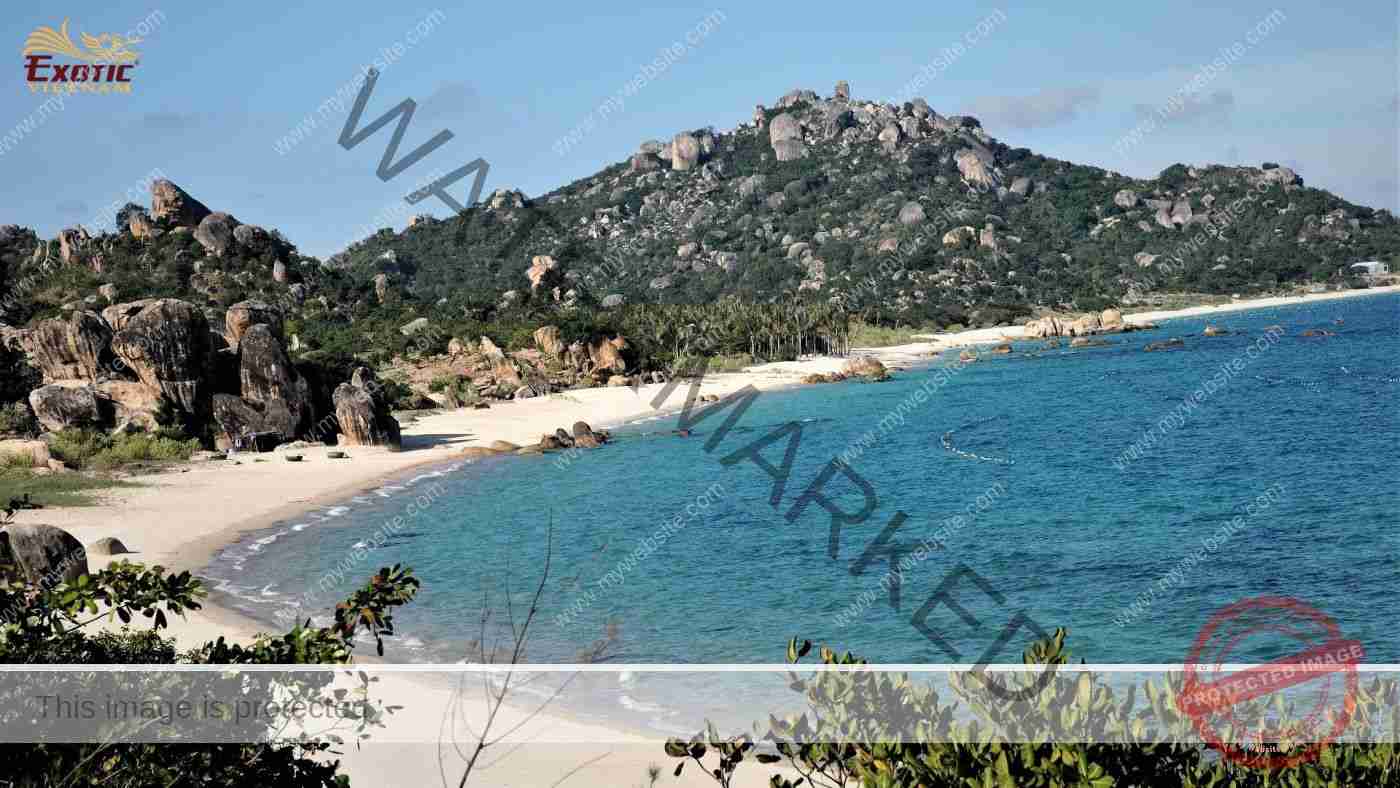 Regarded as Southeast Asia's best deep-water refuge, Cam Ranh Bay has a long history of military use from the US to the Soviet Union. Today is known as the submarine base of Viet Nam and a few small tourist projects have been built. Photo: Exotic Vietnam
Cam Ranh Bay
Located 60km from Nha Trang city, Cam Ranh Bay has an area of about 60 sq.km. The narrowest place is about 10km and the widest is 20km, the average depth is from 18 to 20m. It is considered one of three best bays in the world along with San Francisco in USA and Rio De Janiero in Brazil.
Previously, Cam Ranh was known as a military port rather than a tourism site. There are many beautiful coral reefs and fish beneath the bay. But the most amazing is that granite formations formed by the erosion of wind and sea. The bay also owns many attractive pristine beaches adorned with rows of soaring coconut trees that make up distinctive features of the Central Coast. Cam Ranh Bay is truly a natural wonder and a perfect place for aqua activities such as sailing, fishing, coral diving, relaxing, health treatment, climbing…. It is an ideal place to build a world-class sea tourism site. However, there are different developments in Cam Ranh peninsula. Bai Dai stretch with many large resort projects has been implemented. In contrast, the southern part of the peninsula still remains unspoiled with small accommodation establishments and pristine beauties.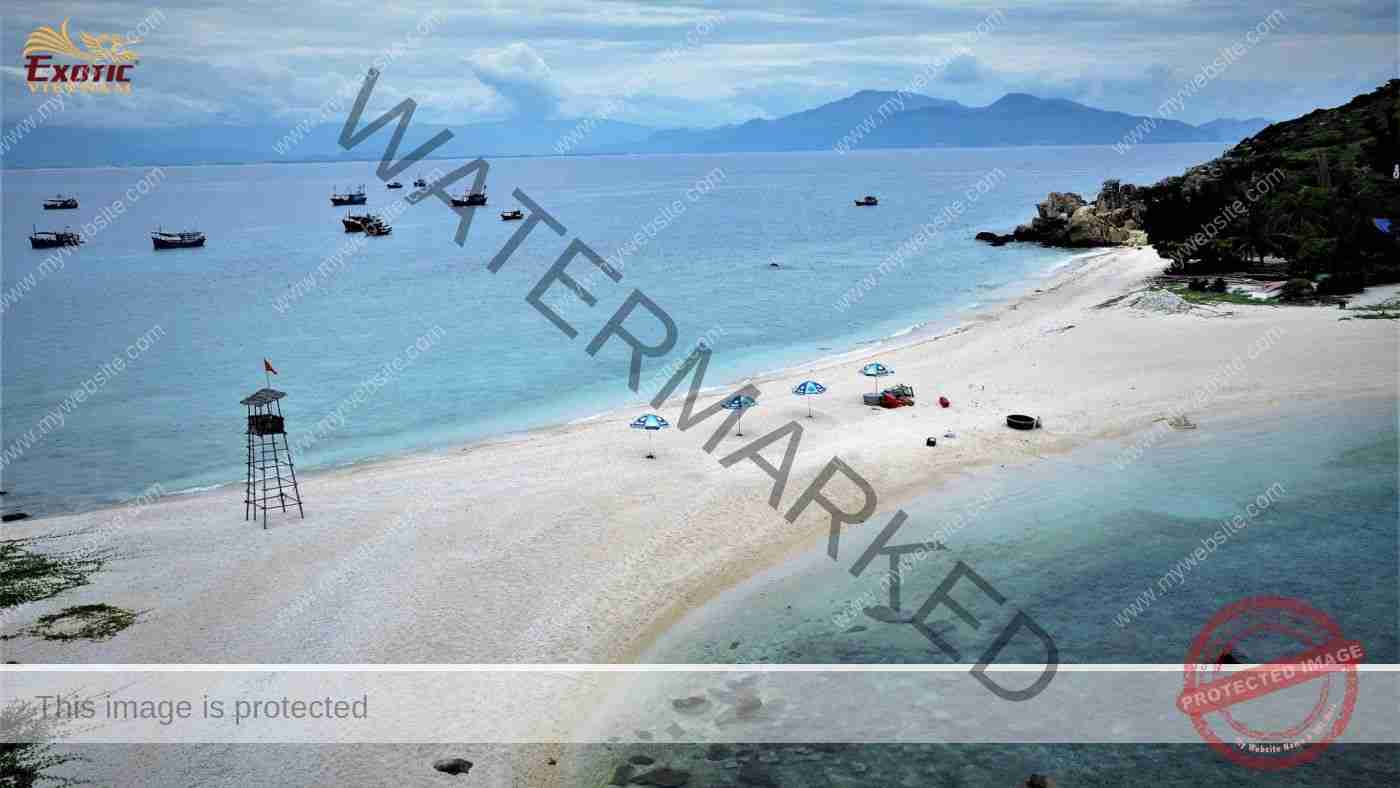 Salangane Islands are home to the most crowded swallow colonies, where visitors can learn about traditional swallow nest exploitation on the high vertical granite cliffs and encounter the wild natural beauty with coral reefs and sandy beaches. Photo: Exotic Vietnam
Salangane islands
Salangane islands, or Hon Noi island and Hon Ngoai island is about 25km south of Cau Da Wharf (about 1 hour by boat). This place is well known with the twin islands connected by a stretch of fine sand more than 100 meters long. The larger island is Hon Noi where visitors can climb to Du Ha peak, 90m high to admire the panoramic view of blue sea, rocky formations and white sand beach. On the island, there is also a temple and statue worshiping Le Thi Huyen Tram, who commanded the navy of the Tay Son Army in 1788. She organized the exploitation and export of bird's nests as a source of finance for the Tay Son Dynasty.
Coming to Salangane islands, don't miss visiting the Salangane cave and learn about the bird nest farming. Bird's nests are harvested twice a year in March and August, visitors also see lots of watchtowers of the local people. The sea is so calm with turquoise water, where visitors freely swim and watch lively coral reefs and many colorful fishes. The best time to visit the islands is from March to September because of gentle wind and mild wave.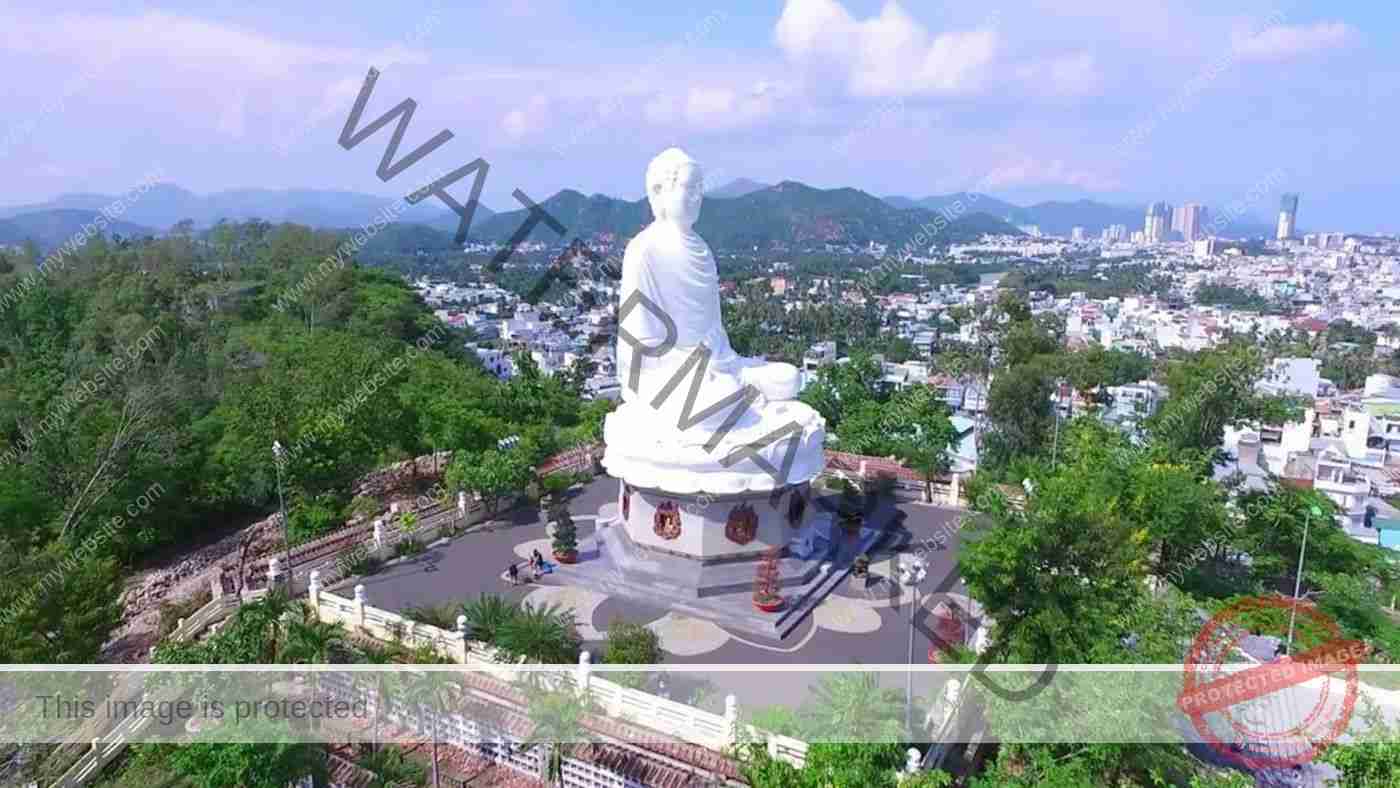 From afar, visitors have seen the giant Buddha statue of Long Son Pagoda. Walk 152 steps up to admire the large white Buddha sitting on a lotus flower. Around the base of the Buddha is carvings of monks who burned themselves to protest against the government during the Viet Nam War. Photo: Internet
Long Son Pagoda
Built in 1889, Long Son Pagoda is the main and largest pagoda in Nha Trang. The entrance and the roofs are decorated with mosaic dragons made of glass and bits of ceramic tile. The main sanctuary is an attractive hall adorned with modern interpretations of traditional motifs. At the hilltop behind the pagoda is a huge white Buddha statue seated on a lotus blossom which is visible from all around.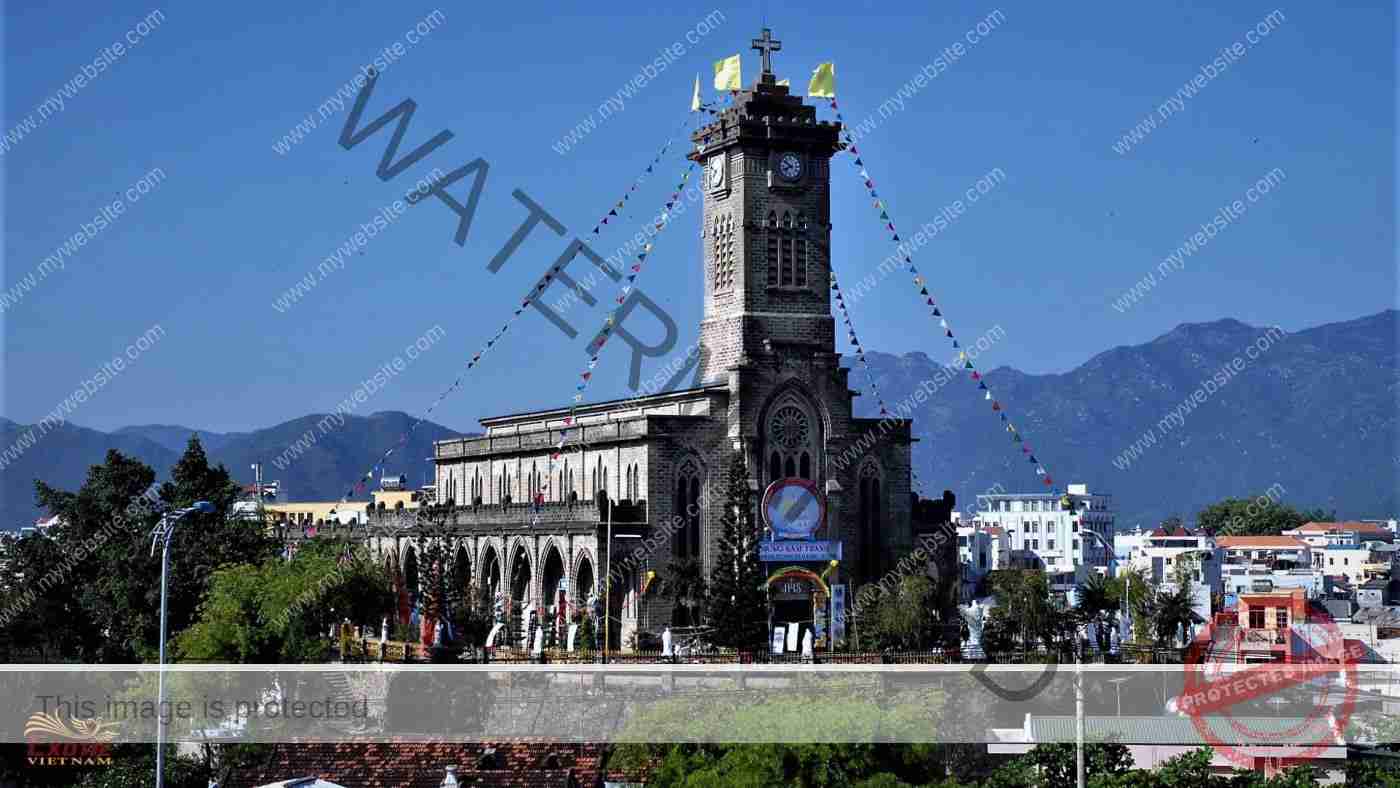 Nha Trang Cathedral is the most magnificent French architecture in Nha Trang. Priest Louis Vallet (1869 – 1945) devoted himself to building the church. You can visit his grave located at the foot of the mountain. Photo: Exotic Vietnam
Nha Trang Cathedral
Nha Trang Cathedral, built in French Gothic style and complete with medieval-looking stained glass windows, stands on a small hill overlooking the train station. It was constructed of simple cement blocks between 1928 and 1933. Three large bells were provided by the Bourdons Carillons Company in 1934, and a big clock was assembled on the tower in December 1935. Masses are held from Monday through Saturday at 5 a.m. and 4:30 p.m. and on Sundays at 5 a.m., 7 a.m. and 4:30 p.m.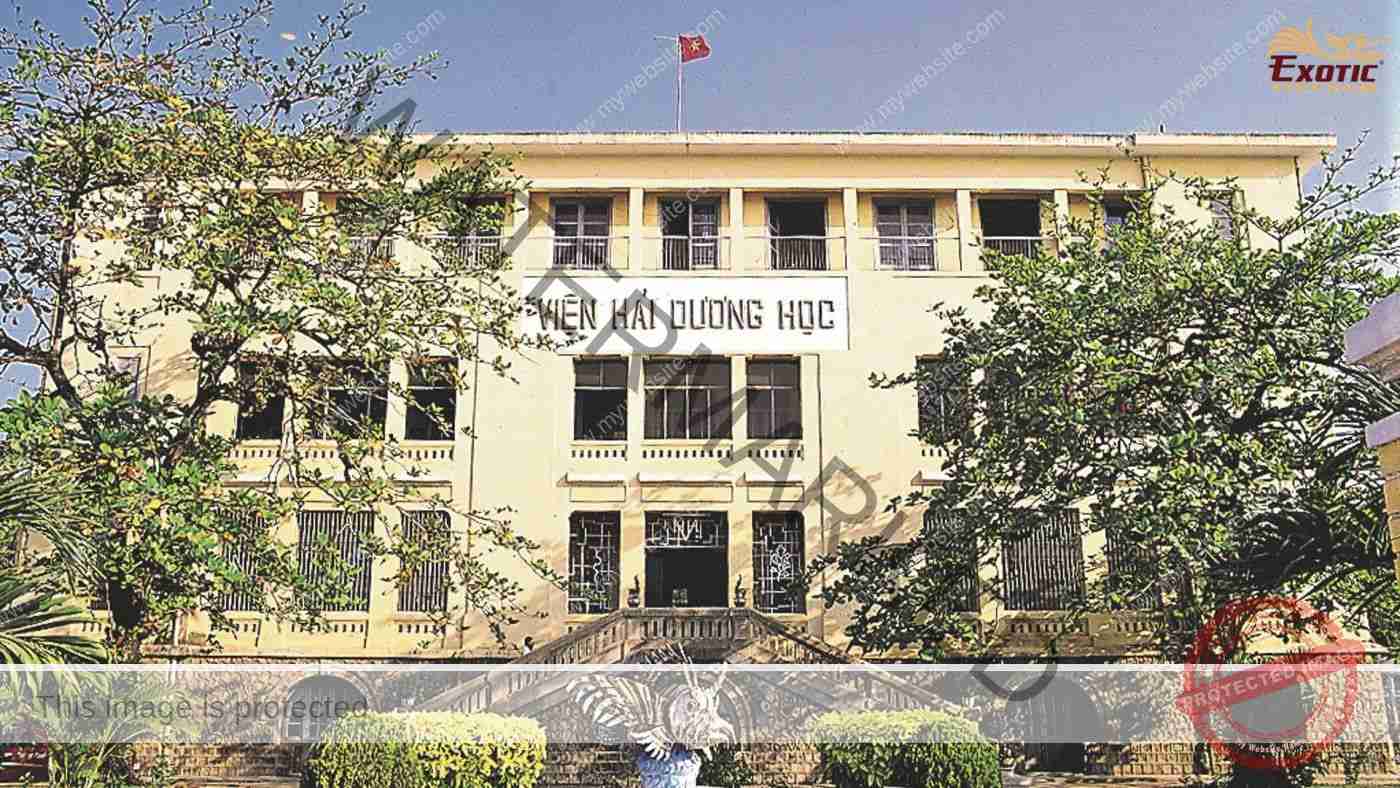 Nha Trang Oceanographic Institute displays thousands of marine specimens collected and preserved for many years, and some live specimens are kept in glass tanks. This attraction helps to raise awareness about respecting and protecting the marine environment for all age groups of visitors. Photo: Exotic Vietnam
Oceanographic Institute
Founded in 1923, the Oceanographic Institute is housed in a grand French-colonial building in the Cau Da area. It has an aquarium, a specimen room and a library. The aquarium is home to a variety of colourful live specimens of local marine life. Besides, a large hall behind the main building contains 60,000 dead specimens, including stuffed sea birds and fish, corals and corporeal remains of other marine creatures preserved in glass jars.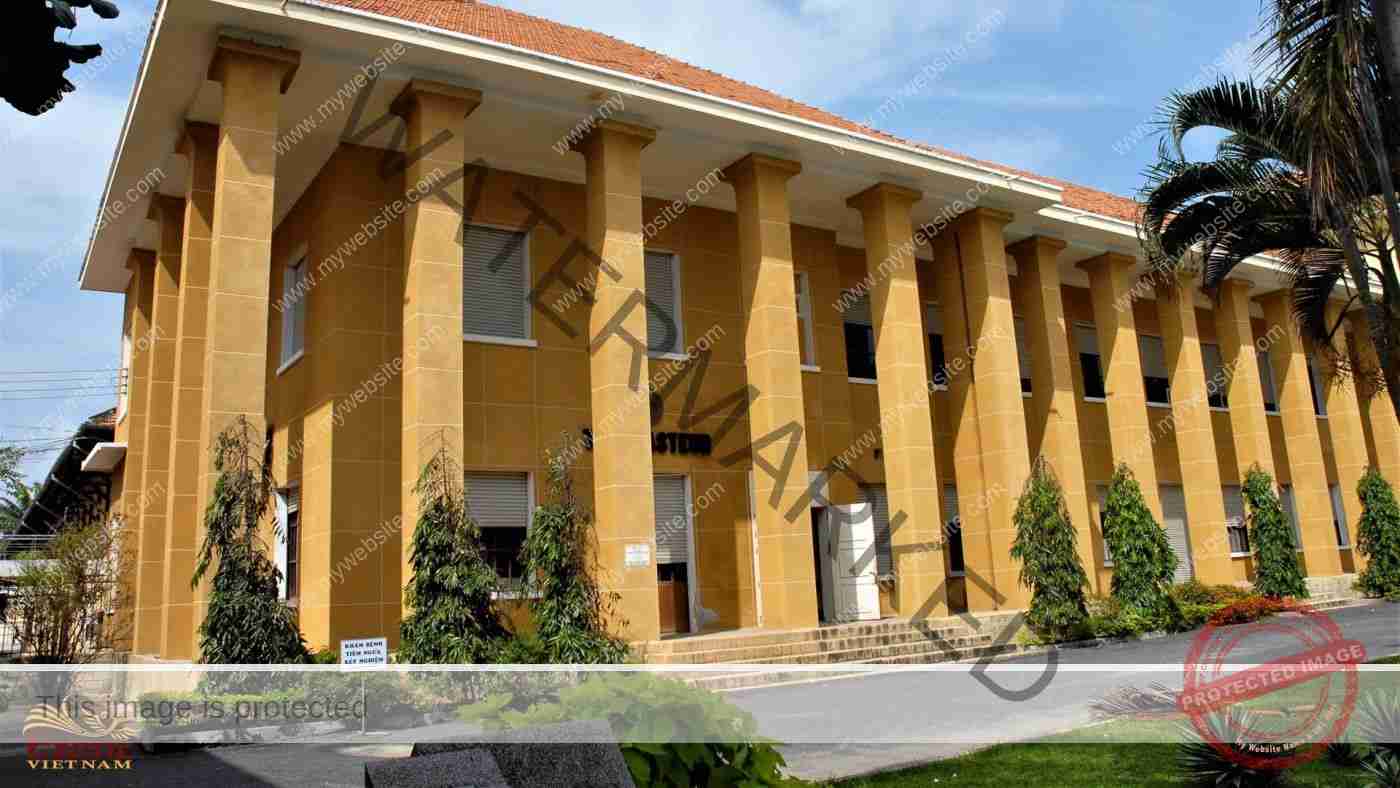 Founded in 1895 by Dr. Alexandre Yersin, visit the Pasteur Institute to find out his stories, who devoted his whole life to science, concern for those afflicted with the illness, and also to learn more his exciting exploration to new lands. Photo: Exotic Vietnam
Pasteur Institute
Nha Trang's Pasteur Institute was founded in 1895 by Dr Alexandre Yersin (1863-1943). Dr Yersin's library and office are now a museum located on the second floor; items on display include laboratory equipment and some of his personal effects. There is a picture of Dr Yersin above the door to the veranda. The model boat was given to him by local fishermen with whom he spent a great deal of his life. The entrance gate is located at 10 Tran Phu St.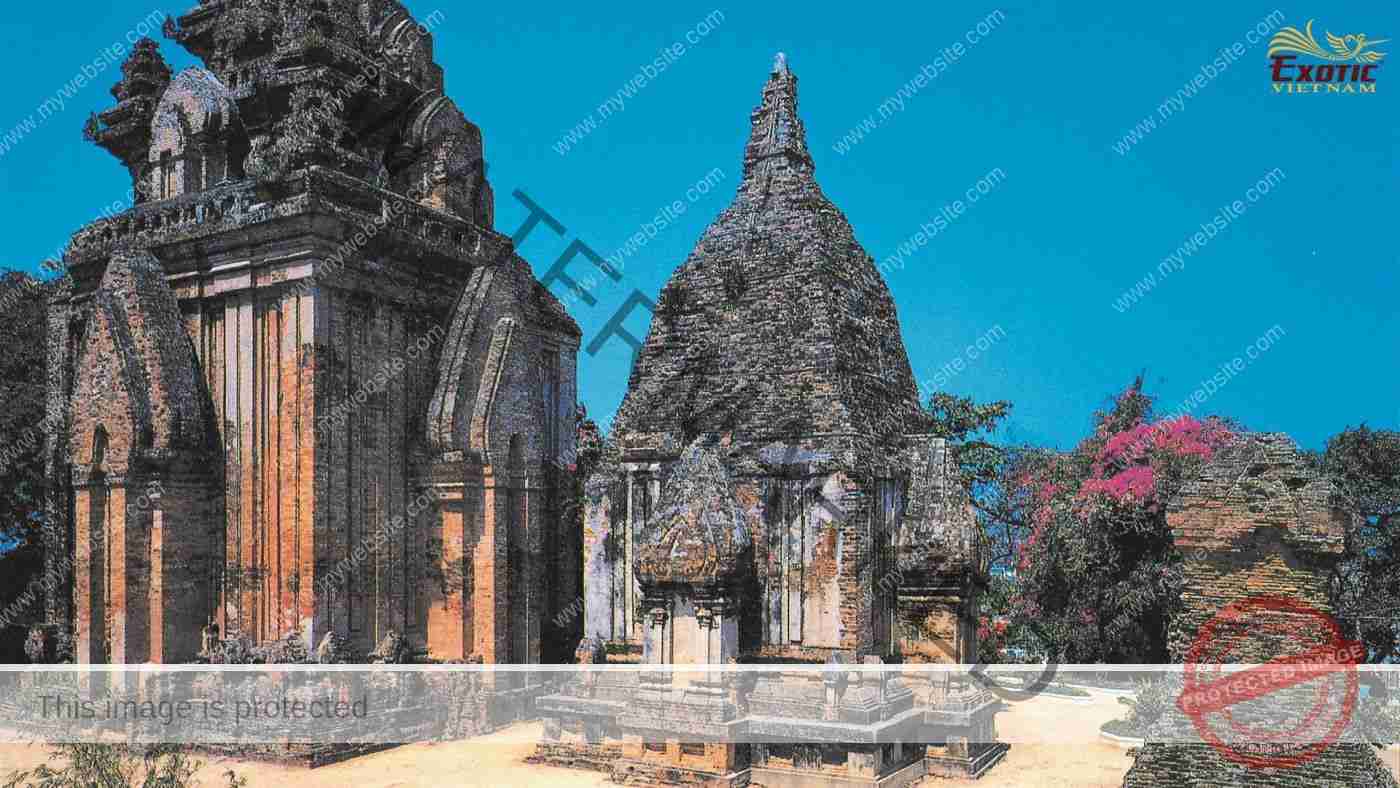 Nha Trang was known as Kauthara under the Champa Kingdom. A hilltop next to the river is home to a cluster of brick towers built by the Cham people many centuries ago. Po Nagar Towers are well-reserved with most original architectures being still intact. Photo: Exotic Vietnam
Po Nagar Towers
Built between the 7th and 12th centuries, the Cham towers of Po Nagar were used for Hindu worship. Today, both Chinese and Vietnamese Buddhists come to Po Nagar to pray and make offerings according to their traditions. Only with loose bricks and with neither plaster on the walls nor mortar between the bricks – the towers have stood for many centuries. Standing on a granite hillock by the Cai River, the towers offer a fantastic view of Xom Bong Bridge and docks of trawlers and junks.