TEAM BUILDING IN DAK NONG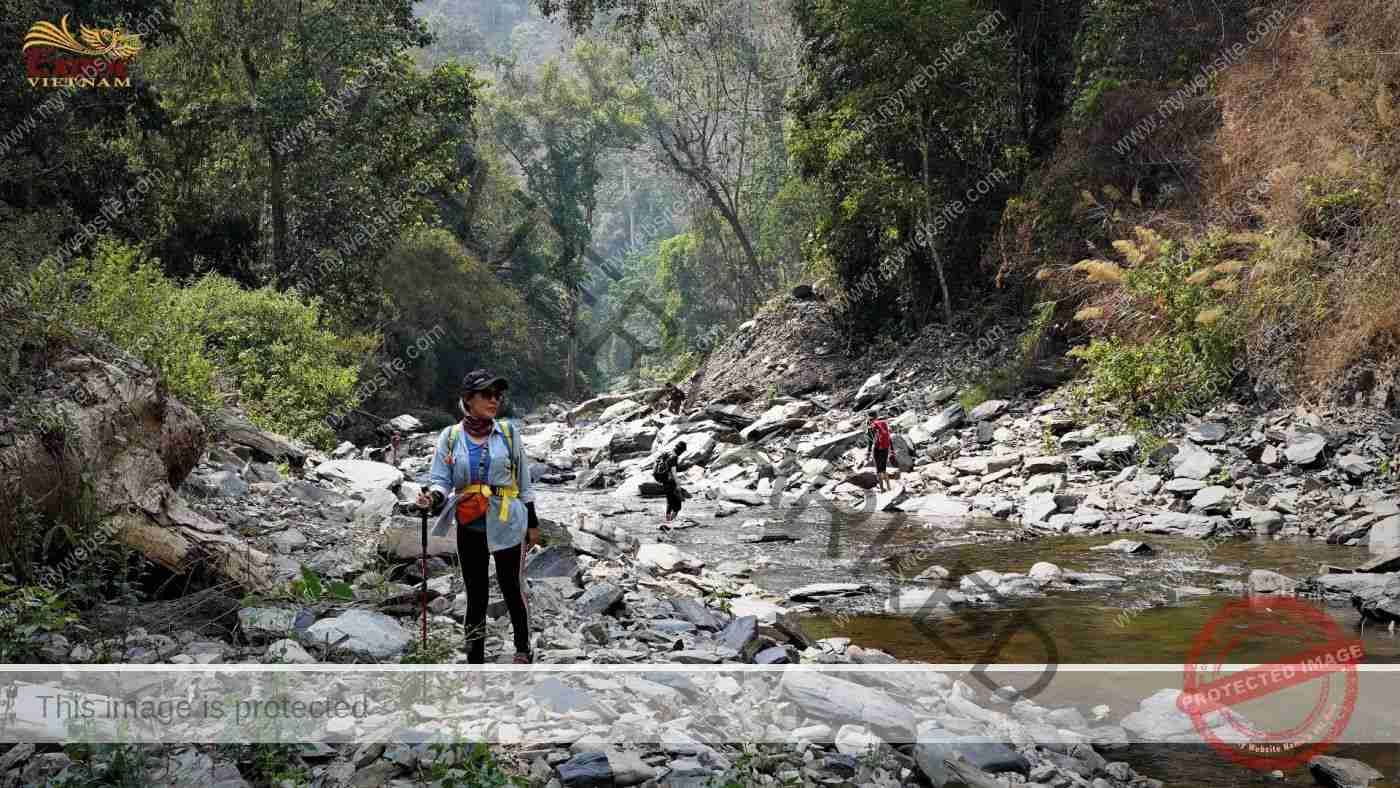 Most of Dak Nong Province, known for its geologic heritage including abundance of volcanic craters, lava caves and a network of beautiful waterfalls, etc. has been recognized as a UNESCO Global Geopark in 2020 for its extraordinary landscapes and people. Coming to this plateau, it's easy to feel nature always being with you. It's worth it to breathe in fresh oxygen-filled air, admire the rough natural surroundings of lakes and vast forests, explore the breathtaking volcanic sites being still alive through thousands of years, and so on. Photo: Exotic Vietnam
Location: 230km from HCMC (4.5 hours by car via NR14), 125km south of Buon Ma Thuot (2.5 hours by car), 190km west of Da Lat (4 hours by car) and 215km north of Phan Thiet (5 hours by car).
Introduction: Dak Nong province is located entirely on the Dak Nong plateau, also known as the M'Nong plateau because this is where the M'Nong people live. The French called it the Central Highland at south Indochina, the reason it was called "the center", because of its special position stretching over the land of all three countries of Central Vietnam, Cochinchina and Cambodia, a French colony at that time. Therefore, it is also known as the "Three Borders" plateau. The M'Nong people are the indigenous people with the largest population here, they call this land Yôk Luaich, which means "Grassy Hill plateau", because of the vast grasses on the red-brown feralit soil with layer of laterite.
With the goal of preserving natural heritage, raising community awareness and promoting economic development through sustainable tourism, Dak Nong Geopark, dubbed the "Land of Melodies", recognized in April 2020. The park is spread over an area of ​​more than 4,700km2, accounting for more than 2/5 of the natural area of ​​Dak Nong province, spanning 6/8 districts and towns of the province, namely Krong No, Cu Jut, Dak Mil, Dak Song, Dak G'. Long, and TP. Gia Nghia.
From Ho Chi Minh City easily reaching to Gia Nghia about 230km via NR14, the quality of traffic is very good. Travel time is 4-5 hours. Accommodation facilities in Gia Nghia meet the basic requirements for staying with a 3-star hotel system. Along with other infrastructures such as restaurants, attractive attractions, etc., Dak Nong fully meets the requirements for sightseeing and the team building event for businesses, especially eco teambuilding to raise awareness about the environment and community for the participants.
In Dak Nong, Exotic Vietnam is a reliable partner to carry out a teambuilding program in The Amazing Race format to feel the warmth of teamwork amidst the immensity of nature, or trekking trips to discover the primeval world of nature reserves with an unforgettable experience!
Highlights: Museum of Sounds, Waterfall complex, Volcanic Cave complex, Ta Dung Hydroelectric Reservoir, Ta Dung National Park, Nam Nung Nature Reserve, etc.
Facilities & services: trekking through jungle, tourist class hotels and restaurants.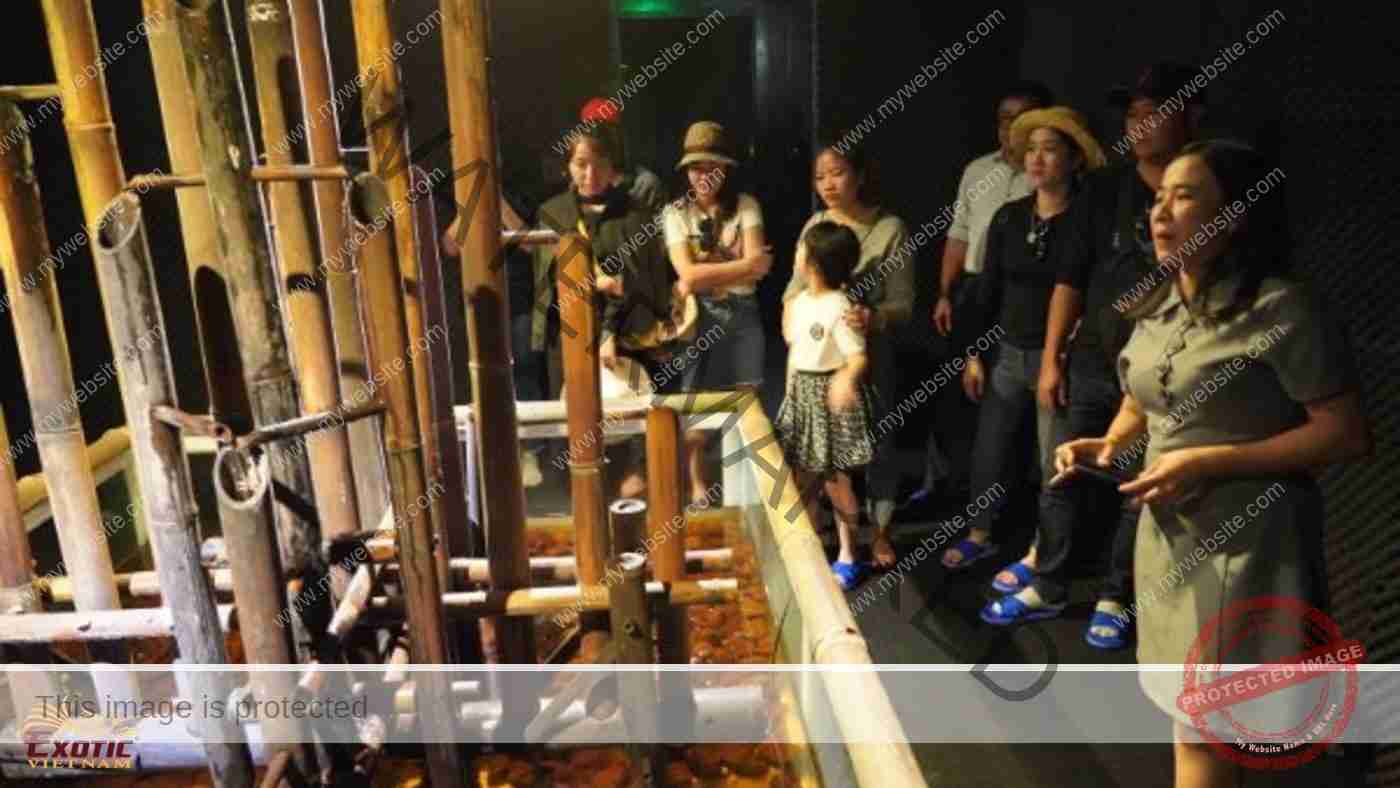 Inspired by the sounds of the Universe's five elements (metal, wood, water, fire, earth), the Museum of Sounds invites you into the world of sounds that exist in the natural environment or the surrounding community in which we live in harmony every day. You can also see, feel and even create the sounds and noises yourself. Photo: Exotic Vietnam
Museum of Sounds
Created by a group of French artists, Scenocosme, the Museum of Sounds, or EXPLORASOUND, is located at the center of Gia Nghia. Spreading over an area of ​​200m2, the museum is divided into 8 separate spaces with 7 themes featuring sounds from different materials as well as performances: The Sound of Rock, The Sound of Fire, The Sound of Wind, The Sound of Water, The Sound of Wood, The Sound of Light and The Sound of Ourselves. These sounds are created based on 5 basic elements of the natural world, which are Metal – Wood – Water – Fire – Earth. With a very novel design space, combined with sound systems and LED lights, the exhibition shows a very high connection and interaction between exhibits and visitors. This is the only museum of sounds in Viet Nam and Southeast Asia.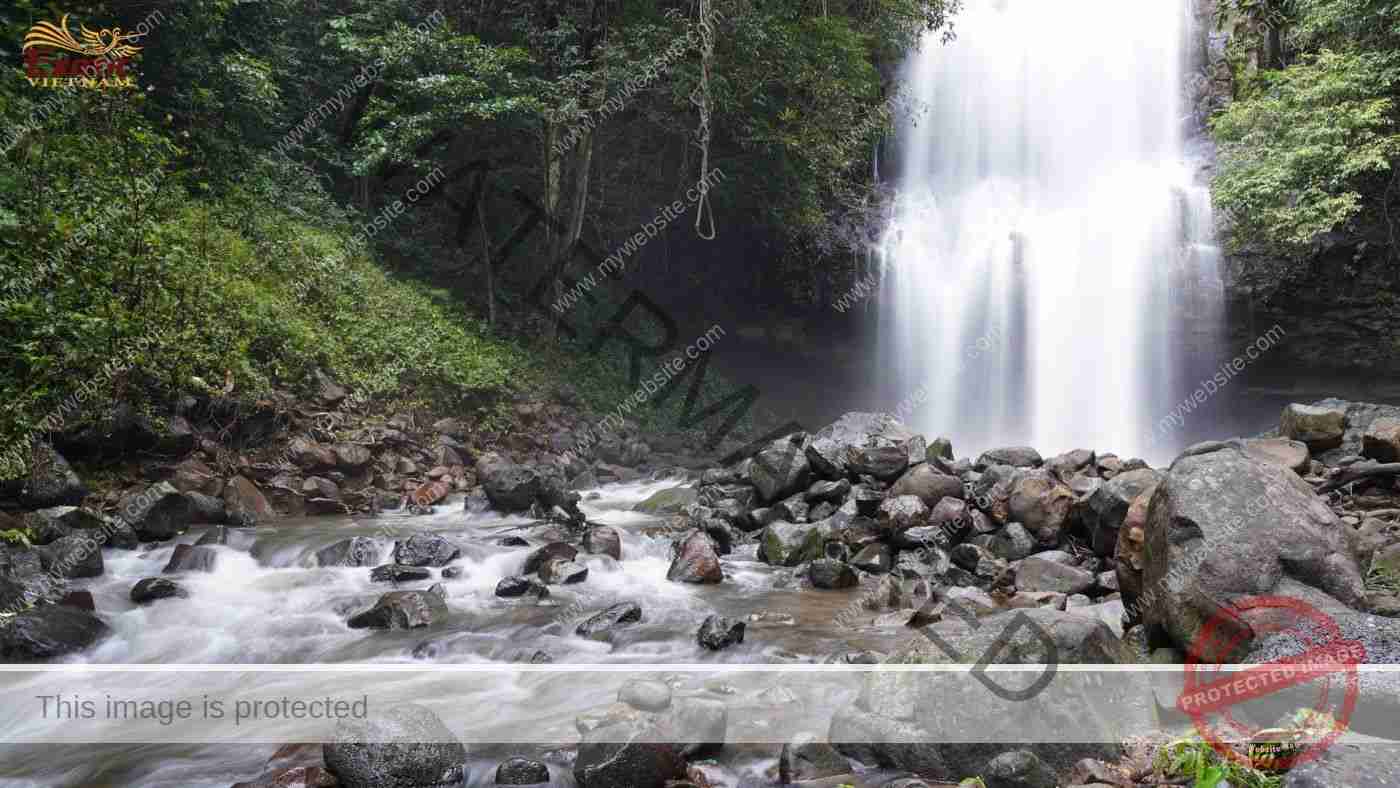 Receiving much annual rainfall, being affected by sophisticated tectonic faults, possessing a dome-like terrain as a high rooftop, and retaining multi-layered  vegetation are the reasons why Dak Nong becomes a land of amazing waterfalls. If you trek hard enough, you might be able to find a water oasis at the base of the falls in even the most unexpected of places. It is a heaven to spend time swimming and pitching a tent. Photo: Exotic Vietnam
Waterfall system
Dak Nong owns countless beautiful waterfalls. The cause is that from the surface of the Dak Nong plateau at an elevation of 1000m, all four sides are steep slopes with dense networks of streams and rivers, in the north and west flowing down the Xre Pok, Prek Te and Prek Chlong rivers then to pour into Mekong River, in the east and south flows down to Dong Nai and Be rivers then to flow into the East Sea. Terrains are combined with a lot of rainfall, many faults caused by tectonic activities and the diversity of rocks have created many beautiful waterfalls: Dak G'lun waterfall (Dak R'Til commune, district district). Tuy Duc), Lieng Nung waterfall (N'rieng bon, Dak Nia commune, Gia Nghia town), Luu Ly waterfall (Nam N'Jang commune, Dak Song district), Nam Floor waterfall (Dak Sin commune, Dak R'lap district), and more.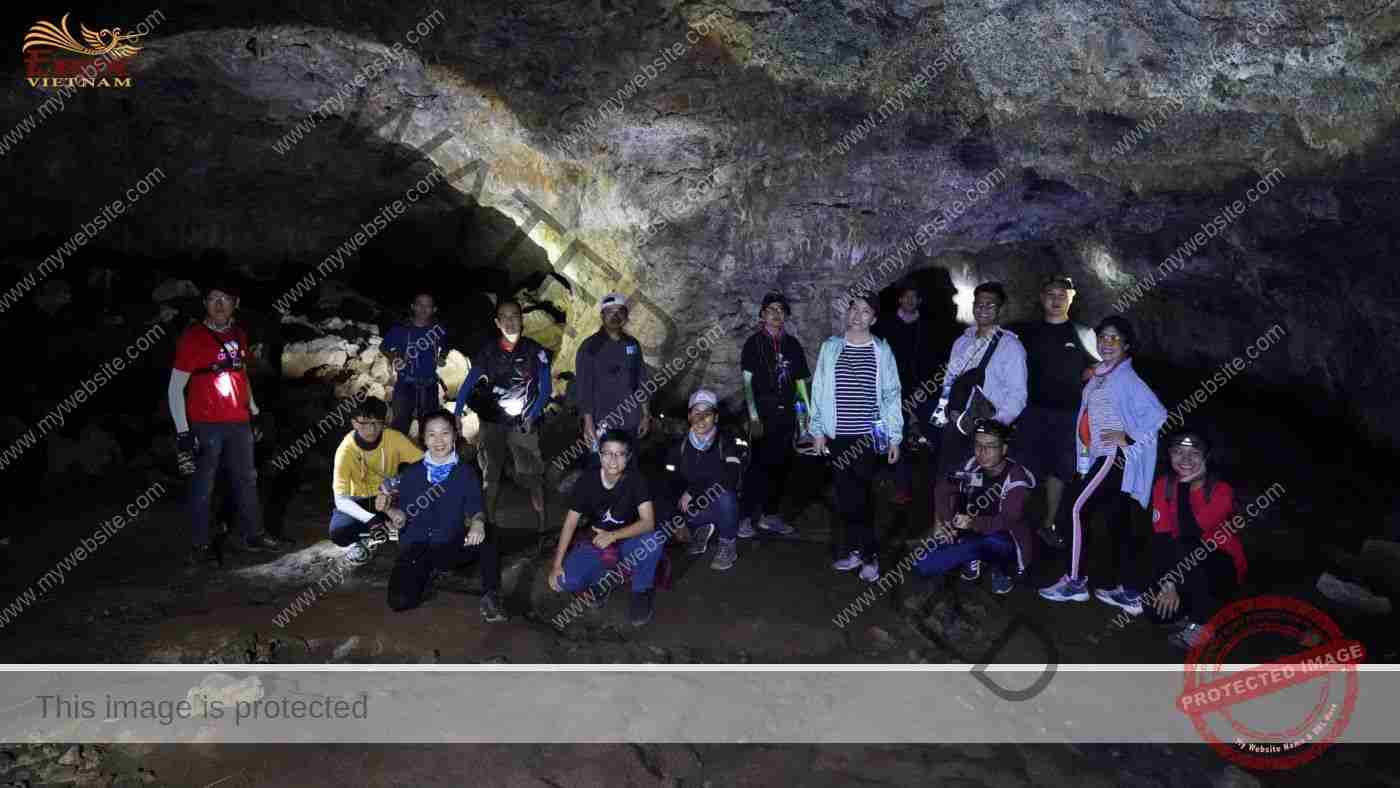 It's the underground world inhabited by early humans that the civilized world had only known about in recent times. Volcanic caves are dark places filled with geological singularities, unusual life forms, and winding passages hidden with many mysteries ahead. It's interesting to detect the crystallization of molten basalt through the shape of moving lava flows and dripping formations that have remained unchanged for thousands of years. Photo: Exotic Vietnam
Volcanic cave system
According to the people of Ede, Chu Bluk means volcano. Coming to Dak Nong Geopark, a land of active volcanoes in the past, not only you can discover different types of volcanoes, you also enter the underground world of a lava tube.
Dak Nong Geopark has 5 volcanoes: Nam Duong, Bang Mo (Cu Jut), Nam Blang, Nam Kar (Krong No) and Nam Gle (Dak Mil). The above volcanoes are all active in the form of eruptions, explosive eruptions or both, or fissure eruptions 10,000 years ago.
When an eruption-type volcano is active, a low-viscosity, liquid basalt flow will overflow. The upper basalt layers, due to exposure to air, should cool and harden first. The underlying basalt layers cool more slowly, remain liquid, and continue to move. During the late stages of the eruption, the lava supply gradually decreases causing the molten material to flow away but not be compensated. This deficiency creates cylindrical tunnels that extend with the flow beneath solidified basalt. The gas escapes from the lava, accumulates under the dome and supports the dome. When this gas mixes with air from the vents on the dome, creating a strong increase in heat from oxidation, this temperature is enough for the cave arch rock to re-melt, then drip down with the lava remaining. Such lava can solidify in situ to form small stalactites.
Although there are 5 volcanoes, at Dak Nong Geopark, only the volcanic cave system related to Nam Blang volcano has been studied, with a total length of 10km including 50 caves. In which, C7 cave is 1,067m long, the longest volcanic cave in Southeast Asia; C 6.1 cave where traces of prehistoric people were discovered 10,000 – 7,000 years ago; C3 cave is located in a 968m long cave system, divided into many segments separated by collapsing holes, that is also famous for its unique fossil which is a wooden mold with a diameter of 80 cm formed by lava.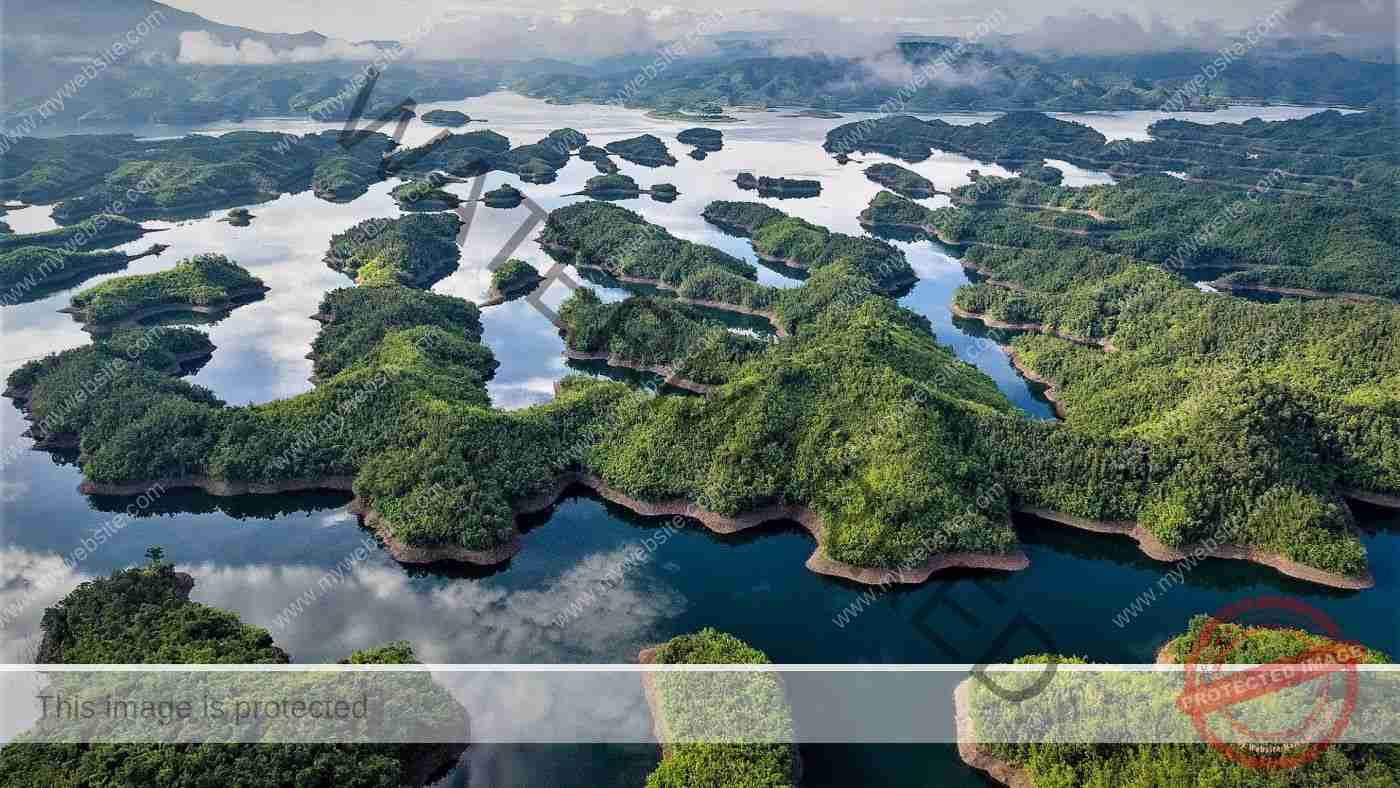 Enjoy a pleasant trip to Lake Ta Dung with Exotic Vietnam. Find an enchanting spot to watch either a sunset or a sunrise across the lake. Take a panoramic photo of mirror-like waters, reflecting the islands and any clouds in the sky. After a boat ride, a leisurely walk or a team building activity beckon as soon as you disembark. Photo: Internet
Ta Dung Hydroelectric Reservoir
In the midst of the vast lake, the hills with many different shapes, sometimes drooping, sometimes rising, all gently curving to draw a giant natural painting in the core of the forbidden forest, which is Ta Dung National Park. To have this tourist landscape, Our Mother Nature has to suffer. In 2011, people blocked the Dong Nai River to build a reservoir for the hydroelectric plants Dong Nai 3 (capacity of 180MW), and Dong Nai 4 (capacity of 340MW), flooding an area up to 3,620ha. These hydropower projects have caused negative impacts for the natural and social environment along the Dong Nai river basin, such as large-sized deforestation, climate change, and biodiversity, adversely affecting people's livelihood, and so on. The hydroelectric reservoir with 36 large and small islands creates the landscape of "Ha Long Bay in the Central Highlands". The ideal time to visit Ta Dung Reservoir is in the water storage season, from July to December. When the lake's water rises to a clear blue and the rains make the trees on the islands green.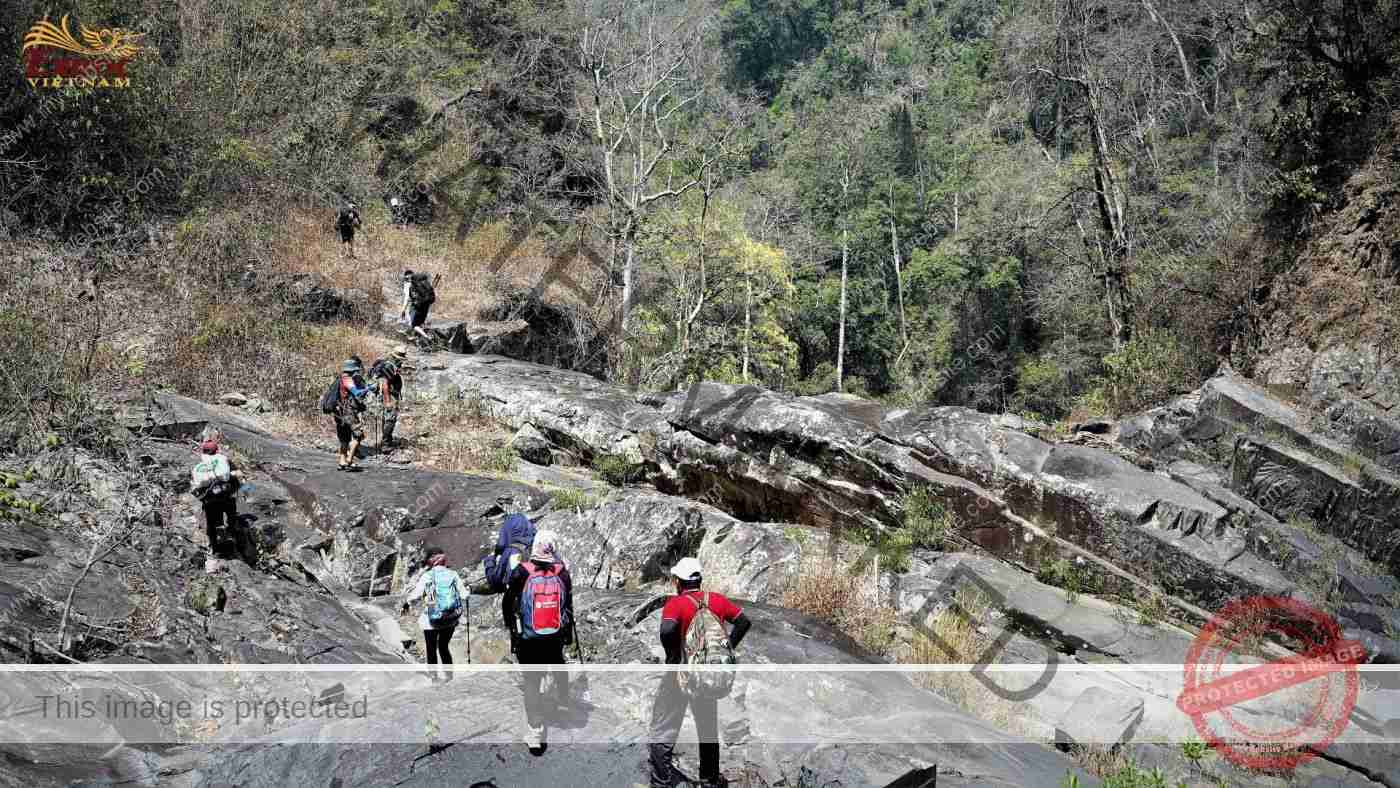 With the coverage of primary forest accounting for 48% of the area of ​​core zone, Ta Dung National Park is ranked highly in Viet Nam for the diversity of ecosystems and habitats of wild animals. Whether you start your trek from the north or the south side of Mount Ta Dung, the park holds a lot of fascinating trekking trails. Many of these take trekkers up tall peaks, or through dense jungles to gorgeous viewpoints. Photo: Exotic Vietnam
Ta Dung National Park
50km northeast of Gia Nghia City, Ta Dung National Park was established in 2018 on an area of ​​20,937ha. Endowed with a large layer of forest vegetation, covering up to 85% of the core area, including primary forests accounting for 48%, secondary forests of all kinds 36% the park has suitable ecosystems for the residence, growth and development of many plants and animals. They include the following ecosystems: evergreen broad-leaved, semi-deciduous, coniferous, mixed wood and bamboo, in which evergreen broad-leaved natural forest is predominant with an area of ​​8416 ha, accounting for 44.6% of the garden area. This is home to 1,406 species of higher vascular plants belonging to 760 genera and 192 families of 06 different plant branches; and 574 animal species belonging to 38 orders and 124 different families. There are many endangered species listed in the Red Book of Viet Nam and the World.
Ta Dung is also the name of the largest granite massif in Dak Nong province, stretching about 15km with 3 peaks of Ta Dra, Ta Dung and Tchirke, of which Ta Dung is the highest peak, 1,982m, as the roof of Dak Nong plateau. The depth of the terrain is not too large, about 200m at the saddles between the massifs. The terrain has a continuous slope of 20-30 degrees on the slopes and the vegetation under the forest canopy is quite clear, so conquering Ta Dung peak is not too difficult, especially the starting position is already at an altitude of 700m (on west side) or 950m (on east side).
There are 2 trekking routes to choose from:
Departure and end at Dak Plao (Dak Glong). The journey is 10km long for each turn with 5km of hilly roads and 5km of mountain slopes, for a total of 20km. Turns go and back on the same road on the west side. Tractors can be used to transport luggage and people on the road in the forest and coffee fields. Truot Waterfall and Mat Troi Waterfall are worth stopping at along the journey. The 2-day climbing program, with 1 night stay at an altitude of 1700m, by a stream with good water source, and a quite flat camping ground.
Departure at Phi Lieng (Lam Ha) and end at Dak Plao (Dak Glong). The journey is 10km long for each turn with 5km of hilly roads and 5km of mountain slopes, totaling 20km. Uphill on the east side and downhill on the west side. Tractors can be used to transport luggage and people on the coffee field at the beginning (from Phi Lieng to the foot of the mountain) and at the end (from the foot of the mountain to Dak Plao). Bay Tang Waterfall, Truot Waterfall and Mat Troi Waterfall are worth stopping at along the journey. The 3-day climbing program, with 2 nights stay at the foot of the eastern slope and 1700m high mountain, where there are springs with good water sources, and quite flat camping grounds.
Rainy season from May to November and dry season from December to April. Weather conditions greatly affect the itinerary. The difficulty of trekking increases in the rainy season with insects (especially green and brown leeches), slippery slopes, wet condition when eating and camping overnight. The ideal time to climb Ta Dung is from December to May.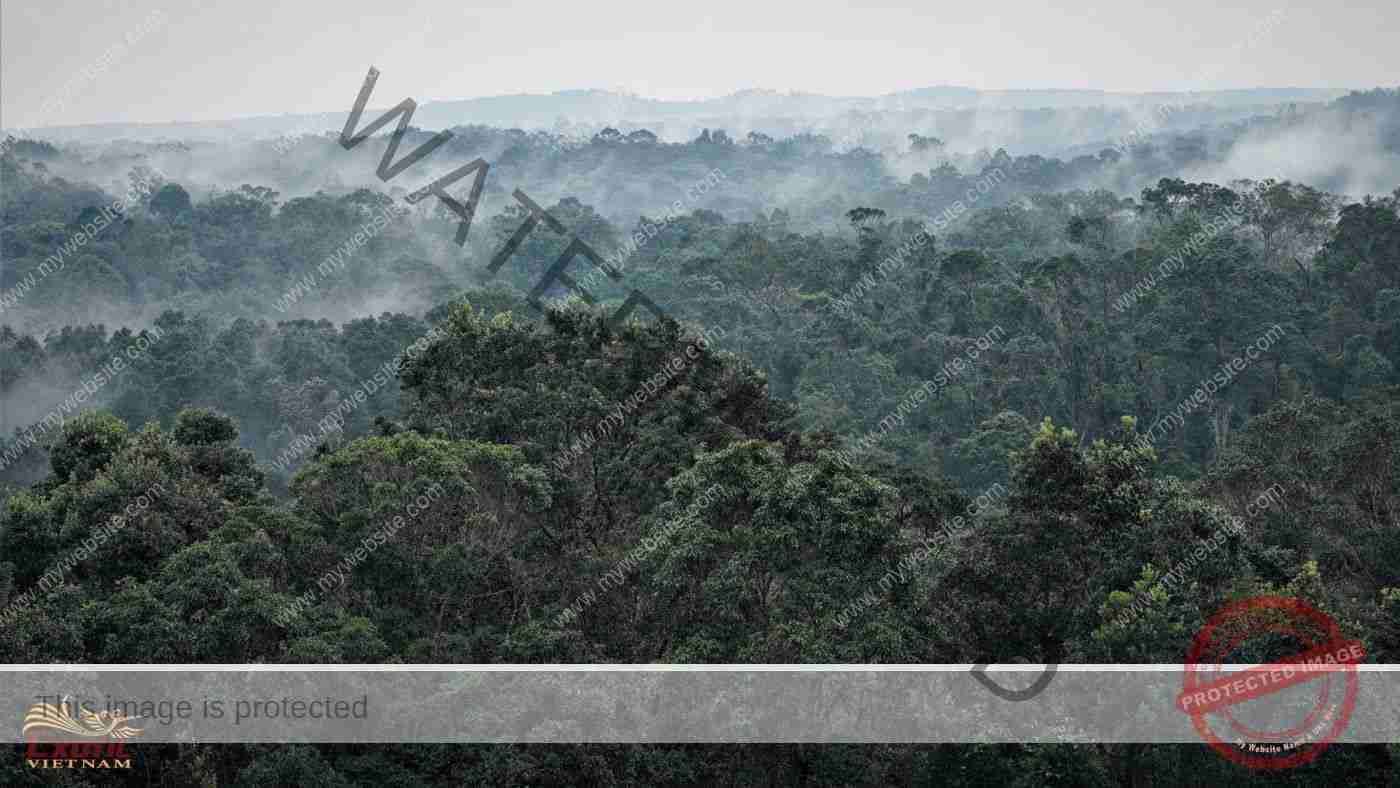 Like a hidden gem that most people don't know about. Nam Nung Nature Reserve immerse yourself in nature landscape, fresh -bloom scent and bird chirping sound. From easy walks to serious hikes, many sides of the rainforest will be discovered. Along the trail, you encounter a rich diversity of flora and fauna, with endemic species, that end with a rewarding and refreshing waterfall. Looking down from above, the panorama of forest canopy offers a truly captivating display in the mist. Photo: Exotic Vietnam
Nam Nung Nature Reserve
45km west of Gia Nghia City, Nam Nung Nature Reserve covers an area of ​​21,866ha with most primary forest. The highest peak is Nam Nung or Nam Jer Bri with an altitude of 1578m. This place records the heroic history of ethnic minorities in the South Central Highlands under the leadership of N'Trang Long, N'Trang Guh… in the resistance war against the French in the early 20th century.
The reserve has 2 main ecosystems: the natural broadleaf evergreen forest ecosystem and the natural bamboo mixed timber forest ecosystem. In which, the natural broadleaf evergreen forest ecosystem occupies a large area, accounting for over 90% of the reserve.
The reserve has a very rich and diverse flora and fauna. Plants have 881 species of higher vascular plants, belonging to 541 genera of 175 plant families. In which, there are 75 rare species listed in the Red Book of Viet Nam and the World such as Rosewood, Red Wood, Honeydew, Black Star, Jackfruit Oil, Sen latex, Curved Leaf Star, Three-sided Oak, Water Oil… In the world, the three-sided oak has only been discovered in Indonesia, Malaysia and Vietnam. Animals include 58 species of mammals, 173 species of birds, 66 species of fish, 37 species of reptiles, etc. There are many endangered species listed in the Red Book, which are in danger of extinction and need to be preserved.
Regarding the natural landscape, Nam Nung Nature Reserve, hides a dense system of streams and waterfalls and the top of Nam Jer Bri mountain 1,578m high. With a 5km walk through the forest, you will reach Gau waterfall, then continue along Dak P'Ri stream to reach Bay Tang (Len Gun) waterfall. Depending on the slope of the terrain, this stream is sometimes angry with splashing water, but sometimes becomes gentle with calm moving water. Care of yourself during the rainy season when the water flows rapidly. In addition, the journey to conquer Mt. Nam JerBri 1,578m is also an interesting challenge with a long trek, through many mountain peaks. This is also an area with many war vestiges such as a helicopter airport and a reservoir built during the French period.
The ideal time to visit Nam Nung Nature Reserve is from December to May. Let's explore this exciting destination with Exotic Vietnam.