TEAM BUILDING IN THE MEKONG DELTA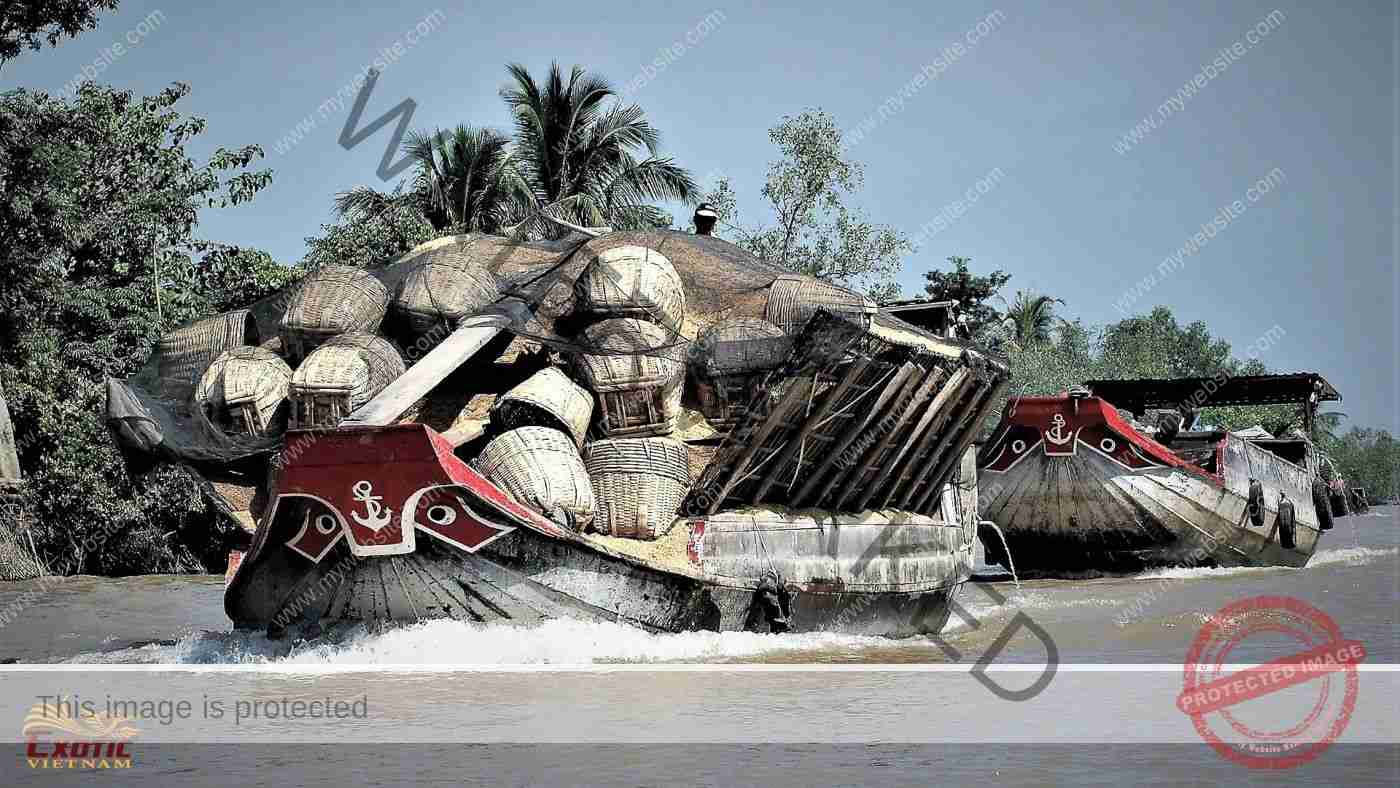 Boat riding is a great way to visit the Mekong Delta. Drift along the large rivers and a maze of narrow creeks for its riverine beauty. In addition, you can visit orchards or raft fish farms, cook local dishes, nap in a hammock or spend a night in a homestay. Photo: Exotic Vietnam
Introduction: Formed by enormous amounts of fertile alluvium from the Mekong River and its many tributaries, the Mekong Delta, though only 12% of land area, produces about half of the country's total agricultural output. That's why this 40,000 sq.km delta is called as Viet Nam's "rice basket".
Life in the Mekong Delta revolves around the water that includes immense rice fields, seasonally flooded lotus and melaleuca lowlands, lush coastal mangroves and criss-crossed creeks bordered on both sides by dense palms, and so on. Communities of Vietnamese, Khmer, Cham and Chinese ethnic groups mostly live in cities and villages that are often built on high mounds running along rivers. In this way they can avoid flooding during high water season which is called the float season. Boats of many shapes and sizes are commonly used to travel on a maze of waterways. The main attractions of the Mekong Delta are dominated by the verdant landscape of glistening rice fields, fruit-laden orchards, chaotic floating markets where hundreds of boats gather on the river and the sincerity and hospitality of local residents.
Team building programs take people discover a riverine world on foot, on bicycle or even on rowing sampan with challenges that simulate daily life from planting, harvesting to preparing rustic style dishes. Exotic Vietnam's team building scenarios in the Mekong Delta always bring unexpected surprises.
Highlights: My Tho – Ben Tre Islets, Cai Be – Vinh Long Countryside, Dong Thap attractions, Con Son Island, Cai Rang floating market.
Facilities & services: international standard hotels, restaurants, boat and sampan ride on the Mekong River.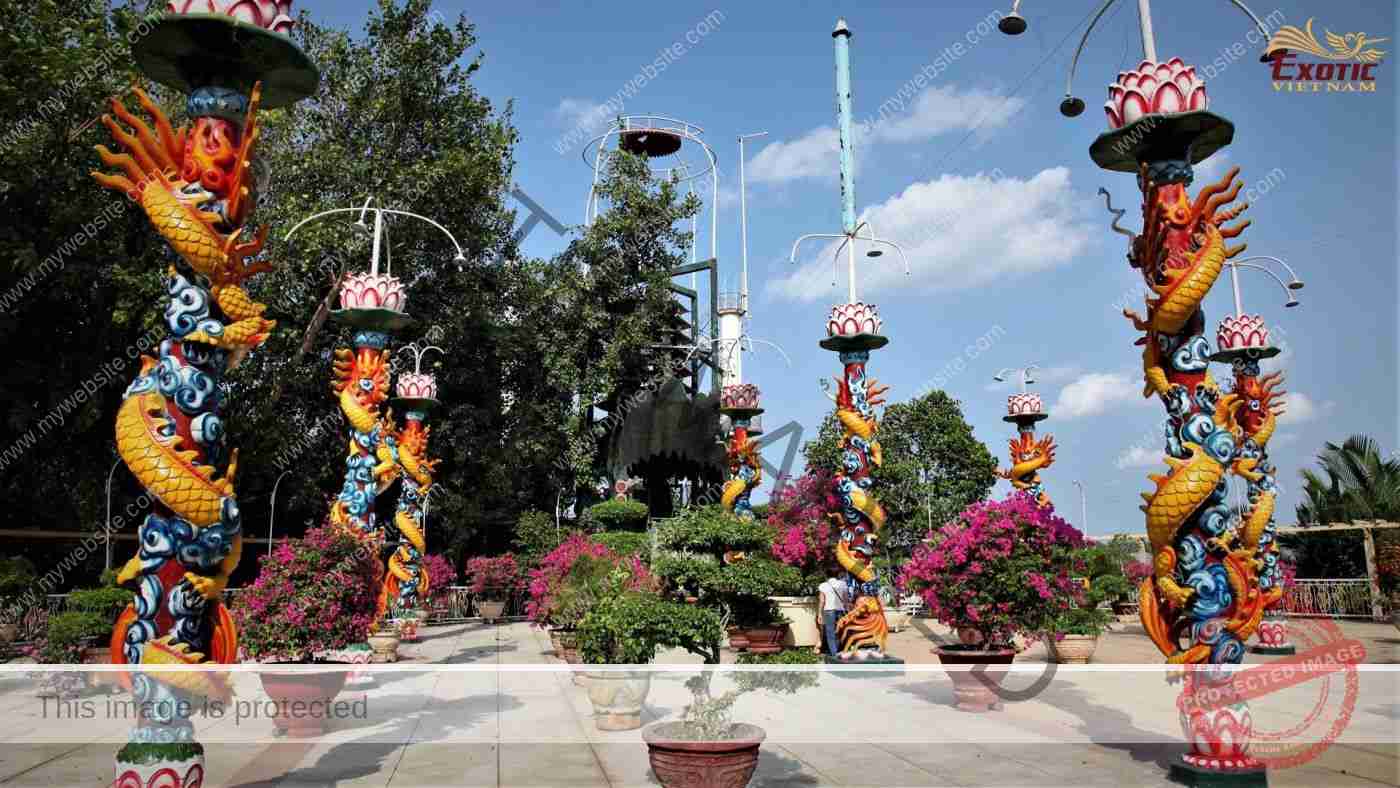 Encouraging a life of respect and love for each other, the religious philosophy of the Coconut Monk consists of the quintessence of many major religions. Believers in the Coconut Religion once reached tens of thousands of people. Come to Phoenix Islet to admire the remained architecture right at its sanctuary. Photo: Exotic Vietnam
My Tho – Ben Tre Islets
The first of the Mekong Delta's bustling towns is My Tho. The city has a long history of commercial trade beginning in 1680 when the Chinese merchants migrated to the region. In the late 19th century, the French built a train line from Saigon, and My Tho became a vital export center for overseas rice trade. Today, vestiges of this period can be seen in the stately French mansions resting on the Mekong River's left bank.
About 15 minutes by boat from My Tho pier, there are the 4 islet is lying between Tien Giang Province and Ben Tre Province, named after four holy animals: Unicorn, Dragon, Turtle and Phoenix. The biggest islet is Thoi Son or Unicorn covering an area of 1,200ha and the smallest is Turtle, only 65ha. Coming these islets, visitors can admire typical houses of rural Viet Nam with three parts, tiled roof in which people from different generations have lived together. Moreover, visitors can enjoy fresh air in well-tended orchards of longan, bananas and dragon fruit. Traditional trades such as alcohol distilling, coconut candy making, hand embroidering, etc. can be observed. Phoenix Islet is also known for the relic of the Coconut religion, was created in 1963 by Nguyen Thanh Nam who was known for his Buddhist and Christian harmony and prayed for peace in Viet Nam. The relic remains intact on the colorful 9-dragon courtyard and a large incense burner made from fragments of porcelain.
Spending a little more time (20 to 40 minutes) on board to the get to the river's right bank. That's Ben Tre countryside including communes of Tan Thach, An Khanh, Phu Tuc and Quoi Son where you can indulge in unlimited green of coconut trees. Coconut- tree is the most useful for the locals: leaves for thatch, trunks for wood, coconuts for juice, worms for foodstuff, especially coconut candy has made the name for Ben Tre Province. Visitors will discover small creeks under the shade of water coconut palms, and witness the process of taking honey, enjoy cups of tea with honey and taste some kinds of seasonal fruit. Don't miss to take a horse-drawn cart on village paths and if brave enough, visitors could to hold a python, that is breeding as a pet, for a snapshot.
Because of the easy access location, the area serves as one of the best leading team building playground. It is great to run outdoor activities in nature that help to strengthen teamwork and communicate the company's core values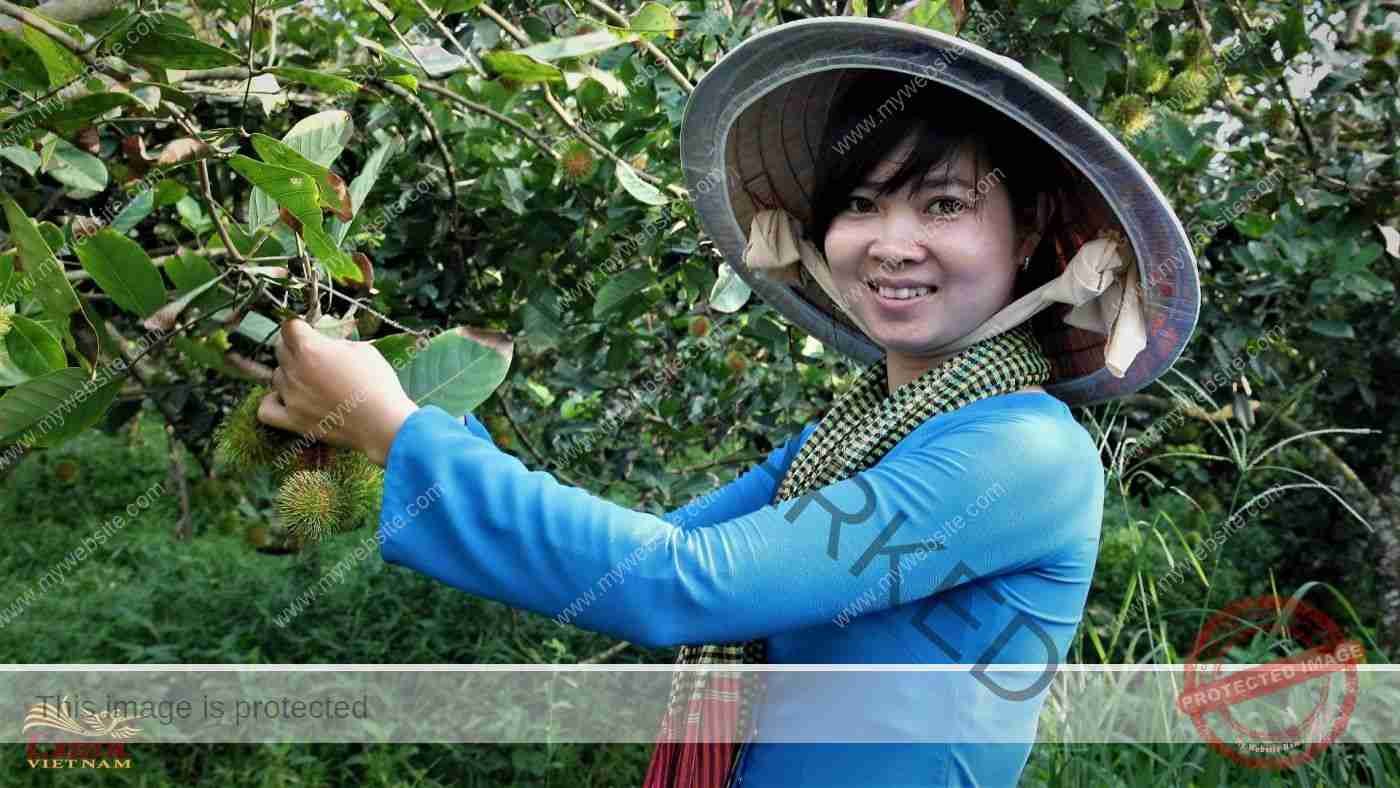 Travel deeper into the Mekong Delta to marvel at the vast rice fields and rivers at Cai Be and Vinh Long. Having a close contact with traditional rural life in Viet Nam by stopovers at orchards, or flirting with charming girls at work always proves to be a fascinating and rewarding experience for all visitors. Photo: Exotic Vietnam
Cai Be – Vinh Long Countryside
At about three hours' drive from Ho Chi Minh City, Cai Be – Vinh Long countryside occupies a core area of the Mekong Delta. Thanks to its strategic location, in 1732 Lord Nguyen Phuc Chu erected Long Ho Palace to expand its territory to the South, in 1784 the Siamese army also camped at Tra Tan, a few kilometers from Cai Be, to confront the Tay Son army in battle of Rach Gam – Xoai Mut.
This region may be regarded as a living picture of the entire delta, due to its primordial prosperity and diversity. It becomes now an important transit point of tourism on the way to discover the whole Mekong Delta, greatly thanks to the water-land transport connection, its representative landscape of the entire area, and to the hospitality of the local people.
Starting at Cai Be town, 105km from Ho Chi Minh City, there are so many amazing places around to do and see whether you are looking to explore daily life, enjoy the river view, rest for a few days in a homestay or join team building to improve team spirit.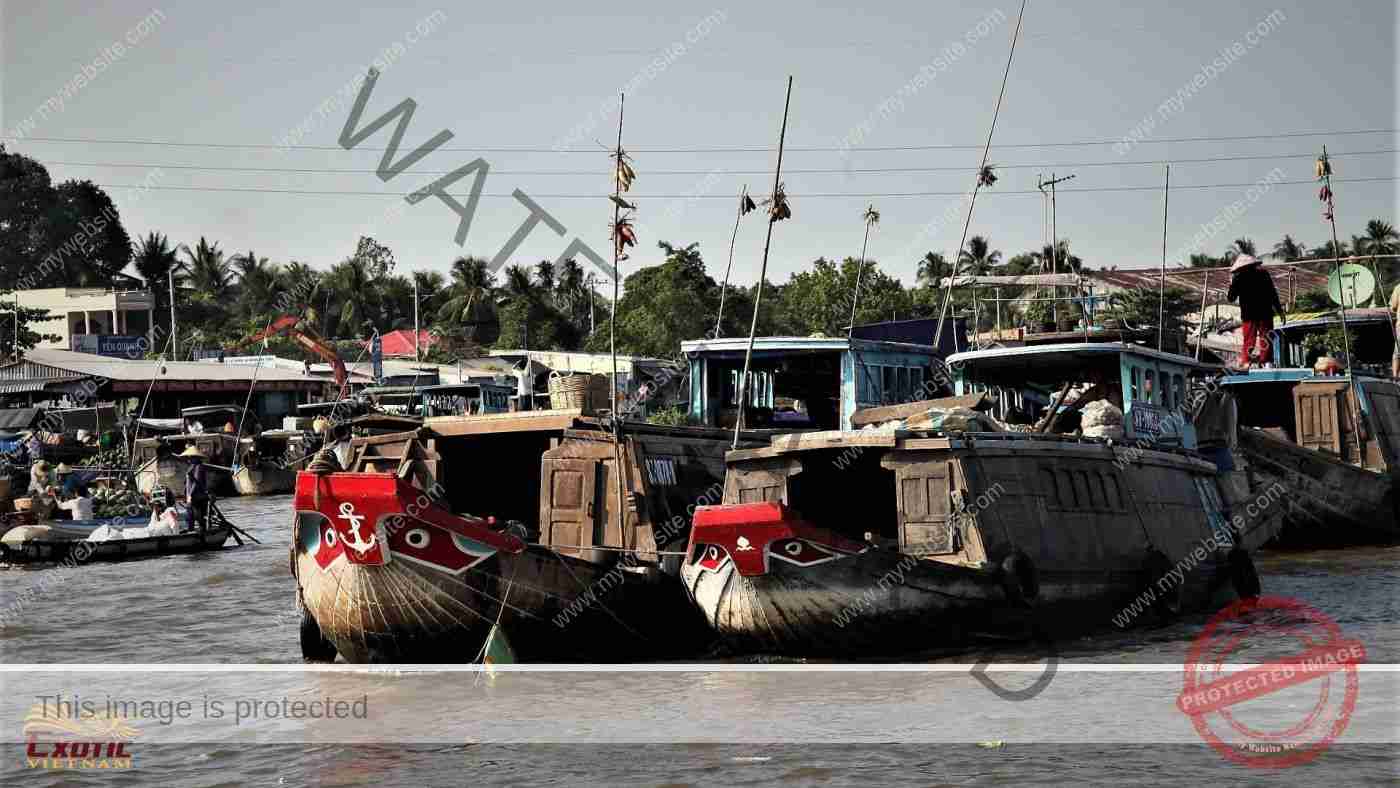 Cai Be floating Market once seemed to never sleep with hundreds of boats floating day and night, making it one of the most bustling markets on the river in the Mekong Delta. Although the number of boats moored has decreased a lot, the vibrant atmosphere here is still a great experience for travelers who want to explore and feel. Photo: Exotic Vietnam
Cai Be floating Market: This market is bordered by three provinces, Tien Giang, Ben Tre, and Vinh Long, one of the largest wholesale markets in the Mekong Delta. Lots of boats with a tonnage of 5-10 tons gather here for buying and selling local products which samples are hanged on wooden poles such as fruit, vegetables, flowers, big jars, etc. Cai Be floating market helps visitors have an insight into the impressive culture of the Mekong Delta, where human life and the natural environment are always intertwined. However, now due to the influence of road transport, the number of boats at this market has decreased significantly.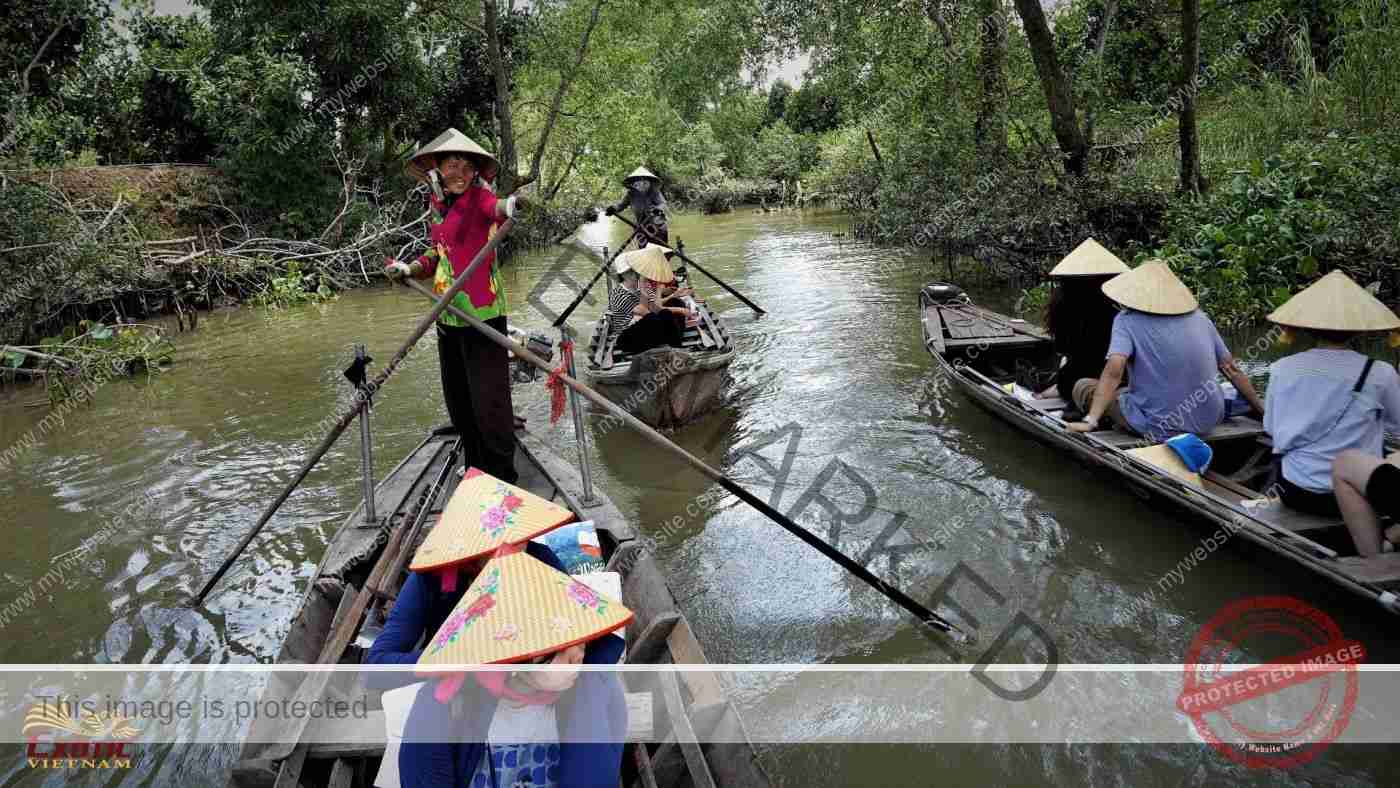 As an islet with a reputation of being a paradise of fruit, Tan Phong Islet is worth exploring nature by hand-rowing sampan, bicycling through friendly hamlets, and staying among true feelings of the people. This islet is also well known as a place you can collect handmade crafts in which a lot of effort has accumulated. Photo: Exotic Vietnam
Tan Phong Islet: A small ferry that shuttles passengers the short distance to and from Cai Be, Tan Phong islet has 1,300 ha of specialized fruit orchards, of which the main areas include over 678ha of durian, over 205ha of rambutan and nearly 150ha of longan, over 100ha of jackfruit, the rest are other crops. Thanks to abundant fresh water and fertile alluvium, fruits grown in Tan Phong are always favored by the market. In addition, with a large surrounding water surface, freshwater aquaculture has developed with aquatic products of high economic value such as Shutchi catfish, Yellowtail catfish, Crystal eyed catfish, etc. up to nearly 55ha.
In the harvest season, visitors can freely enter the garden, break it by themselves and enjoy it at the garden. The best way to see the island is to take a sampan ride on the small crisscrossed creeks or ride a bicycle in the narrow paths with numerous small bridges. You will find yourself immersed in the endless green of nature and witness firsthand the daily life of local farmers. Tan Phong islet has recently become an attractive eco-tourism destination in the Mekong Delta with many homestay options as well as profound cultural experiences.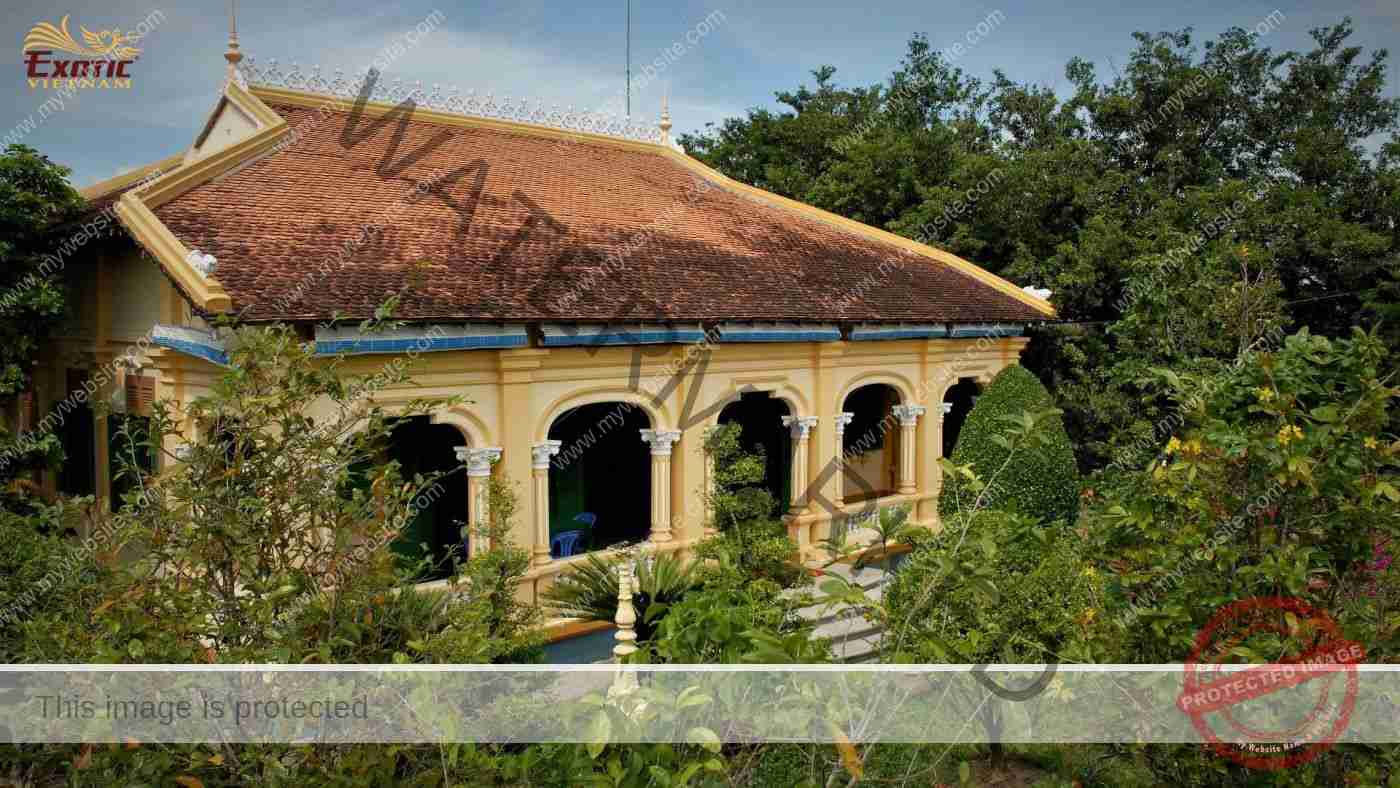 In addition to the familiar images of rice fields and rivers, discover another side to the Mekong Delta. At Dong Hoa Hiep village, there are dozens of ancient houses with hundreds of years old hidden in lush orchards. Come and spend the night in these quaint houses, where you can admire architectural marvels and listen to countless stories about the past. Photo: Exotic Vietnam
Dong Hoa Hiep Ancient Village
Dong Hoa Hiep is attractive with the poetic landscape of ancient houses under orchard canopy all year round by the winding Cai Be river. Currently, the village still retains 7 old houses built 150 to 220 years ago and 29 houses built 80 to 100 years ago, where local people have lived. The architecture of the ancient house is a blend of traditional Hue architecture with exquisite wood carvings, French colonial architecture with many decorative patterns and the liberal way of life of the Southern people. The old houses here are not close to each other, not full of high-walled gates, but scattered and interwoven with luxuriant fruit gardens and rich alluvial creeks.
The first is the old house of Mr. Xoat (An Thach hamlet). This is the oldest house in Dong Hoa Hiep, built in 1818. Although the house looks from the outside with Western facade, but the inside shows Hue's wooden house combined with Southern folk architecture. Built in 1838, Mr. Kiet's house (Phu Hoa hamlet) bears the mark of an ancient house in the Red River Delta with 5 compartments and 3 wings and many columns. Or Mr. Duc's, Mr. Tong's, Mr. Vo's… each house is a unique architectural work with its own imprint. In 2003, JICA Japan organization restored and received the certificate of Cultural Heritage awarded by UNESCO Asia to Mr. Kiet's house. Dong Hoa Hiep Ancient Village was honored to be recognized as a National Relic by the Ministry of Culture, Sports and Tourism in 2017. This ancient village has become one of the hotspots attracting a large number of tourists. They can rest and experience the daily life of one of the rich families in the Mekong Delta in the past.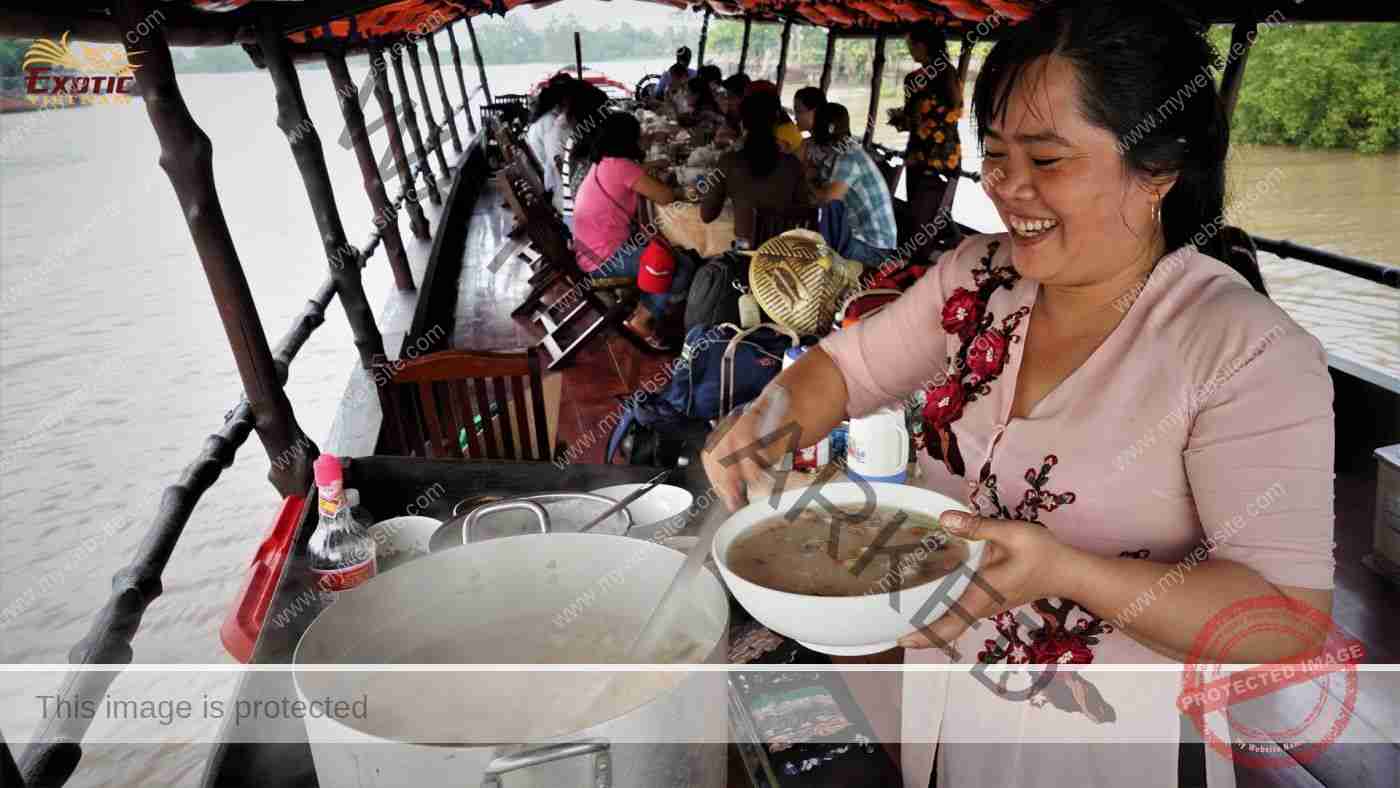 A boat takes you to An Binh Islet where the maze of shady creeks will surely fascinate anyone. Have a chance to mingle with local peasants, learn the secrets of their bonsai gardening and take a look at local products. Typical Vietnamese dishes at a local home are ready to serve for your taste. Photo: Exotic Vietnam
An Binh Islet: From the middle of the Mekong River emerges an islet named An Binh. Covering around 60 km.sq, the islet has 4 villages: An Binh, Binh Hoa Phuoc, Hoa Ninh and Dong Phu. The soil here is fertile and rich, which brings advantages to the islet. The first households to serve tourists in the early 1990s appeared such as Sau Giao, Tam Ho, Muoi Huong, and so on with tourism products being the value of their own lives. An Binh attracts with its flower gardens, fresh fruits and and the peaceful life of farmers. Visitors can visit longan, mango orchards and have a rest in hammock or stay overnight in a wooden stilt-house or in an old French style house. Today Ut Trinh's like-resort homestay service and her fleet of wooden boats are always high appreciated in this islet.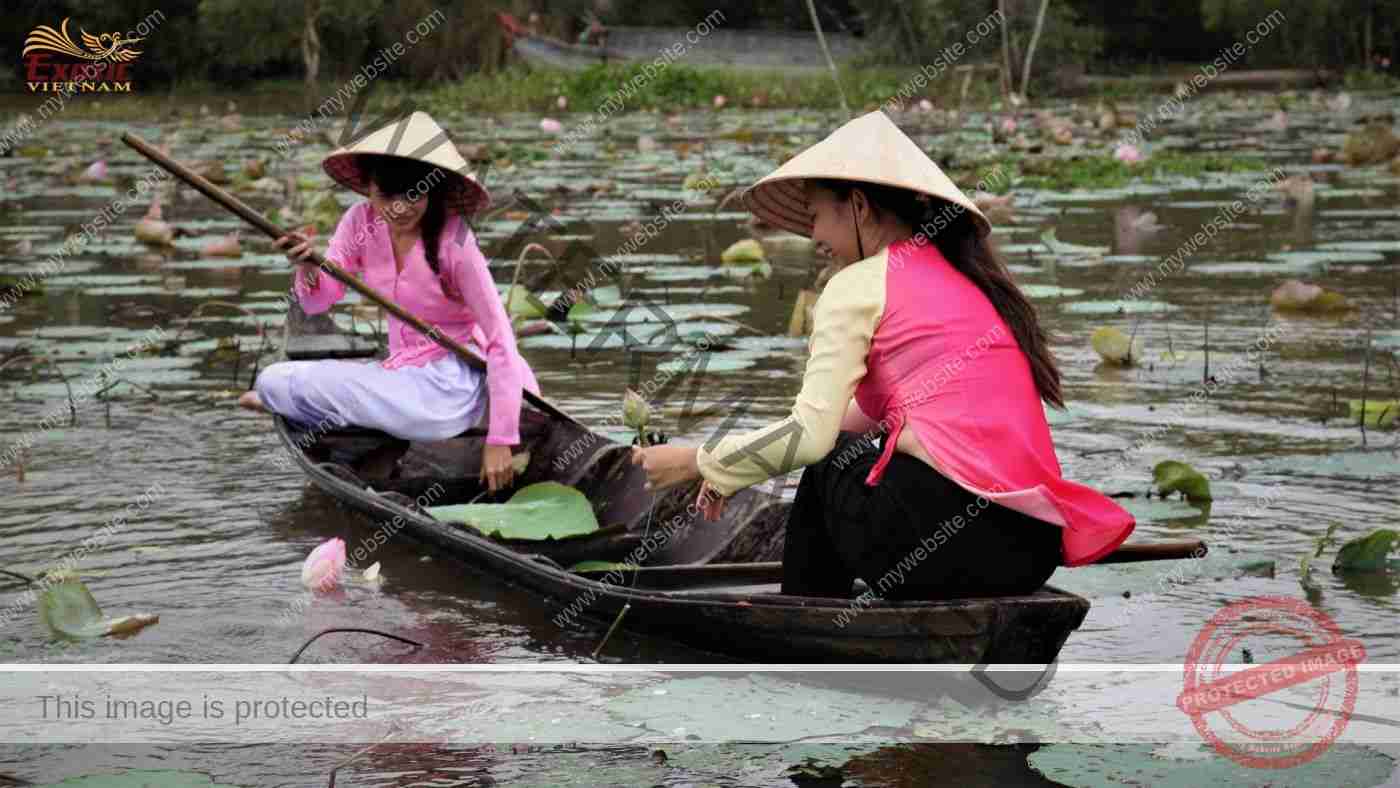 Vast flooded lowlands to colorful flower gardens, or Oc Eo archaeological site to the guerrilla base during the war against the French and Americans, etc. Head to Dong Thap and discover the unique natural, cultural and historical charms of the region known as the land of lotus. Photo: Exotic Vietnam
Dong Thap attractions
Located between the Mekong and Bassac Rivers, Dong Thap province benefits from large rivers and a network of innumerous creeks that cut through the alluvial surface. The plain is regularly filled with fertile alluvium, fresh water all year round and no salinity during the dry months, that's why from the early days the Vietnamese have set foot on this area with a long history of land reclamation, but without disrupting the balance of nature.
From the paddy fields, melaleuca forests to archaeological sites for thousands of years, or the ancient house mentioned by Marguerite Duras in her novel The Lover, Dong Thap is known for both its cultural and natural splendors. It is a perfect hideaway for those who have a cultural interest and enjoy experiencing nature. You can start from Cao Lanh, the capital of Dong Thap province, 160km far from Ho Chi Minh City to visit many attractions.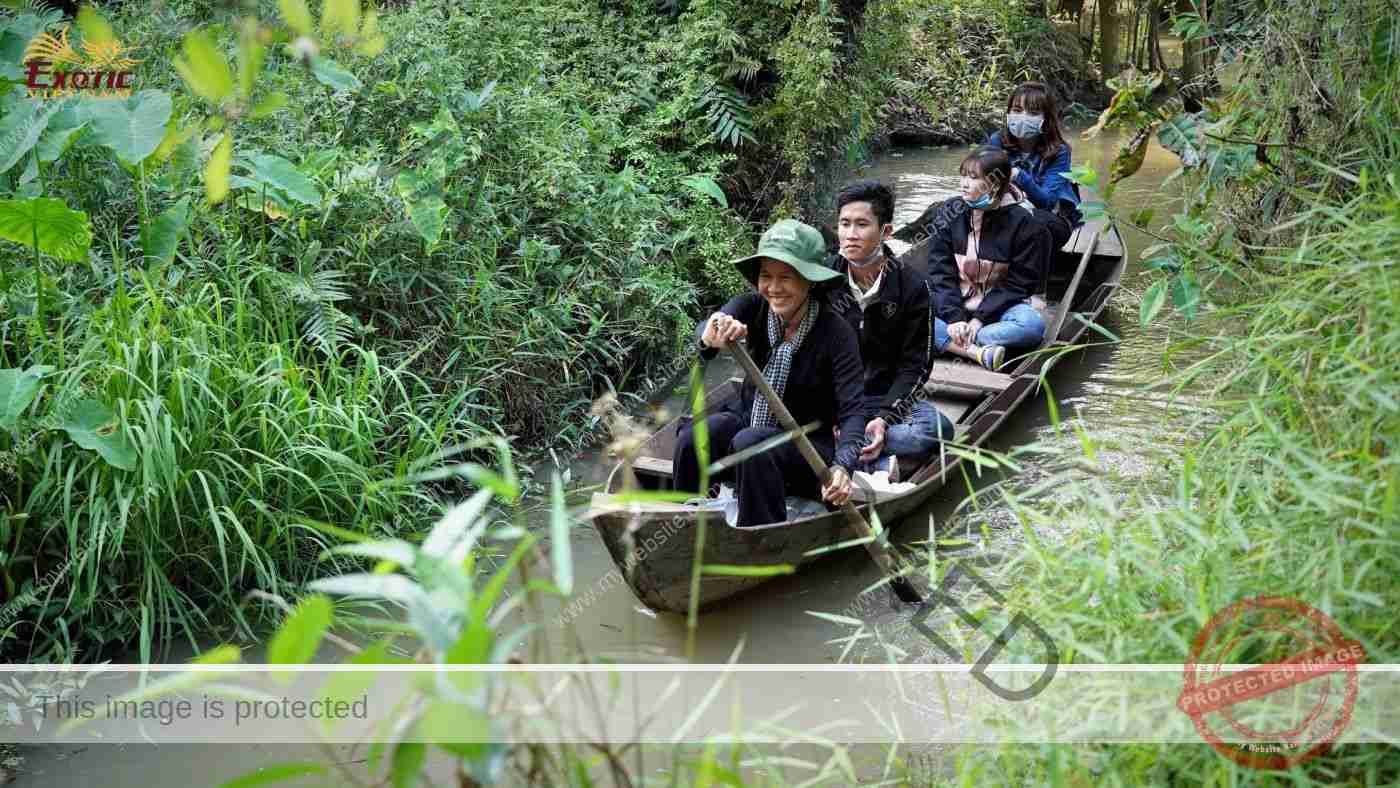 As a guerilla stronghold during the last war, Xeo Quyt comprises hollow marshes with bushy melaleuca forests. Visitors will enjoy a hand rowing sampan cruise through a small curvy creek. Going through each bend will encounter surprises hidden in the canopy of vines or secret underground tunnels. Photo: Exotic Vietnam
Xeo Quyt melaleuca forest: As a former wild submerged area in Cao Lanh District, Xeo Quyt was a revolutionary base during the anti-French and US resistance war. Covering an area of 50ha, now it becomes an attractive historical and ecological tourist site in the Mekong Delta. The melaleuca forests, submerged in the red brown water, are an ideal habitation for numerous kinds of birds, fish and wild animals, typical for the tropical region. The sampans take visitors to move between the melaleuca trunks covered by many thin layers like yellow paper sheets, under the interlaced vines system sticking crowdedly in the canopy of leaves. Immersion in a quiet space of trees and waters, and exploration of headquarters of guerrilla in flooded environment make your trip a unique experience.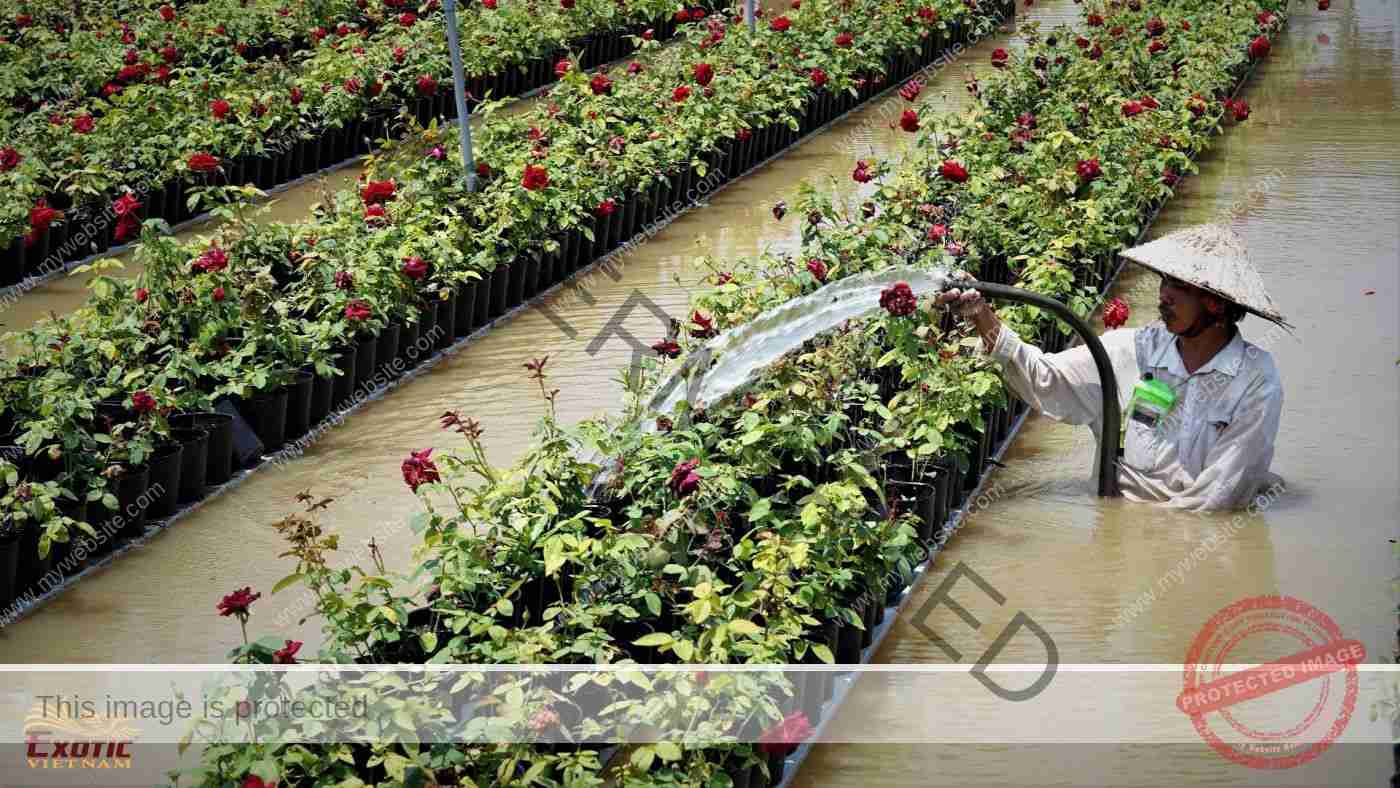 Sa Dec flower village is home to some 2,000 households that chiefly earn a living by growing flowers and ornamental trees. It is worth to see magnificent flowers in full bloom and learn about daily lives of local farmers at the most renowned flower village in the Mekong Delta. Photo: Exotic Vietnam
Sa Dec flower gardens: With an area of ​​313ha, Sa Dec flower gardens is a well-known for hotspot in Sa Dec for a long time. Gardens in Tan Quy Dong, an island commune encompassed by Mekong tributaries, have given the locals a very good earning for their living. The flower-growing profession was formed in the 1930s, typically the rose garden of Mr. Duong Huu Tai (Tu Ton) with over 400 valuable flowers and medicinal herbs. Now there is the abundance of domestic and foreign flower species such as chrysanthemum morifolium, Taiwan chrysanthemums, tiger tail chrysanthemums, cockscomb flowers, dahlia, hydrangeas, etc. and a wide range of orchids. Sa Dec flowers are special because they are grown on high shelves with water underneath. The farmers must wear boots or use small sampans to take care of and harvest the flowers. According to the locals, this method helps them cultivate right on the flooded lowland and immediately use the water source below to water and create moisture in the air for flowers.
In this village, visitors can feel lost in the colorful world and the magical scent of flowers and ornamental plants in any month of the year. For people with an interest in flowers this garden is an absolute delight! Sa Dec's flower gardens are excellent places to visit. Sa Dec flower gardens are also a great playground for team building activities in a rustic style with many ways of moving such as on foot, bicycle or tram in a colorful world.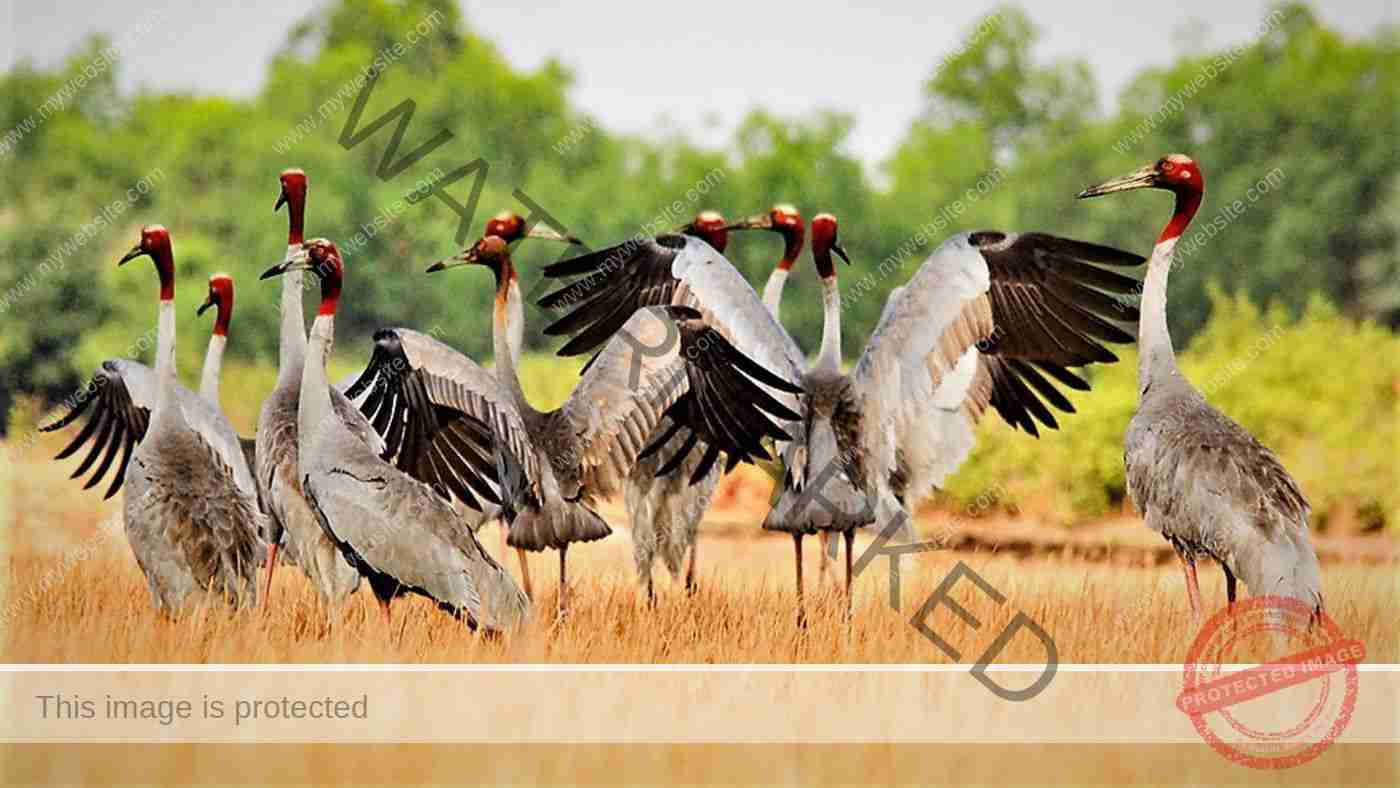 Come to Tram Chim National Park to feel the pristine image of the Mekong Delta through the flora and fauna in the flooded environment. In addition, the park also plays an important role in regulating water sources, and providing natural resources for the surrounding community. Photo: Internet
Tram Chim National Park: Just 40km from Cao Lanh, Tram Chim was recognized as a national park in 1994 and the world's Ramsar site in 2012. Covering an area of 7,313ha in seasonally inundated grassland and melaleuca forest, the park presents the lively and typical wetland ecosystem of the Plain of Reeds.
It is home to 130 species of plants, 100 species of vertebrate animals, 40 fish species, and 147 species of water birds. Water birds accountfor about a quarter of all bird species in Viet Nam, such as grey-headed lapwing, pelican, lesser adjutant, Asian openbill stork, etc. Especially, during the dry season (from December to July) Tram Chim provides habitat for a wide diversity of wetland bird species, including several globally threatened or near-threatened species such as sarus crane.
Tram Chim is the land of the most wonderful and splendid bird sanctuary, famous not only for its panoramic green space but also for its biodiversity and seasonal changes of the landscape. Visitors will be immersed in the different spaces of Tram Chim, the vast melaleuca forest reflecting on the calm water, the lotus fields being full of fragrance, or the ghost rice fields rising high in the sky during the flood season, etc. with thousands of birds frolicking in the sky.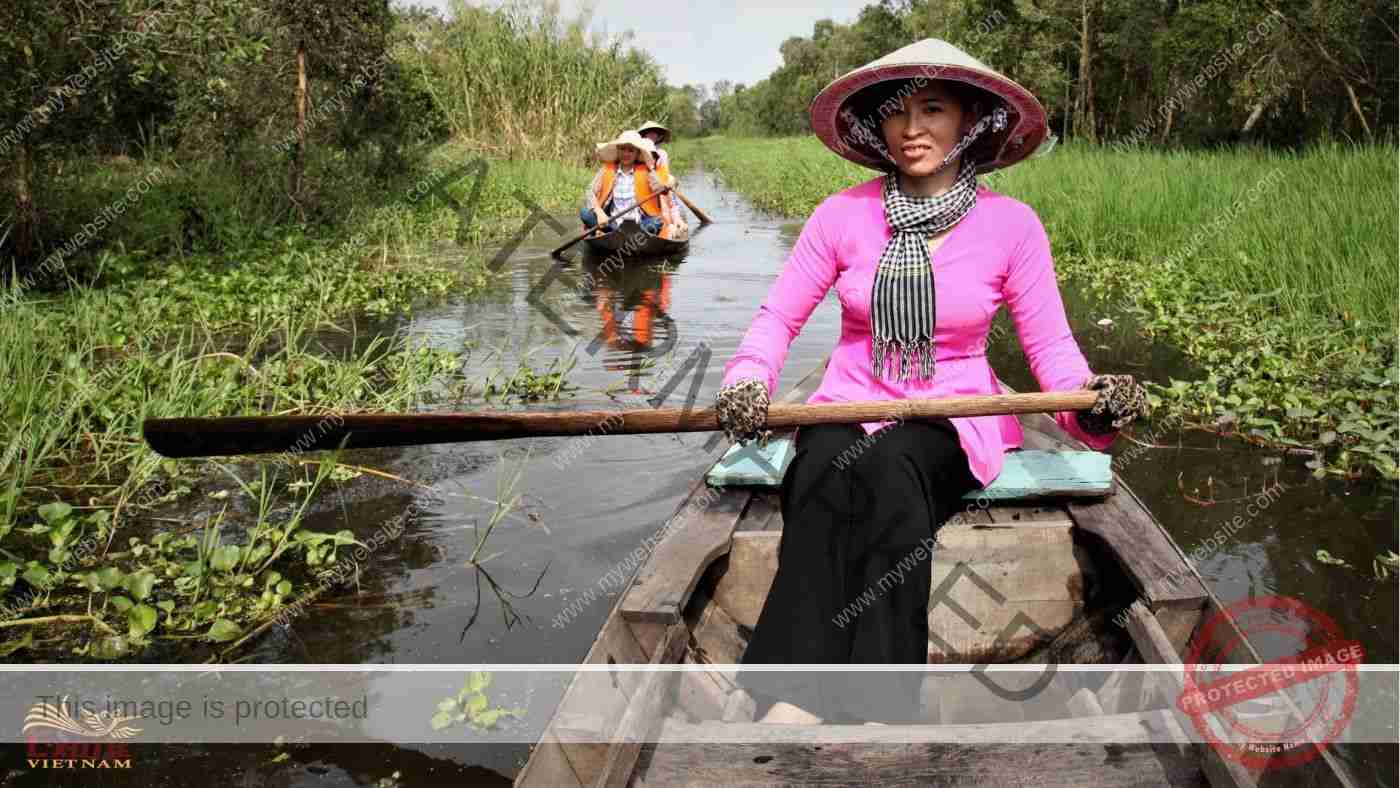 Gao Giong is a well-preserved miniature Plain of Reeds in Dong Thap. Annually, the water is flooded for up to 6 months continuously, which helps the ecosystem of melaleuca forest and grassland to be really a safe haven for countless species of birds and aquatic creatures. Photo: Exotic Vietnam
Gao Giong Bird Sanctuary: 15km from Cao Lanh City, it takes about 1 hour to Gao Giong by car and boat. Covering an area of 1,670ha, Gao Giong is a flooded area covered by immense swamps and primeval melaleuca forest. That is also home to almost 130 kinds of plants, 200 species of birds, and about 55 types of fish. The peaceful and quiet atmosphere, together with the endless green of forest and water surface create a strong attraction for those who want to enjoy nature. Visitors to Gao Giong also have the opportunity to enjoy local specialties such as snakehead fish – a freshwater fish, cooked with all parts of the lotus plant and a variety of green vegetables in the wetlands. The wildness of primeval forests, full of interlacing plants, and the agricultural life of the local inhabitants, ready to face annual flooding season will make your trip exotic and educational.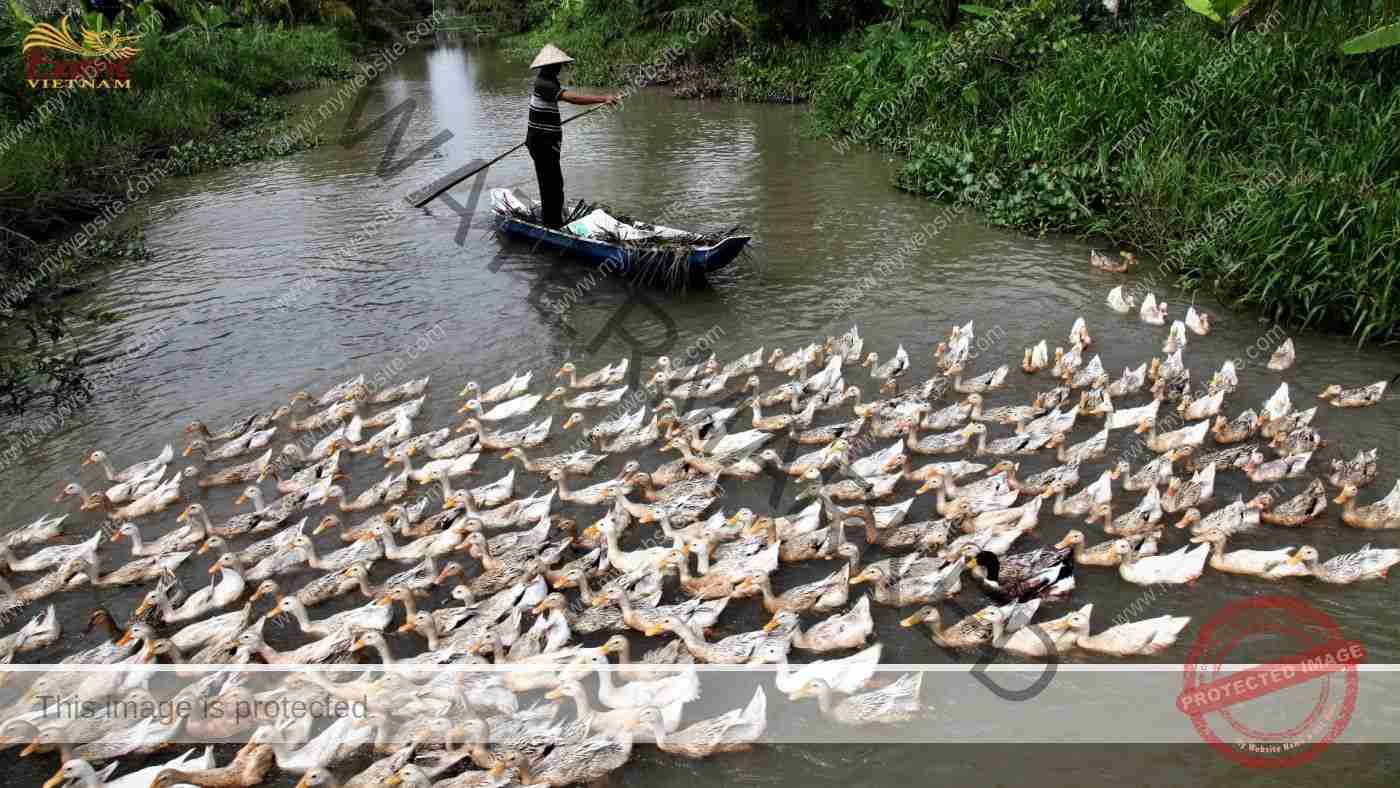 Con Son is a typical example of true community tourism in Viet Nam. Based on the abundant natural resources of the Mekong Delta and centuries-old cultural values, visitors can experience the riverine life and the genuine affection of the local people. Photo: Exotic Vietnam
Con Son Islet
About 8km by road from Can Tho centre, and 5 minutes across the Hau River, Con Son is an exemplary ecological garden with an area of ​​70ha. Since 2014, community-based tourism has attracted the participation of local residents who have had a long life on this islet. Each household with its own strengths, takes part in a chain of service links to serve tourists from guides, tours, cuisine, etc. based on voluntariness, responsibility, publicity and equality in benefit sharing.
With abundant water resources, there are about 50 raft houses creating a small floating village on the river. The alluvial soil on the islet is very fertile, there are many fruits and vegetables growing all year round such as rambutan, rose apple, pomelo, star apple, jackfruit, etc. You will explore many gardens, and learn the names and uses of all the different fruits and plants. Of course you will be able to taste the produce as well, the selection varies of course depending on the season. In addition, there are special things only appeared in Con Son: watching 'flying' snakehead fish.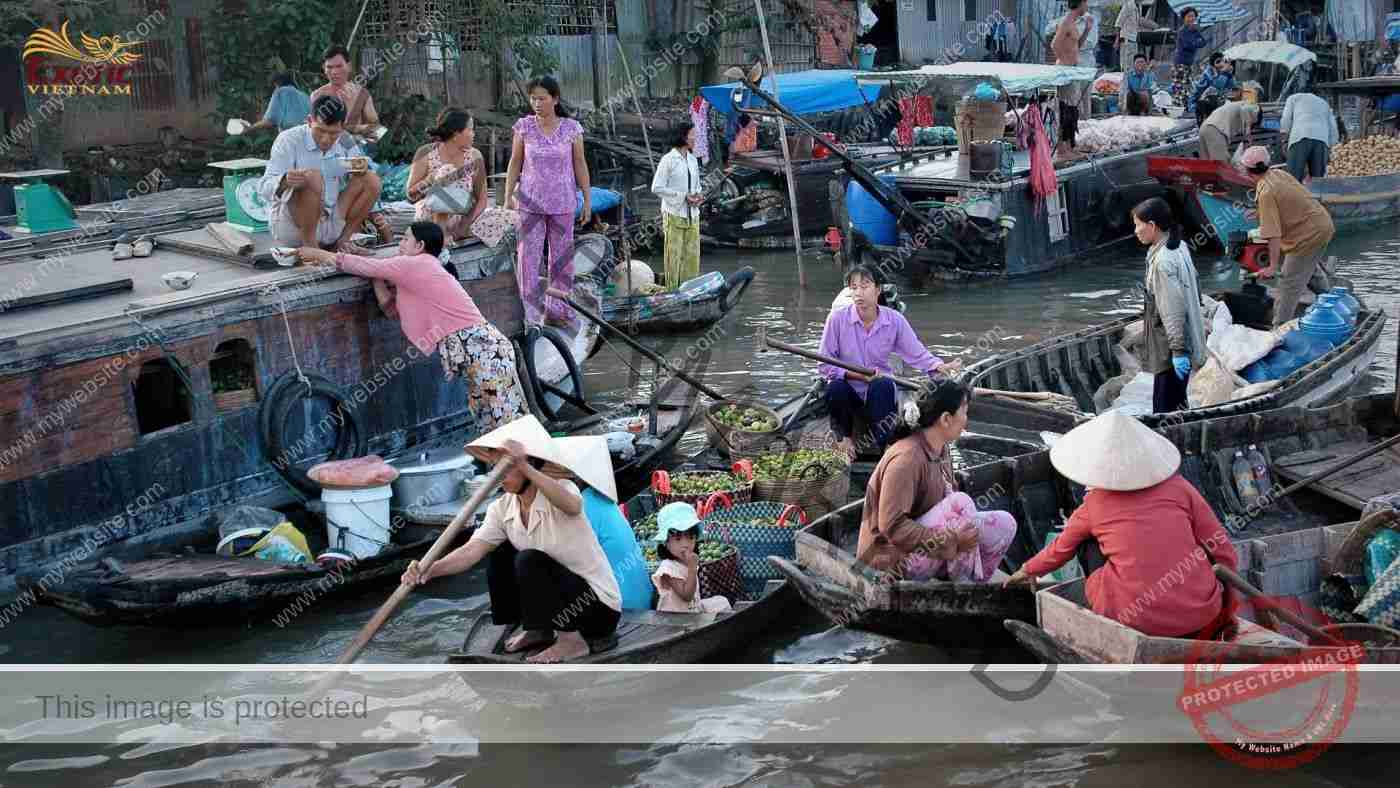 Due to the negative impact of mass tourism and the development of road traffic, many traditional markets on the river have been changed. It seems to lack the authentic atmosphere where the local people gather to buy and sell together. However, visiting the Cai Rang floating market, you will be immersed in the true river trade culture. This is one of the remaining original floating markets in Vietnam, which evokes your emotions towards the people and nature of the Mekong Delta. Photo: Exotic Vietnam
Cai Rang floating market
Cai Rang Floating Market is located in the downstream of Can Tho River, about 600m from Cai Rang Bridge, which is convenient for the operation of floating market: the width of 100-120m, the length of 1300-1500m. Hundreds of boats gathering here from the dawn till before noon makes the area extraordinary animated and the water surface colorful with numerous tropical fruits. The large sized anchored boats create meandering lanes for smaller ones to weave through. All create a bustling and joyful atmosphere that can attract any tourist.
Trading from boats brings excitement to buyers when catching some sample of products that are thrown by sellers from other boats. The other distinctive feature of the floating market is the bamboo pole called "cây bẹo", which hangs all kinds of goods to invite buyers. Visitors can be up-close to local boats and see farmers exchanging goods directly from boats. Visitors can buy fresh fruit and enjoy it on site.
With the unique cultural and economic values ​​of Cai Rang floating market, Rough Guide (UK) tourism magazine voted Cai Rang Floating Market as one of the 10 most impressive markets in the world. In 2016, Cai Rang floating market was recognized as a national intangible cultural heritage by the Ministry of Culture, Sports and Tourism in Viet Nam.