TEAM BUILDING IN PHU QUOC
Photo: Internet
Location: 65 sea miles from Rach Gia (½ hour by plane or 2½ hours by hydrofoil).
Introduction: Fringed by white-sand beaches, emerald waters, and with large tracts still in dense tropical jungle, Phu Quoc is considered a "brilliant pearl" in the Gulf of Thailand, just 120 km from Rach Gia by sea. The island is an amzing hideaway where visitors can fully enjoy the natural beauty of sun-drenched beaches, vivid marine life, tropical forests and verdant countryside with traditional trades such as pearl farming, growing pepper, fishing industry and its famous fish sauce, or nuoc mam. Completely relax in resort comfort surrounded by the hospitality of the local people.
Highlights: White sandy beaches, Phu Quoc National Park, Duong Dong riverside market, Dinh Cau Rock, Pagodas in Phu Quoc, An Thoi Archipelago, Phu Quoc Safari, etc.
Facilities & services: international standard restaurants, hotels and resorts, boat ride, fishing, scuba diving, etc.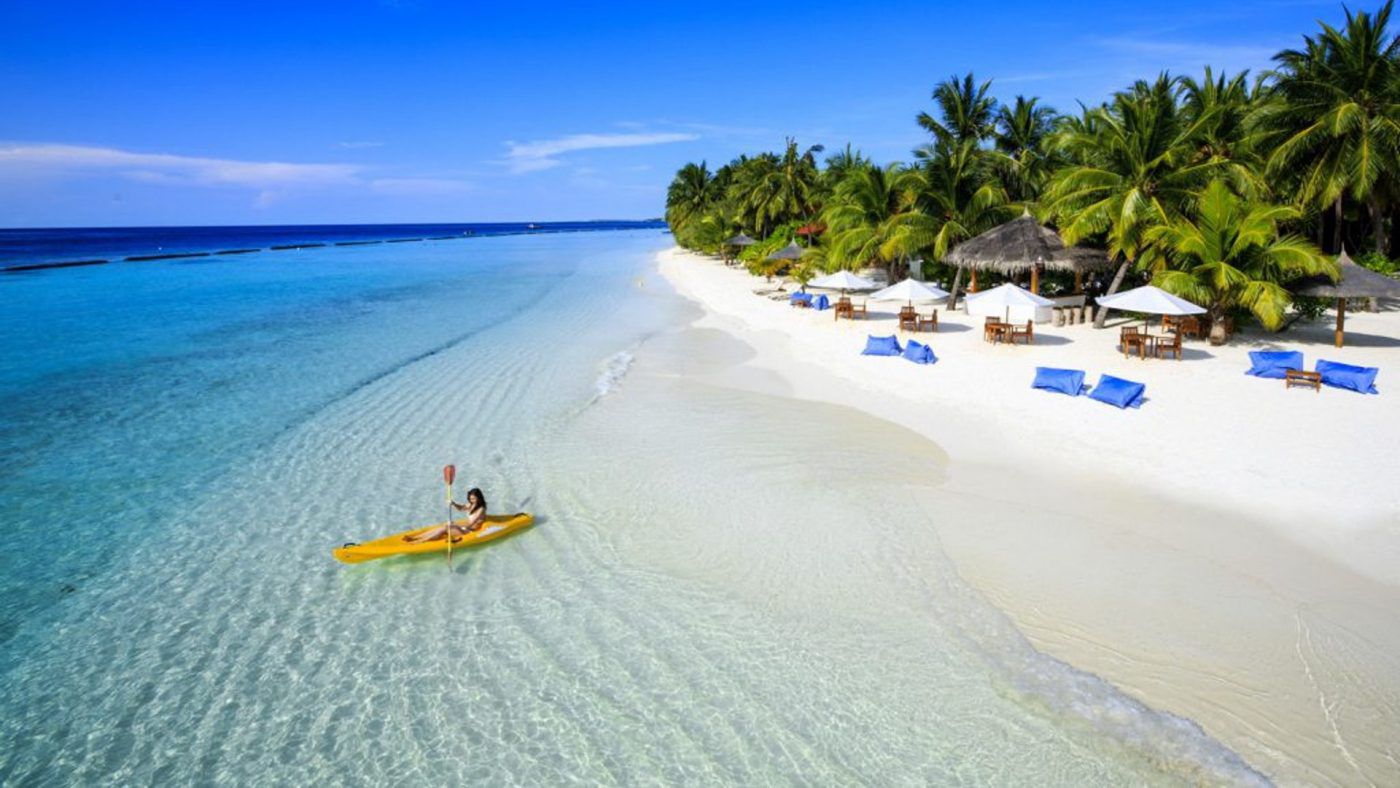 Photo: Internet
White sandy beaches
First-time visitors to Phu Quoc are often surprised that its beaches can be so sugary-white and the water so crystal-clear. All are rated to be the best in Viet Nam. The most spectacular beaches mostly spread along the western coast and gather around the southern end of the island. Not far from the district town, private beaches next to all kinds of cozy hideaways are perfect for the family holiday. For young couples, the best choice of a secluded haven is deserted bays ringed by sand, bushes and hills at the southern tip of the island.
Photo: Internet
Phu Quoc National Park
Established in 2001 and later expanded to a total area of 31.422 ha, Phu Quoc Natural Reserve with diverse flora and fauna covers mainly the mountainous northern part of the island. There are nearly 929 tree species of which 19 newly-found species are first recorded in Viet Nam. The forest is home to many species of birds and small mammals (flying squirrels, sloth-monkeys…). As explained by the French Larousse dictionary, the famous Phu Quoc dog is a well-tamed wild canine species which has become hunters' favourite companion. Trekking through the park should be done in the dry season only.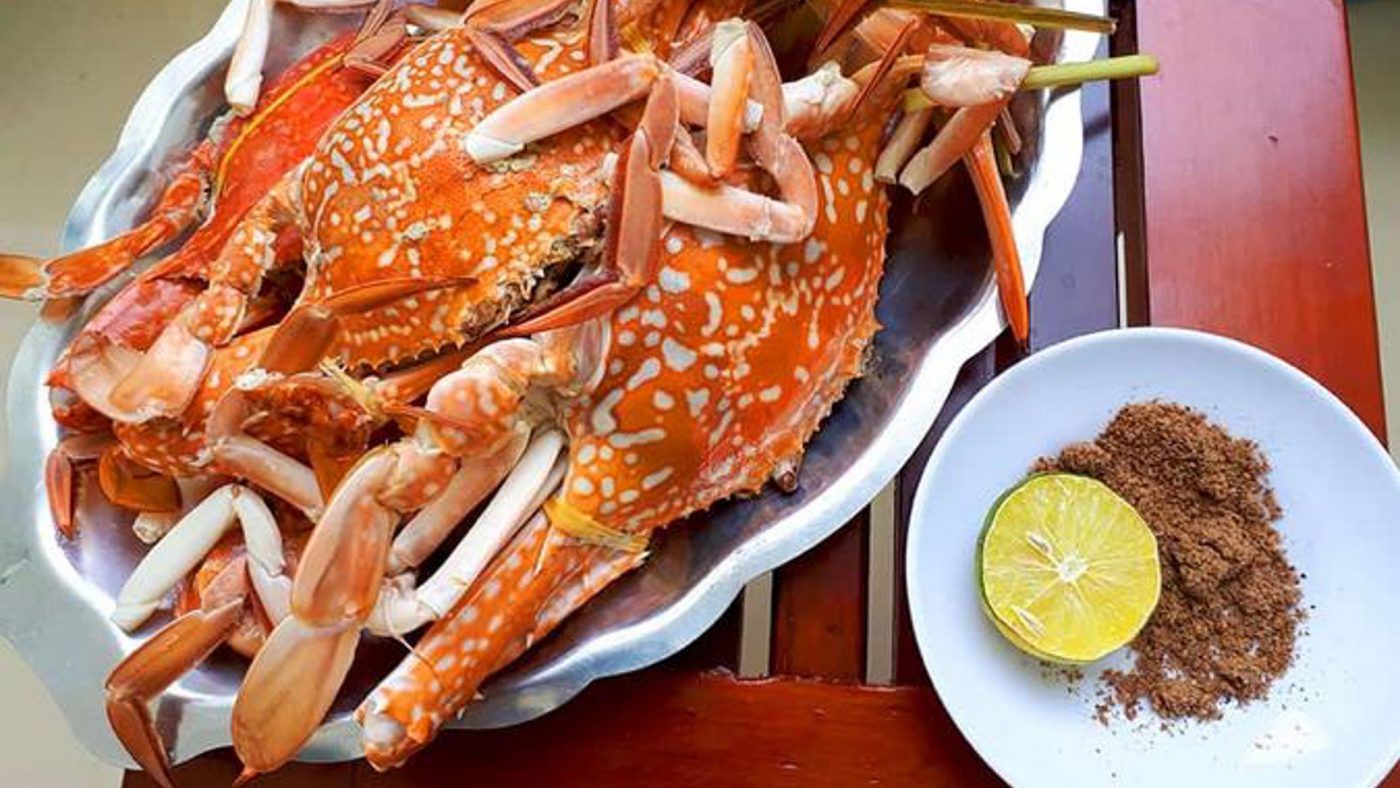 Photo: Internet
Duong Dong Riverside Market
A nice way to get an insight into the life of a locality is by socializing yourselves in its marketplace. Everything in Duong Dong market looks so different from everything else in town: huge fish, odd fishing tools… A lively and cheerful atmosphere permeates the marketplace from vendors in conical hats sitting on the ground with their small baskets of little fruits and vegetables to salespeople at their big well-stocked stands. A walk to the market jetty where visitors can take wonderful snapshots of boats constantly loaded and unloaded in a hurry is worth trying.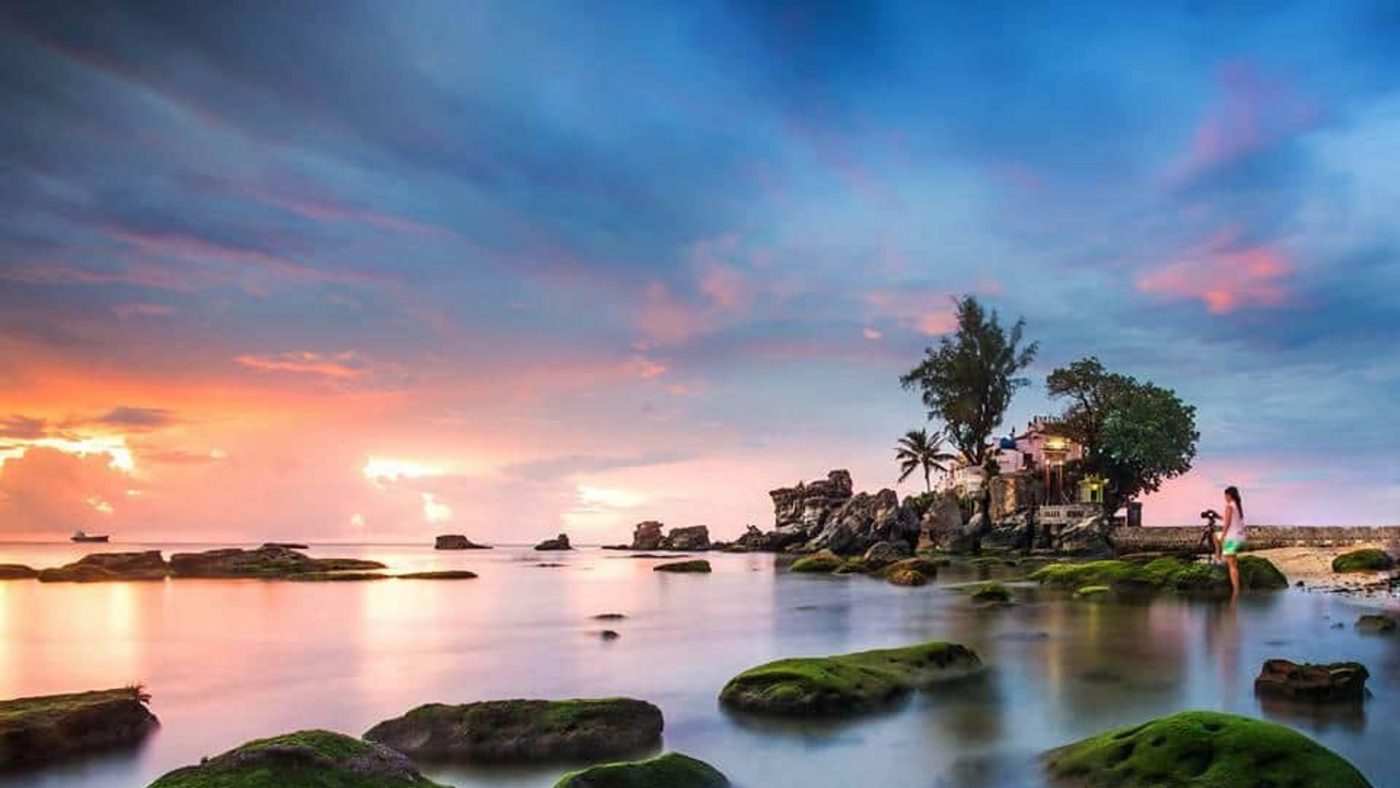 Photo: Internet
Dinh Cau Rock
Situated by the mouth of the Duong Dong River, Dinh Cau Rock is considered the symbol of Phu Quoc where sand, sea, sun and stone blend in perfect harmony. It is not only an odd-shaped scenic beauty but also a quaint sacred holy place. With its small shrine dating from the 1930's, this place has become a sanctuary where local fishermen pray to God before setting sail. The romantic steps take visitors to the top, where visitors can feel the gentle sea breeze, watch sunset over the eroded rock formation and enjoy a peaceful view of the Duong Dong River.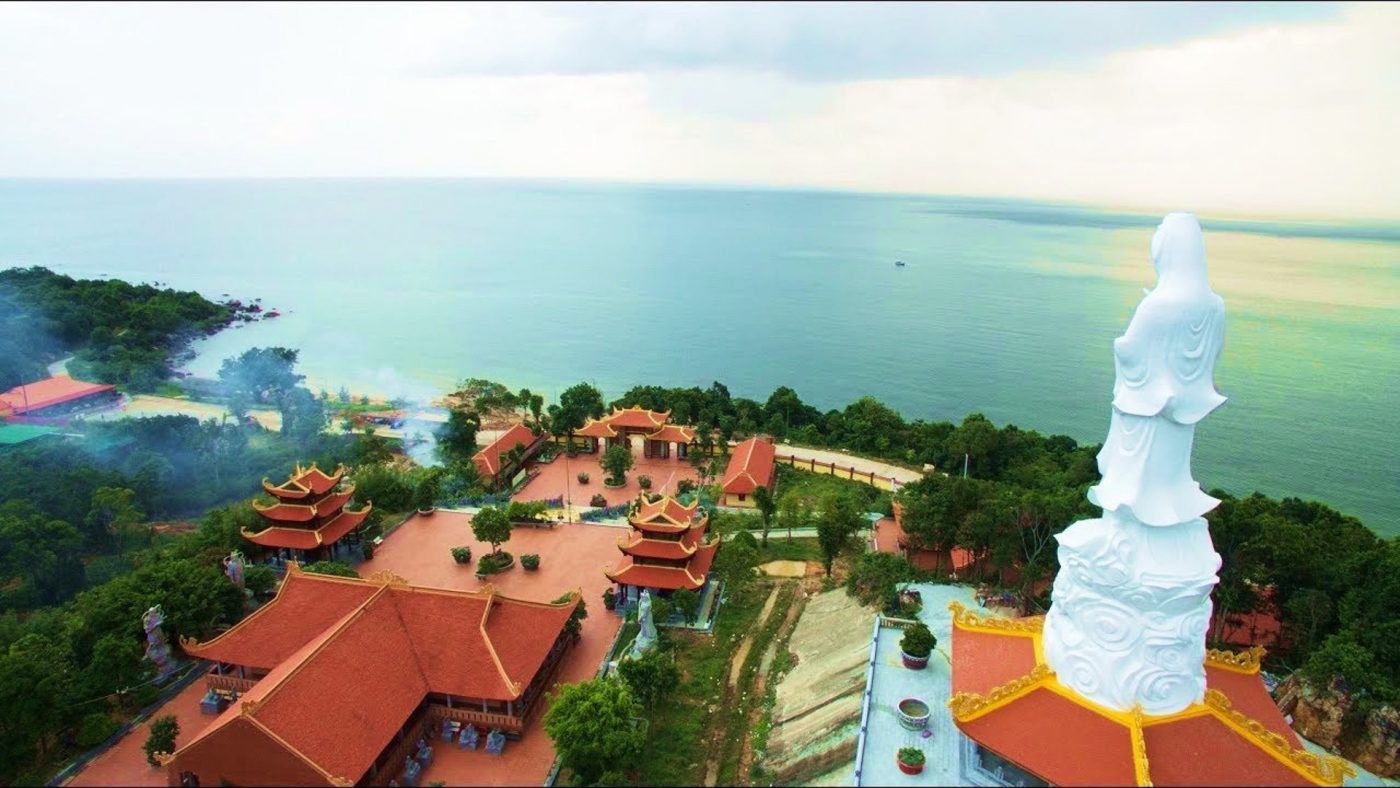 Photo: Internet
Pagodas in Phu Quoc
Away from the hustle-bustle of the mainland, Phu Quoc is an ideal serene retreat for those who wish to while away the time in contemplation or meditation. Quite a few temples and shrines lie scattered across the island, in the district town and in the surrounding countryside as well. Built in the early 19th century, Sung Hung Pagoda, with its original structure and intriguing statues, is well worth visiting. Nestled in thick vegetation on a hill side, Su Muon Pagoda is always an inspiration for visitors thanks to its unique blend of nature and architecture. All the rest is yours to discover and explore.
Photo: Internet
An Thoi Archipelago
Located at the southern tip of Phu Quoc island, An Thoi Archipelago is one of the few islands where the nature still retains its pristine beauty with clear blue sea and white sand. About 3km in length, Hon Thom (Pineapple Island) is the largest island in the group and is home to an entertainment park of Sun World. In 2018, it is connected to Phu Quoc by the Hon Thom Cable Car with a length of 7900m, the world's longest oversea ride. This archipelago is also part of the Kien Giang (Kiên Giang) Biosphere Reserve, which is an area designated by UNESCO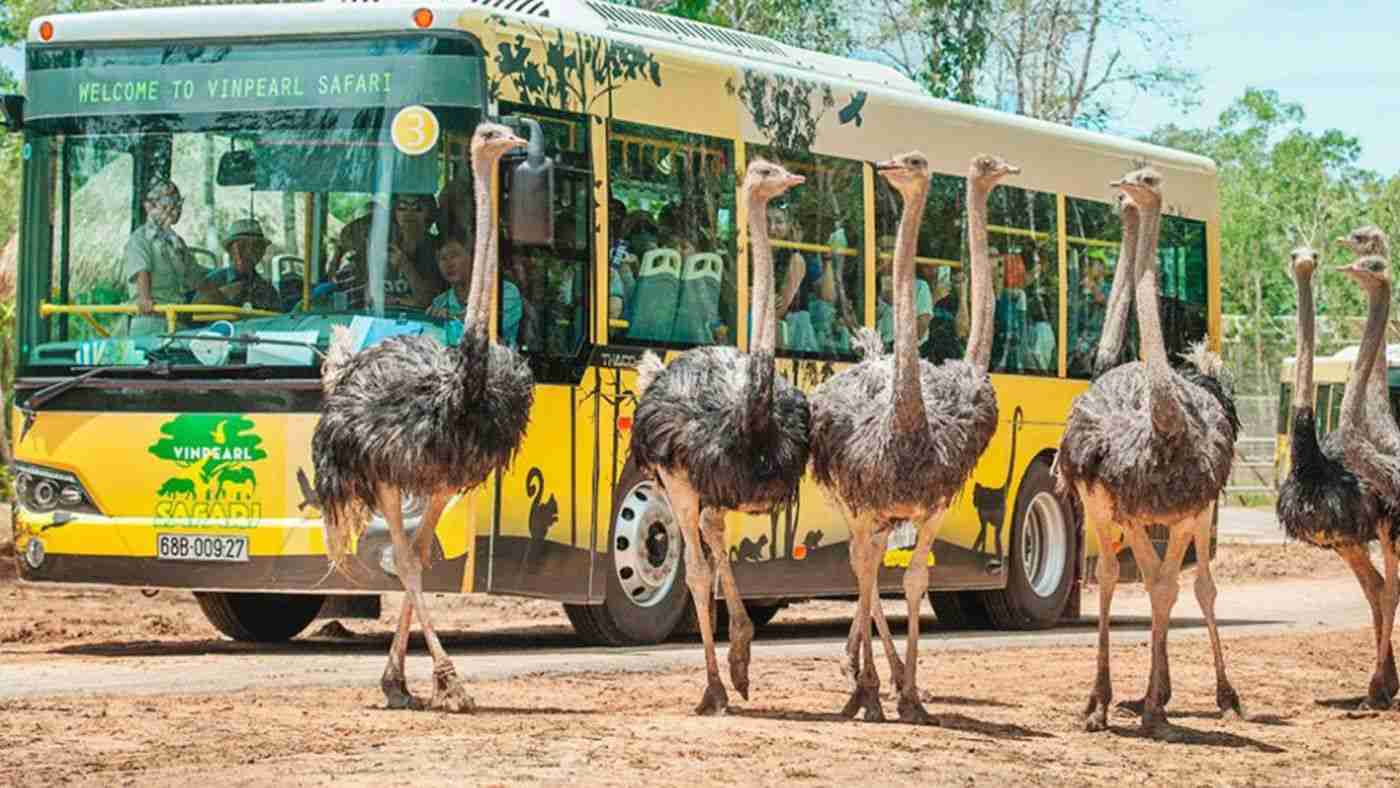 Photo: Internet
Phu Quoc Safari
Covering a total area of ​​nearly 400 hectares, once a part of Phu Quoc National Park, Phu Quoc Safari is home to more than 3000 animal individuals of 150 endemic species of Viet Nam and the world. Considered as the first semi-wild zoo in Viet Nam, this is where visitors can find Bengal tigers, Arabian gazelles, black and white lemurs, flamingos, rhinos, … in semi-natural habitats. The garden boasts of a collection of rare animals with a large number of individuals such as 200 flamingos, 100 rhinos and 60 giraffes, etc. The safari consists of two main zones: Open zoo surrounded by a moat creates habitat in harmony with nature and bring visitors the most authentic sight; and Safari Park where visitors can watch wildlife by specialized vehicles. Visitors also will have chance to experience many periodic activities such as watching animal performances, taking photograph with animals and mascots, kneading coloured dough into coloured paste animals, etc.